Miami Heat: LeBron James Needs to Thank Dwyane Wade for His Historical Season
April 25, 2012

Mike Ehrmann/Getty Images
Unless you've been living in a cave without any connection to the sports world this year, you undoubtedly know that LeBron James is having one of the finest and most complete seasons in NBA history.
Just take a minute and look at his 2011-12 season averages:
Offensive Production: 27.1 points, 7.9 rebounds and 6.2 assists per game
Field-Goal Percentage: 53.1 percent (something a guy named Larry Bird never did once during his career)
Three-Point Shooting Percentage: 36.2 three-point percentage (highest average of his nine-year career)
Player Efficiency Rating: 30.6 PER, more than four points higher than any other player
Individual Opponent's PER: 10.6 PER, according to 82games.com
Minutes Per Game: 37.5 minutes (lowest in his career)
Field Goal Attempts: 18.9 field goal attempts per game (second-lowest of his career)
After looking at those statistics, there's no way around the fact that James' 2011-12 campaign is one of the most productive, most complete and most impressive in the history of the NBA.
While James' numbers are individual stats, there's no doubt that he couldn't have produced on the court without the talent he has surrounding him, specifically one player named Dwyane Wade.
We could sit here for hours and debate which player, between James and Wade, is more integral to the Miami Heat's success, and which player is the true leader of the team, but in all honesty that doesn't mean anything.
James couldn't be the complete and historically efficient player he is this year without Wade, and the first reason is simply because Wade allowed him to come to the Heat.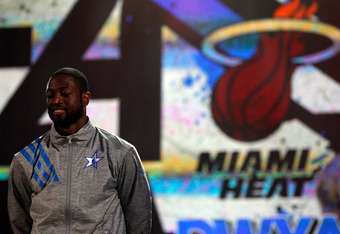 Ronald Martinez/Getty Images
Wade welcomed James to the Miami Heat
Without Wade pursuing James in the summer of 2009, James would've never actually made it down to South Beach. The fact that Wade pursued James and wanted to play with him is the first reason why James needs to thank Wade, because not only did it help James develop into the historically complete player he is today, it also helped him develop into a more team-focused player.
I'm not talking about pure production when I mention James being a team-focused player. Instead, I'm talking about the intangibles of on-the-court leadership that Wade's shown him first-hand.
As a James fan, it's hard for me to say that James was an immature player before coming to Miami, but it's something that I have to admit, because it's true. Welcoming James to Miami was the first step in James once again finding his passion and love for the game of basketball.
Wade takes the pressure off James in the clutch
While I hate to admit it, James will never be the kind of clutch player that a guy like Kobe Bryant is, because that's just not his strength.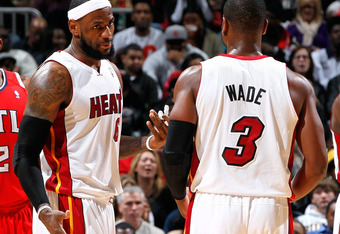 Kevin C. Cox/Getty Images
In Cleveland, James was forced to be a clutch player, and he failed. In Miami, James doesn't need to be that clutch player, because he has Wade running the court with him.
In the clutch, James' strength is to facilitate the game to his teammates, specifically Wade, and he does that better than almost every player in the NBA today.
James is able to shift the clutch-time focus to Wade, and that's helped James relax as a player, being more like the player he is than trying to be someone he's not.
Wade has allowed James to be the focus of the Heat's offense
The only other times in Wade's career when he's averaged under 18 field-goal attempts were his first years in the league. This season, Wade is averaging just 17.1 shots per game, and while that's a reflection of the fact that he's been injured, it more aptly reflects the fact that he's allowed James to become the focus of the Heat's offense.
Being able to allow another superstar to outshine and outperform you on a regular basis isn't something that most NBA players could do, which goes to show just how special of a player and mature of a person Wade truly is.
Without Wade allowing James to step into the spotlight in South Beach, the Heat wouldn't be the team that they are. And James wouldn't be having the season that he is, there's no doubt about that.
James' 2011-12 season has been historic and it's been mesmerizing; but most of all it's been made possible by the humility and unselfish nature of Dwyane Wade, and I think he needs to get more credit than he currently does.
If James could have performed at this level without Wade, he would have done so in his years in Cleveland. But he couldn't. James proved that to be the best he can possible be he needs to have a player beside him who is capable of supporting him, and Wade's that guy
While James might be the player hoisting the 2012 MVP trophy in the coming weeks, if he does win, Wade should be the first one he thanks. Without Wade, none of James' historical season would have been possible.