Los Angeles Dodgers: 6 Reasons Why the Dodgers Can Win the NL West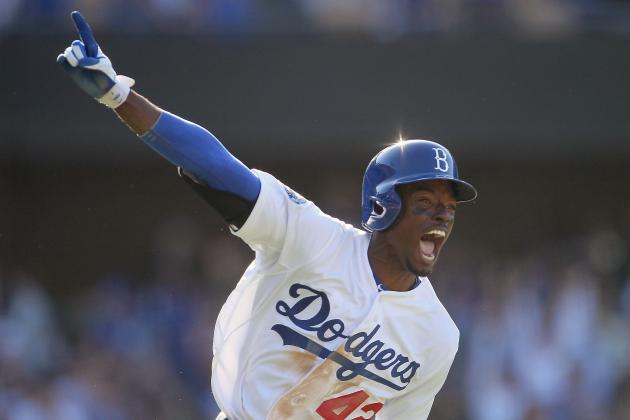 Victor Decolongon/Getty Images

The Dodgers have been one of the early surprises of the 2012 MLB season, jumping out to a 10-3 start.
Only the most optimistic fan would have picked them to finish higher than third in the NL West entering the season, but there are several reasons why Los Angeles can maintain their lead in the National League West, and end the regular season on top of the division standings.
Begin Slideshow

»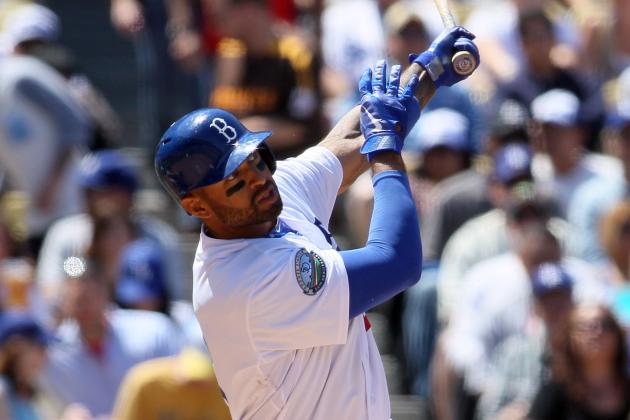 Victor Decolongon/Getty Images

You don't have to be a Dodgers fan to know that Matt Kemp is absolutely tearing through National League pitching so far. Coupled with the Ryan Braun's slow start, is there any question who the real NL MVP should have been last season?
Kemp joined the $20 million per year club last winter when he signed an 8-year, $160 million contract extension, and he's embracing the leadership responsibility that comes along with it.
His presence in the Dodgers lineup makes the whole offense better, and his infectious smile and attitude are a breath of fresh air throughout the whole organization.
Did I mention that he plays Gold Glove caliber defense in center field?
Maybe Kemp has been inspired by the presence of Albert Pujols just down the freeway in Anaheim.
It's as if he's on a mission to snatch the hearts of Angelinos, and the honor of MLB's best player, from Prince Albert before the Angels' first baseman can even get settled in.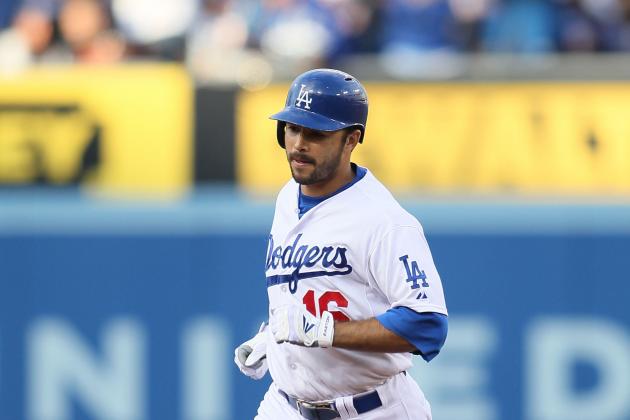 Victor Decolongon/Getty Images

Entering his final season before free agency, 2012 was expected to be a make or break season for Andre Ethier's future in a Dodgers uniform.
With the team's ownership situation still unsettled this offseason, most observers felt that anything short of a great first half would lead the Dodgers to move him before the July 31st trade deadline.
Fast forward to today, where the Dodgers sale to a group led by Los Angeles Lakers legend Magic Johnson was accepted and approved, the team is in first place in the NL West, and Ethier is tied with teammate Matt Kemp for the Major League lead in RBIs (18).
Still only 30, Ethier, along with Kemp, can serve as one of the offensive cornerstones of the Dodgers future, a future that should include a 2012 NL West crown.
Denis Poroy/Getty Images

Maybe.
Chad Billingsley's career got off to a great start once he was moved into the starting rotation mid-way through the 2007 season.
Between 2007 and 2008, his first full season as a starter, he went a combined 28-15, and struck out nearly a batter per inning, while posting a 3.28 earned run average.
Entering 2009, Dodgers fans were hopeful that he would emerge as the staff ace needed to lead the team's resurgence. At the very least, he'd become a very strong No. 2 starter behind top pitching prospect Clayton Kershaw.
That faith was temporarily rewarded with a 9-4 start to the season that included an All-Star appearance for Billingsley, but since then, he's been a major disappointment. Kershaw has quickly surpassed him as the staff ace, and perhaps the NL's best pitcher, while Billingsley has been unable to be even a dependable second starter.
Still only 27, Billingsley's first three starts of the year have been encouraging, highlighted by an 11 K, zero earned run debut against the San Diego Padres. The most telling stat is his one walk in 20 and 1/3 innings pitched so far.
The rotation after Kershaw and Billingsley is a patchwork group to say the least.
If the Dodgers are going to continue their strong play throughout the season, Billingsley will need to prove to be a dependable Robin to Kershaw's Batman.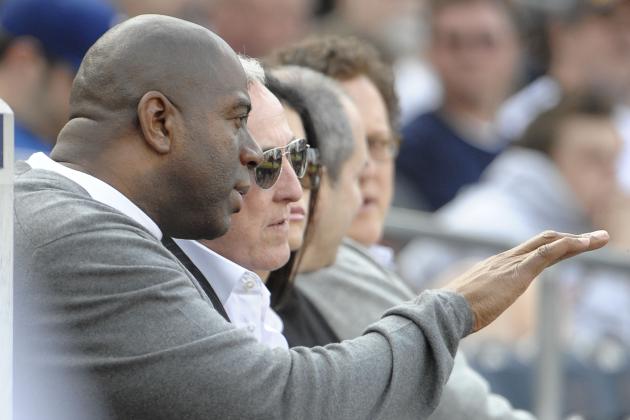 Denis Poroy/Getty Images

The Dodgers hit a grand slam earlier this year when the ownership group led by Los Angeles Lakers great Magic Johnson and veteran baseball executive Stan Kasten assumed control of the team.
It will take time for the full effects of this deal to pay off, but the short term benefits should be enough to help Los Angeles this season.
The positive vibes that this move creates throughout the Dodgers organization is undeniable. Former owner Frank McCourt not only severely mismanaged one of MLB's premier franchises, but he alienated one of its most loyal fan bases.
Johnson is revered in Los Angeles for his on-court contributions to the Lakers, and as a community leader who's maintained roots in the area well beyond his playing days.
Kasten brings nearly 25 years of baseball experience to the team as a former president of the Atlanta Braves (1986-2003) and Washington Nationals (2006-2010).
That combination of style and substance, combined with increased financial security for the team, will not only bring Dodger fans back to the park, but should give general manager Ned Colletti the green light to make whatever moves he sees fit to improve the team's playoff odds.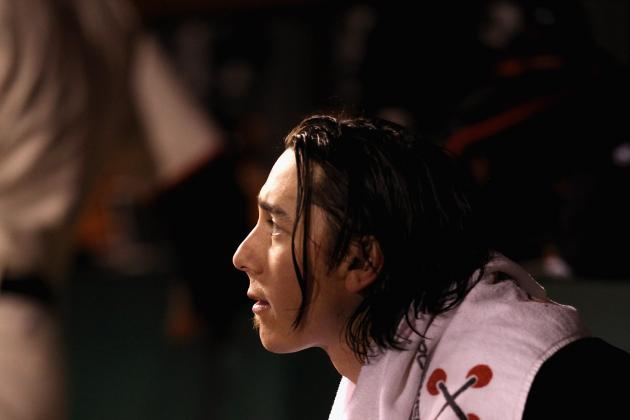 Ezra Shaw/Getty Images

The Dodgers' hot start has been aided by the early struggles of their primary competition for the NL West crown. Nobody better epitomizes those struggles more than San Francisco Giants ace, and two-time Cy Young winner Tim Lincecum.
After avoiding salary arbitration with a two-year, $40.5 million contract this offseason, Lincecum is off to the worst start of his young career. Through three starts, he has an astronomical 10.54 era and has given up 22 hits in 13.1 innings pitched.
More alarming than his numbers, is the fact that his velocity is down considerably, reviving talks about his slight frame and awkward delivery being ill-suited for a long Major League career.
Adding to San Francisco's problems is the season ending elbow injury suffered by closer Brian Wilson.
The Giants appear to have a collection of capable arms to fill in during his absence, but the reshuffling of their bullpen roles has the potential to transform what was an obvious strength into a potentially shaky unit.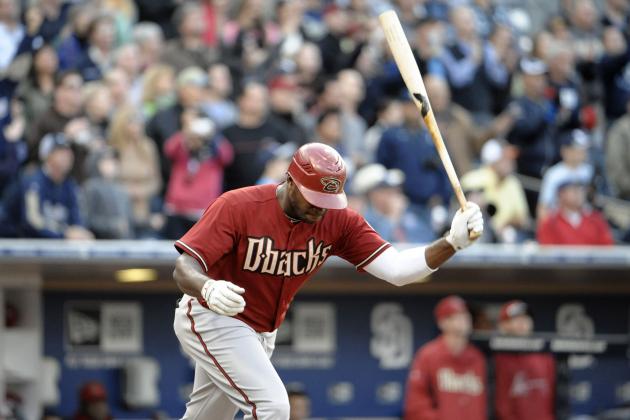 Denis Poroy/Getty Images
Justin Upton
Justin Upton and the Arizona Diamondbacks seemed poised to defend their NL West crown, but early injuries have made it difficult to mount a title defense.
Upton, the team's biggest star and 2011 MVP candidate, has been battling a nagging thumb injury for the past week. While he expects to be back in the next few days, thus avoiding a trip to the disabled list, any lingering effects could prevent him from taking the next leap forward in his development as one MLB's best players.
If that weren't enough, center fielder Chris Young is expected to be out two to three weeks with an AC shoulder injury, putting his tremendous start to the season on ice.
Like San Francisco's bullpen, Arizona's outfield was believed to be a position of strength for the team, especially with the offseason acquisition of former Twin Jason Kubel.
If Upton and Young's injuries keep them at less than 100 percent for an extended period of time, they may never catch the Dodgers in the NL West standings.