Travis Pastrana at Richmond: "Pastrananation" May Not Follow Their Leader
April 24, 2012

Tom Pennington/Getty Images
Travis Pastrana may have a considerable following from his legendary performances in the X-Games, rally racing and motocross, but when he makes his NASCAR Nationwide debut at Richmond, his fans may not be watching.
NASCAR welcomed Pastrana to the sport, much like they have greeted drivers from other forms of motorsports. They hope that new fans will follow.
Pastrana appeals to the 18-35-year-old demographic that NASCAR is making every effort to draw into the fold.
The debut of this daredevil in the Nationwide series was supposed to be last year. An ugly accident at the X-Games in Los Angeles last July severely injured Pastrana's ankle.
Pastrana still has a very evident limp when he walks. He would love to be riding his dirt bikes, but feels he is still months from doing that.
Pastrana stated, "Yeah, is my ankle a hundred percent? Heck no. Will it ever be a hundred percent? Probably not. But is it a hundred percent for NASCAR? Yes, no worries."
It was announced last week that Pastrana would be driving No. 99 Boost Mobile Toyota for RAB Racing which will be aligned with Michael Waltrip Racing.
During a teleconference, Pastrana was asked if the delay due to the accident last year, caused interest in his NASCAR endeavors to wane.
Pastrana responded, "It's good that the interest has gone away a little bit for me. It allows me to come in and focus on racing."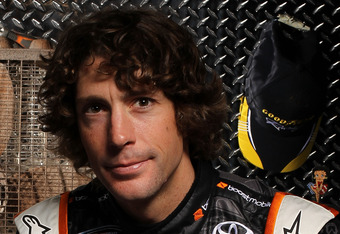 Jamie Squire/Getty Images
The driver of the No. 99 Nationwide car is expected to run seven races this season, but that is still subject to change.
The biggest thing for Pastrana now is learning the NASCAR lingo, giving feedback, trying to be aggressive on the track, but not wreck the car and maintain balance with his other interests.
Pastrana said, "To be perfectly honest, the better you do in racing, the less PR you have to do for the sponsors to be able to back you up. We have a great sponsor base and fan base, but really I have not established myself as a NASCAR driver."
The fan base known as "Pastrananation" that has developed over the years with his participation in extreme sports doesn't necessarily understand why he made the move to NASCAR.
Pastrana stated, "I've never been criticized more, I don't think. But I've been criticized a lot by the fans who honestly don't understand how you can come from doing backflips and Nitro Circus to racing in a circle."
He went on to say, "And as a fan, anyone that has gone to a NASCAR race understands it. It's all about competition."
Pastrana is trying to test new boundaries with NASCAR, but he knows he has a lot to learn. He acknowledges his qualifying is poor and his goal is to just finish every lap of every race this year.
There is little doubt, Pastrana is going to have to change his mindset with NASCAR. It is a much different animal than the sports that he has been able to dominate in the past.
Though NASCAR hopes the fans of extreme sports follow Pastrana, there is a good chance they may not and that would be a shame.
Quotes were obtained courtesy of official NASCAR teleconference and transcript.