NL East Showdown: Previewing Miami Marlins, Washington Nationals Battle in D.C.
April 20, 2012

Greg Fiume/Getty Images
The Miami Marlins are looking to improve upon their 7-6 record and creep closer to the top of the National League East by the end of the weekend.
It is early in the season but the Washington Nationals are proving to many that they are legitimate playoff contenders. There are still skeptics however and a series win against the Marlins will go along way in being recognized by those who are not quite sold on them yet.
The Nats are all alone on top of the division thanks to a hot start out of the gate. A 10-4 record makes them one of only three teams in the MLB to enter Friday's games with double digit wins, but they will face the biggest test of the young season over the weekend when the explosive Marlins come to town.
Miami is on fire. Coming into this series they are winners of four straight and five of their last six. Their pitching has been very good but they will have to step it up to match the Nats.
Washington ranks third in the MLB with a 2.54 team ERA, first in team batting average against at .209, and first in pitching staff strikeouts with 129. Quality pitching is the Nats' recipe for success.
It is just a matter of time before the offense starts putting up impressive run totals to compliment the stellar pitching. 
The player to watch for Miami is Hanley Ramirez. He enters the series in the midst of a torrid five-game streak in which he has 11 hits, three home runs, nine RBI, and two steals. Although the rest of their lineup is extremely dangerous, Ramirez will get the most attention.
For their part, Miami has to contain third baseman Ryan Zimmerman, who looks like he is on the verge of breaking out this season. In his last four games he has six hits and five RBI, and it won't be long before his numbers are where they should be on the year.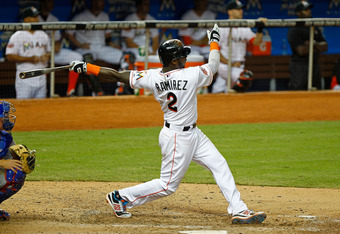 Mike Ehrmann/Getty Images
The pitching matchups over the weekend are superb. Friday night is matches Carlos Zambrano (0-0, 3.75 ERA) with Ross Detwiler (1-0, 0.90 ERA).
Zambrano has been struggling with control this season, issuing eight free passes while striking out 10 in 12 innings. Detwiler on the other hand has been nothing but impressive while filling in for Chien-Ming Wang to begin the season. He has allowed one run in 10 innings while striking out eight and walking only three.
Saturday is a 1:05 first pitch with Anibal Sanchez (1-0, 2.92 ERA) opposing Nats' ace Stephen Strasburg (2-0, 1.42 ERA).
Sanchez has struck out 11 in 12.1 innings and Strasburg has 19 Ks through 19 innings. It is safe to say that batters for both teams will need to be on top of their game. If Strasburg can lose his innings limit he will be in the Cy Young hunt at the end of the season.
Sunday is a 1:35 start with Marlins' ace Josh Johnson (0-2, 5.94 ERA) taking on the Nats newest ace, Gio Gonzalez (1-0, 2.04 ERA).
Johnson has had a rough start to the season but looks to have turned things around in his last start against the Chicago Cubs. Gonzalez has been brilliant in his last two games, pitching seven innings while giving up no runs and allowing only two hits in each start. He has struck out 15 in his last two starts and has only walked two.
The Marlins will have their hands full when they arrive in D.C., and regardless of how it plays out, we should be able to better gauge the division after this weekend wraps up.