Baltimore Orioles: 6 Reasons the Orioles Can Stay in the Playoff Race All Season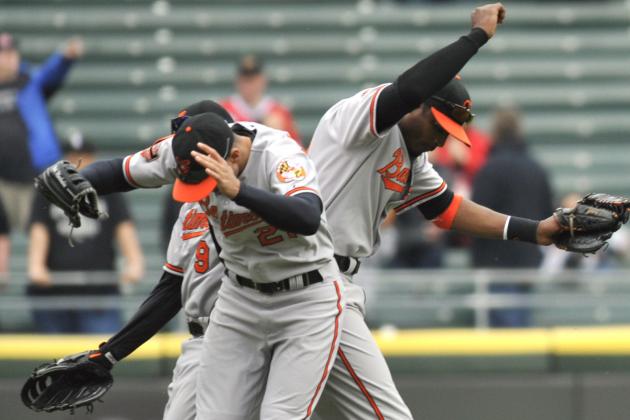 David Banks/Getty Images

Baltimore Orioles fans have seen this movie before.
Once again the Orioles are playing good baseball in early April, but recent history tells baseball fans that this success will be short lived and the Orioles will find themselves well below .500 sooner rather than later.
There are reasons to believe that this Oriole squad may be better suited to continue playing good baseball all summer.
Even if the O's play decent all season it is still unlikely that they will make the playoffs with the stiff competition in the AL East and from other great teams all over the AL.
That being said, there are many indicators that they will be in the hunt all season long.
Begin Slideshow

»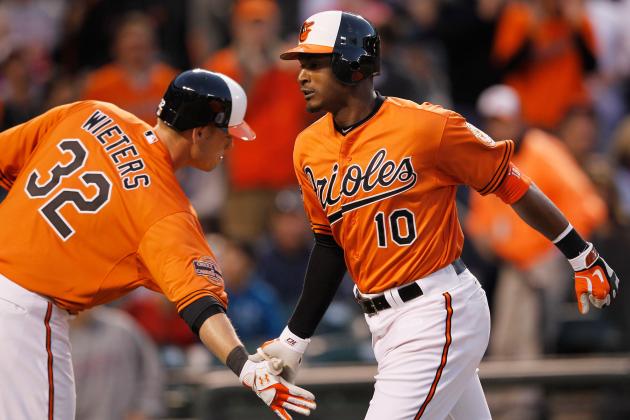 Rob Carr/Getty Images
Matt Wieters and Adam Jones have solidified the Oriole lineup.
One key reason the Orioles will be able to maintain their success all year is the emergence of Matt Wieters, Adam Jones, Nolan Reimold and even Chris Davis.
All four players appear to be breaking out simultaneously.
Wieters, who made an All-Star appearance last season, looks like he has finally adjusted to being an everyday major league catcher and has begun to hit at the rate that earned him the nickname "Mauer with Power."
Jones also is off to a hot start and this summer may be the season Jones finally becomes the five-tool superstar the Orioles always hoped he would become. He is among the leaders in the AL in home runs, steals, OPS and plays a fantastic center field.
Reimold is one of the biggest surprises in baseball this season and has an OPS of 1.064, but his early success shouldn't be that shocking. When healthy Reimold has proven he can be a force in the MLB and many, including me, saw him as a breakout candidate months ago.
Few players have dominated the minor leagues like Davis. Unfortunately for Davis, that production is yet to translate to the majors. Davis is off to a steaming start and this could be the year he puts it all together for the Orioles, he is currently tied for tenth in the A.L. in batting average with Reimold at .341.
If this young core can continue to play at a high level all season the Orioles will have balance in their lineup to go with veterans Nick Markakis, J.J. Hardy and Mark Reynolds.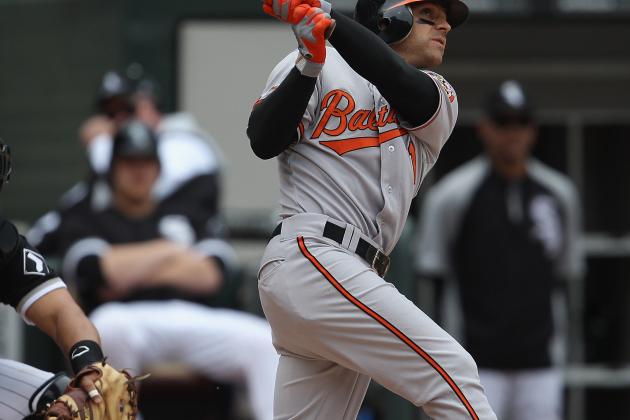 Jonathan Daniel/Getty Images
A healthy Roberts could improve an already dangerous lineup.
Brian Roberts has been one of the few bright spots for the Orioles during his career in Baltimore.
Roberts has been sidelined much of the past two seasons and starts this season on the DL with lingering concussion symptoms. Many Oriole fans are not optimistic but B-Rob has been traveling with the team lately and appears closer than ever to making a return.
If Roberts can eventually join the team and regain a portion of the production he gave the O's for years he will provide the same midseason boost a trade would. With a career .353 OBP, Roberts would be able to hit at the top or in the ninth spot for the Orioles.
Also don't worry Robert Andino fans, Roberts would likely see a lot of time at DH so Andino would still see the field often.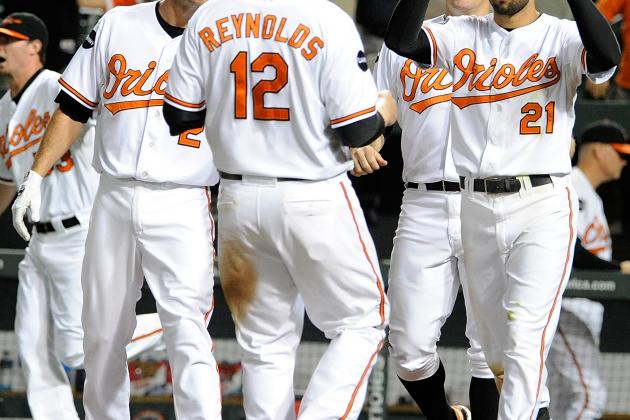 Greg Fiume/Getty Images

So far this season the Orioles have been able to produce offensively without a lot of production from veterans J.J. Hardy, Nick Markakis and Mark Reynolds.
Hardy has hit some home runs this season but he is hitting at a .188 clip and his OPS is a lowly .661. Hardy broke out in 2011 when he hit 30 homers in only 129 games and he will produce this year if he stays healthy.
Markakis has been one of the most consistent hitters in the Majors since breaking into the big leagues in 2006. His career OPS is .816 and he plays 155 games every summer. He will be just fine.
No player on the Orioles receives more hate than Reynolds. Every time he strikes out a small lynch mob gathers outside Camden Yards, forgetting that he was the most productive hitter the Orioles had last season. Plain and simple, Reynolds helps win ball games whether Oriole fans can admit it or not. His OPS led the Orioles last season at .806 and his 37 home runs was among the league leaders.
Don't be alarmed by Reynolds' slow start either, he started slow last year and has a career OPS of .810 over five full seasons. He will produce by season's end.
It is no secret that Reynolds is a below-average third baseman but because of the development of Chris Davis he cannot make the move to a more natural position at first. Plus Buck Showalter has put Reynolds in the DH slot a few times so far this season.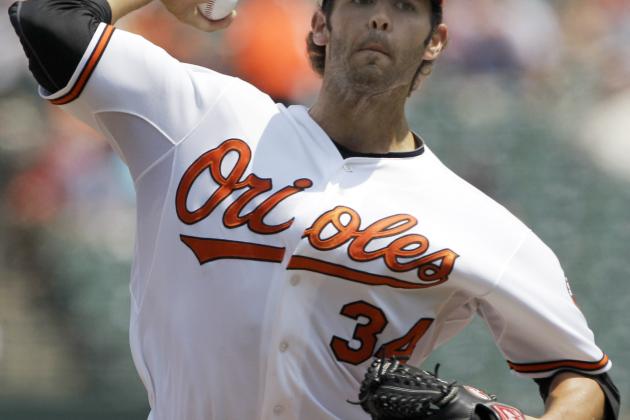 Rob Carr/Getty Images

For the first time in a long time the Baltimore Orioles have several starting pitchers with significant upside.
Jake Arrieta looks like he has figured out how to pitch effectively at the Major League level. Through three starts he has an ERA 2.66 and won ten ball games last year before having a bone spur removed in August.
Tommy Hunter and Jason Hammel don't have the same upside as other pitchers on the Orioles staff but they are innings eaters that will help give the O's a chance to win almost every game they pitch.
Taiwanese lefty Wei-Yin Chen has been decent in his first two starts for the Orioles. He posts a 3.27 ERA and held his own against the Yankees in his Major League debut. Chen is different from other Asian pitchers in that he is more of a power pitcher than a nibbler. This and his age, 26, give him a good chance to pitch well for the Orioles for years to come.
The struggles of Brian Matusz have been well documented but his talent is undeniable. Matusz has the capability of becoming a fantastic top-of-the-rotation starter for years to come and the Orioles are giving him a chance to figure things out at the Major League level.
Those five pitchers make up the Orioles current rotation but unlike years past there are several other pitchers with high upside just waiting for a chance to pitch at the highest level. This means that if someone struggles or if there are injuries there are many capable pitchers waiting in the wings.
Last season Zach Britton won 11 games as a rookie for the Orioles and was pinned as a possible ace for Baltimore this season before shoulder inflammation landed him on the DL. He is expected to be on the mound in Baltimore at some point this season.
Tsuyoshi Wada is a Japanese pitcher that GM Dan Duquette signed this past offseason. Unlike Chen, Wada is more of a finesse and control pitcher who doesn't possess electric stuff.
The Orioles want Wada to be a starter but he may have missed his chance after starting the season on the DL because of elbow discomfort. He got roughed up earlier this week in a rehab start at the Triple-A level and he may be moved to the bullpen in either a long relief role or as left-handed specialist.
Another Major League ready pitcher stuck in Triple-A is Chris Tillman. Tillman has been in the Majors off and on over the past few seasons and he has yet to string together multiple good outings, which has frustrated the Oriole faithful. Tillman is still young though, at 24 years old, and posted a 2.92 ERA this spring training. It wouldn't be surprising if Tillman pitches for the O's this season.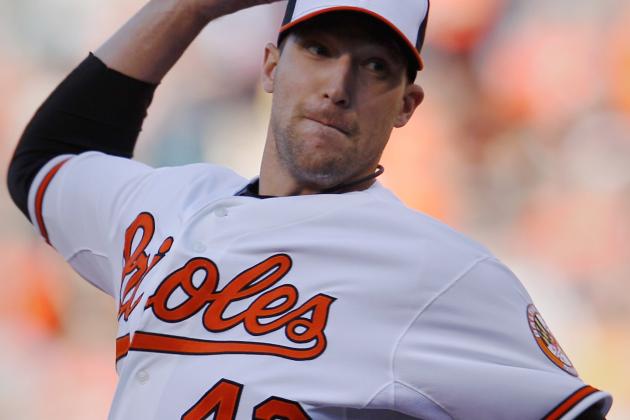 Rob Carr/Getty Images
Jim Johnson is perfect in save opportunities this season.
Last season the Baltimore Orioles' closer was Kevin Gregg and he was bad.
He had a 4.37 ERA and only converted 76% of save opportunities. Towards the end of the season Jim Johnson was named the Orioles new closer and converted his last eight save opportunities of the year.
Johnson hasn't slowed down either, he has converted all six save opportunities he has had this season without surrendering a run.
Pedro Strop, who the Orioles claimed off waivers from Texas last season, has cemented himself as the Orioles primary setup man. So far with Baltimore Strop has posted a 1.33 ERA in 18 games and has absolutely electric stuff.
With Johnson and Strop in the later innings and newcomers with excellent track records like Luis Ayala and Darren O'Day, the Orioles have a stronger bullpen than in recent years.
The improved bullpen will be key in the Orioles staying competitive all season long.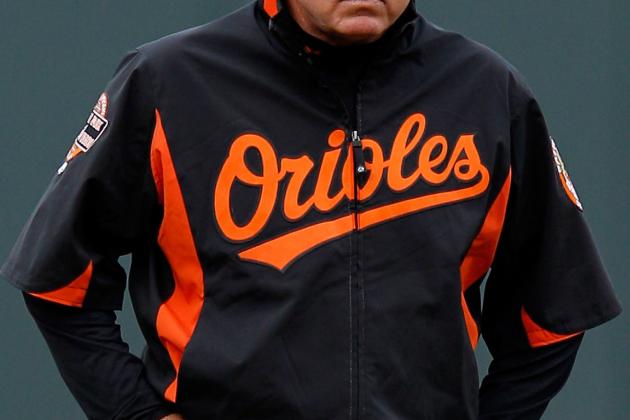 Rob Carr/Getty Images

Manager Buck Showalter has made a living in turning around struggling ball clubs.
Showalter's first season as the Yankees manager resulted in 76 wins. In year two New York won 88 games.
His first season in Arizona the Diamondbacks won 65 games, the next season they won 100. In Texas they went from 71 wins to 89. Showalter's teams win on average 21 more games in his second full season compared to his first.
Last year was Showalter's first full season in Baltimore and the Orioles won 69 games. Based on his track record the O's should win around 90 games this summer.
Even the most optimistic of Oriole fans should see this as a stretch but a 12-game improvement seems entirely possible with the talent on the Oriole roster. A 12-game improvement would put the O's at 81 wins which would be their first .500 or better season since 1997.
A manager like Showalter holds his players accountable and this should help the Orioles remained motivated. That alone will help the Orioles stay competitive all season.