WWE Ruthless Rivalries: 8 Reasons Why Sheamus vs. Brock Lesnar Must Happen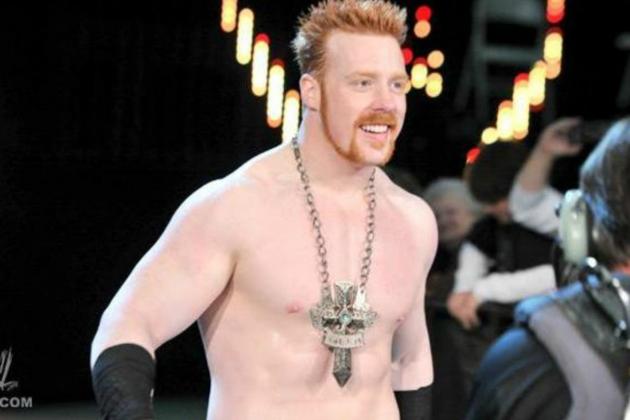 Sheamus (Courtesy of WWE.com)
Only 24 hours removed from WrestleMania 28, Brock Lesnar made his shocking return to the WWE during the final moments of Monday Night Raw. Once Lesnar stood above the beaten John Cena following an empathic F5, thoughts raced through my head as to what we can finally see come to fruition now that the Next Big Thing finally made his comeback to pro wrestling.
From potential rivalries with Undertaker to Randy Orton, the possibilities became endless. However, one Lesnar feud in particular that I've been eagerly waiting to see become a reality is with a very similar Superstar by the name of Sheamus
Since Sheamus's debut in the WWE three years ago, I've been able to draw numerous parallels in the careers of both monstrous men. With a little under a year left on the rumored contract of Brock Lesnar, the chances we see this dream match finally occur in the squared circle are higher than ever before.
What makes this ruthless rivalry so rigorous, you ask? Well, I'll attempt to convince you why this is a bout we need to see happen with eight simple, fascinating factors.
Begin Slideshow

»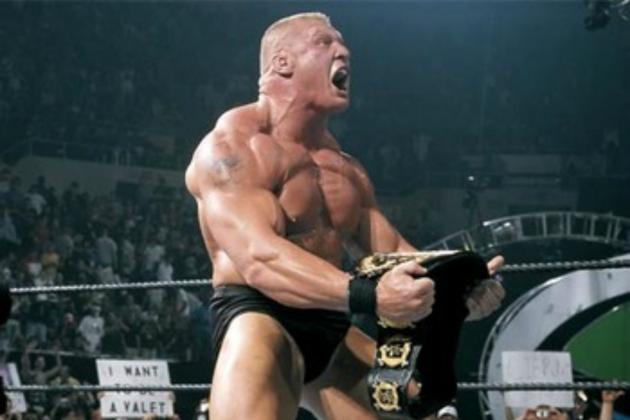 Brock Lesnar wins the WWE Championship.
It's no secret that Brock Lesnar and Sheamus are both credited as two of the quickest rising WWE Superstars the company has ever seen, thus giving Lesnar the nickname of the "Next Big Thing." Both made lasting impacts on the WWE upon their respective debuts, putting the entire locker room on notice.
The night after WrestleMania X8, Brock Lesnar made a lasting impression during his first night in the WWE by violently attacking a number of wrestlers in a random fashion. Only a short five months later, Lesnar won his first WWE Championship by defeating The Rock at SummerSlam.
In June 2009, Sheamus made his WWE ECW debut, claiming that he was planning to take the Land of Extreme as his own. However, he did much more that that, as he quickly moved over to Raw and won the WWE title that December.
It seems like a rare occurrence these days for a top heel to defeat a top face to win (or even retain, for that matter) a World Championship. This is especially the case when your opponent is John Cena, a Superstar who hardly used to lose in a clean fashion for a number of years.
A decade ago The Rock was John Cena's equivalent during the Attitude Era and was looked upon as one of the biggest stars in the business. When contending against Brock Lesnar at SummerSlam in 2002 for the WWE title, many viewers thought they were just building up the rampaging Lesnar only to be knocked down by the People's Champion.
Well, those fans thought wrong.
Without any shenanigans Lesnar was able to defeat Rock and win the WWE Championship via pinfall. Rock disappeared thereafter, allowing Lesnar to become the new face of the organization.
History repeated itself in late 2009 when Sheamus won a No. 1 Contender's Battle Royal for the WWE Championship at WWE TLC. After weeks of demolishing Cena on Raw, the common wrestling formula called for Sheamus to suffer his first defeat on the Raw brand to the Champ himself.
Regardless of that fact, Sheamus pushed Cena off the top of the turnbuckle that December night and sent him spiraling through the table. With this victory, Sheamus had shockingly become the new WWE Champion, coming only a few days short of beating Lesnar's record as the quickest Superstar to win the belt.
What better way to come off as an intimidating force than to nearly end the career of another Superstar? Whether the injury is legitimate or just in storyline, both Sheamus and Brock Lesnar became 10 times scarier when they laid waste to anyone who dared to cross their respective paths.
In late 2002 Brock Lesnar accidentally broke the neck of Hardcore Holly while attempting a powerbomb on the veteran. This career-threatening injury was played into an angle, where Holly returned the following year and briefly feuded with Brock over the title.
During his second appearance on Raw in late 2009, Sheamus wanted to add insult to injury by demolishing Jamie Noble. He did so by delivering a powerbomb much like Lesnar did to Noble on the ground at ringside, rendering Noble into subsequent retirement.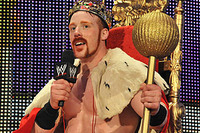 King Sheamus
Since its inception in 1985, the King of the Ring tournament has become one of the greatest achievements a Superstar can ever receive. Ironically enough, both Brock Lesnar and Sheamus emerged victorious in their respective tournaments, further launching their careers towards super stardom.
Shortly after debuting in the WWE a decade ago, Lesnar shifted his focus to the King of the Tournament, where the winner this time around would earn a WWE Championship match in the main event of SummerSlam. In the finals Lesnar defeated then-Intercontinental Champion Rob Van and launched one of the most memorable careers in WWE history.
In late 2010 Sheamus also won the King of the Ring tournament by defeating archrival John Morrison in the finals. Although the prestigious crown didn't do much for King Sheamus at first, it would soon lead him to the United States Championship.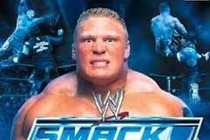 Brock Lesnar on SmackDown!
Although both Brock Lesnar and Sheamus received their biggest pushes while a part of the Raw roster, they would eventually move over to SmackDown a short while later to further hone their craft. There, Lesnar and Sheamus brought the blue brand to new heights with a batch of fresh opponents and rivalries that would make Thursday and Friday nights exciting again.
Shortly after winning his first WWE Championship at SummerSlam, Lesnar was shipped over to SmackDown while still in possession of the golden prize. Upon his arrival, he engaged in some of his best feuds with Undertaker, Big Show and Kurt Angle.
Last April, Sheamus jumped over to Friday nights for the first time in his career as the final pick in the 2011 WWE Supplemental Draft. While nothing much came out of it at first, he was able to quickly get over with the fans and be given more time to shine rather than on Raw.
Most monsters in the WWE can run wild over the roster for quite awhile, but it's almost always a matter of time before they turn face to avoid going stale. However, in this case, the face turns were more thanks to the fans due to their growing love for both Sheamus and Brock Lesnar.
Once apart of the SmackDown roster, Lesnar's rival going into the Survivor Series pay-per-view was Big Show. At the event Lesnar's manager Paul Heyman screwed the Next Big Thing out of the WWE Championship, which caused the fans to feel sympathetic towards Lesnar and turn him face in the process.
Last July, Sheamus engaged in an extremely brief rivalry with Wade Barrett, a hated heel by a majority of the WWE Universe. Due to Sheamus getting the upper-hand in the feud, the fans chose to cheer the Celtic Warrior and turn him into one of the most over wrestlers on the blue brand.
With that being said, it's safe to say that both Lesnar and Sheamus work way better while portraying heels. Now that Lesnar has once again turned his back on the WWE Universe, will Sheamus soon follow suit?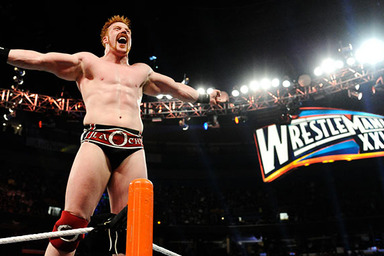 Sheamus wins the 2012 Royal Rumble.
After winning World Championships early in their respective careers, their momentum didn't stop there. Both Brock Lesnar and Sheamus added another major accomplishment to their resumes after emerging victorious in the annual Royal Rumble match.
In 2003 Brock Lesnar qualified for the Royal Rumble match earlier that night by defeating long-time rival Big Show. At the conclusion of the evening, Lesnar won the 30-man battle royal and went on to capture his second WWE Championship from Kurt Angle in the main event of WrestleMania XIX.
Earlier this year Sheamus was on a major roll with a string of victories dating back to last August. His hot momentum just couldn't be stopped, which caused him to win the 2012 Royal Rumble match and win the World Heavyweight Championship in the opening moments of WrestleMania 28.
Since their respective debuts, Sheamus and Brock Lesnar have been two dominant forces that just can't be stopped. From winning multiple championships to destroying anyone who dares question their reign of terror, these two behemoths are known to be the quickest Superstars to achieve success in the fashion they did.
Sheamus has been able to set the bar for other younger, aspiring talents that look to someday reach the same success that the Celtic Warrior has.
Despite the fact that he's accomplished almost everything he's set out to do since arriving on the WWE scene in 2009, that doesn't at all mean that Sheamus's time at the top of the ladder will be coming to a close anytime soon.
As for Brock Lesnar, he legitimately defined the purpose of the Ruthless Aggression Era a decade ago during his first run with the company. Now that he's finally returned, who will dare cross the path of the hungry Next Big Thing?
While the great John Cena could not put an end to the returning wrath of Brock Lesnar, I could certainly see Sheamus meeting his match and challenging the Anomaly to a one-on-one brawl.
Would this be a ruthless rivalry that you'd love to see finally come to fruition?
Drop a comment below with your thoughts on the potential feud between these two Goliaths and who you believe has made the bigger impact. As always, your criticism and overall feedback of my latest piece is greatly appreciated.
GSM out.
Visit my website at Next Era Wrestling, as well as my WrestleRant and Spoilers podcasts for more of my thoughts and writings, along with WWE/TNA news, rumors, reviews and more.
Listen to internet radio with Spoilerspodcast on Blog Talk Radio.