London Marathon 2012: Bold Predictions and Favorites to Win
April 20, 2012

Phil Cole/Getty Images
The 2012 London Marathon will kick off on April 22, 2012, and there are some clear favorites to win this year's race.
More than 35,000 runners will enter the epic race, yet out of that multitude, only a few have what it takes to win the event.
Here are my latest odds—not affiliated with any betting odds or other websites—on those few contestants who are considered the front-runners in the London Marathon.


On the men's side

Emmanuel Kipchirchir Mutai
Mutai won last year's London marathon and should be considered one of the heavy favorites to win again in 2012.
Before his victory in 2011, the Kenyan marathon specialist had placed in the top four in his three previous tries. He has been among the world's best long-distance runners for the past five years.
Odds to win: 4/1


Patrick Makau Musyoki
Musyoki is another Kenyan who has a fantastic shot to win this year's marathon. 
It was less than a year ago that Musyoki broke the world record at the Berlin Marathon, smashing the old record by 21 seconds and averaging 4:42.9 per mile.
Odds to win: 5/1


Khalid Khannouchi
It's been a while since Khannouchi was a major player in the world's top marathons, but he returns as the favorite, according to MarathonNewsTV.com.
Khannouchi won the race in 2002, breaking the world record in the process. That record has since been overcome a few times, but the Moroccan marathoner is still one of the top dogs in this race.
Odds to win: 6/1


Bold Prediction: Khannouchi will make an amazing comeback to the sport after a five-year absence by winning the 2012 London Marathon.


On the women's side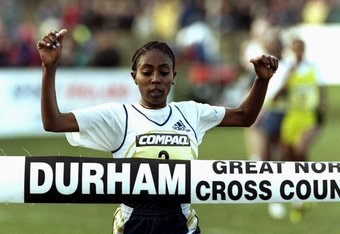 Stu Forster/Getty Images
Mary Jepkosgei Keitany
Keitany doesn't lose very often. She is more of a half-marathon specialist, but last year she overcame the field at the London Marathon, winning with a time of 2:19:17—the fourth-best time in history.
She will have her work cut out for her, as the field is highly competitive, but Keitany has an excellent chance to win her second-straight London Marathon in 2012.
Odds to win: 4/1


Gete Wami
Wami is going to have some tough competition. She's been away from competition since 2007, but I still consider her to be one of the heavy favorites to win on the women's side.
Though she has never won in London, Wami is a six-time marathon champion, and she will give the youngsters a run for their money on Sunday.
Odds to win: 8/1


Irina Mikitenko
Mikitenko has been a major force in women's marathons for the past decade. 
She won the World Marathon Majors title in 2008 and 2009, and she will challenge the leaders for this year's London Marathon.
Odds to win: 10/1


Bold Prediction: Wami will win, despite her extended layoff.


Follow @JesseReed78