2012 NHL Free Agents: Projecting Where Playoff Stars Will Land
April 20, 2012

Bruce Bennett/Getty Images
The 2012 NHL free agent class isn't terribly strong, but a few players who have strong reputations and have performed well in the playoffs so far might be on the move this summer.  Zach Parise is the definite prize, and his current team, the New Jersey Devils, will likely be unable to retain him.  In addition to Parise, the KHL might steal away two NHL stars in Alexander Semin and Jaromir Jagr. 
There are still many factors that could effect the players' stock, but through the first round of the playoffs, several players have proven their worth to an NHL club.
Zach Parise
Parise serves as team captain for the New Jersey Devils, the team that drafted him 17th overall in 2003.  He bounced back rather nicely from an injury-shortened 2010-2011 season, recording 31 goals and 69 points this year.  He has three points in four games so far this postseason in his team's opening-round series against the Florida Panthers.
The left-winger currently makes $6 million and will be looking for a bit of a raise this summer.  The Devils hope to retain the 27-year-old, but he will likely test the market at season's end.  The Minnesota native might receive an offer from his home-state Wild—who have about $10 million in cap space—or the Ottawa Senators, who have about $16 million in cap space to potentially send Parise and offer.
A definite possibility for the left-winger is St. Louis.  The Blues need more scoring, and the defensive-minded Parise fits in nicely with their defensive system.  The Blues have almost $13 million in cap space—more than enough to offer Parise an agreeable contract.
Ryan Suter

It looks like Ryan Suter might be the odd-man out in Nashville as they look to retain team captain Shea Weber and franchise goaltender Pekka Rinne.  Suter is pointless through four playoff games against the Detroit Red Wings, though he's not necessarily valued for his offensive contributions.
Though traitorous, seeing Suter in the Motor City next season is a strong possibility.  Nicklas Lidstrom might be done after 20 seasons with Detroit, and Suter might be a viable replacement.  The Red Wings have several moves to make this season, but if enough cap space is left over to send Suter a favorable contract, he may quickly become the face of the Red Wings defense.

Alexander Semin

Semin currently makes $6.7 million for Washington, but he will be hard-pressed to find a team in the NHL willing to take a risk at paying the 28-year-old that much, or more, money. Currently, Semin has two goals in consecutive games against the Boston Bruins in Round 1.
After back-to-back 79 and 84 point seasons and an expensive contract extension, Semin's production has faltered.  One team that might be willing to take a risk on him is the New York Islanders, a team with a ton of cap space, who showed their willingness to take a risk by signing goaltender Evgeni Nabakov last season.
It's likely Semin will make his way back home to Russia to play in the KHL if he's not willing to take a pay cut with Washington.

Corey Schneider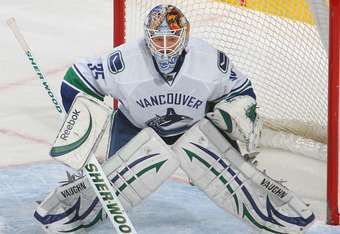 Rick Stewart/Getty Images
After playing backup to Roberto Luongo for parts of two seasons in Vancouver, several teams will be looking to sign Schneider as a legitimate starter.  He was given the nod over Luongo in Games 3 and 4 this postseason, recording one win and one loss and surrendering only two goals.
The restricted free agent currently makes $900,000, but he should at least double that on the open market. 
The Blue Jackets, desperately in need of a legitimate starting goaltender, have a little over $3 million in cap space (which could turn into a lot more if they move Rick Nash) and might take a run at Schneider.
However, the likely stop for Schneider is Steve Yzerman's Tampa Bay Lightning.  Tampa needs a starting goaltender after the (likely) retirement of 42-year-old Dwayne Roloson and the unreliability of Mathieu Garon.  The Lightning have a little over $6 million in cap space—more than enough to send an offer to Schneider that the Canucks aren't likely to be able to match.
Jaromir Jagr
Could Jaromir Jagr play another year in the NHL?  Absolutely.  However, he's not going to make $3.3 million again.  He blew his chance to retire as a Pittsburgh Penguin, the team that drafted him in 1990, but a few teams might be willing to offer Jagr a one-year deal if the price isn't too high. 
Jagr has scored two goals and seven points in five playoff games this season.
The Washington Capitals, who Jagr played for for parts of three seasons, will have a little cap room opening if they don't retain Semin.  Perhaps Washington GM George McPhee will send Jagr an offer to play with the Capitals and serve as a sort of mentor for Alexander Ovechkin.
However, Jagr will probably opt for a KHL contract, where the seasons are shorter and his salary will be higher.
Crazier things have happened in the NHL free-agent market, but teams looking to make an impact on their rosters have the chance with some of these upcoming free agents.