Barcelona vs. Real Madrid: Barca Players Other Than Lionel Messi Who Must Excel
April 20, 2012

Jasper Juinen/Getty Images
With Barcelona just four points behind Real Madrid in the Spanish Primera Division standings, their clash on Saturday promises to be one of great importance.
Barca has continually gotten the better of Los Blancos so far this season, but Madrid has the upper hand currently, so most of the pressure lies on the shoulders of the Barcelona players.
One player in particular who will be of the utmost importance is Lionel Messi. With 41 goals in 31 games, there is little doubt that Messi is currently the best player in the world.
With that said, though, Madrid will surely turn all of their defensive focus in Messi's direction, so Barca is most definitely going to need contributions from other players.
Here are three players, aside from Messi, who will have to come up big on Saturday in order to keep Barcelona in contention for the league title. 
Xavi
As Barcelona's second-leading scorer with 10 goals this season, it would be tough to call dynamic midfielder Xavi an under-the-radar player, but pretty much every Barca player operates in the shadow of Messi.
While Messi is the player who receives most of the accolades and puts the ball in the back of the net most often, Xavi is the one responsible for setting up the beautiful plays that Messi so often takes full advantage of.
Xavi may only have six assists on the season, but he may be the best playmaker on Barca's roster.
Barcelona likes to play at a breakneck pace, and Xavi is usually the one who comes tearing through the midfield and opens up space for his teammates. If Xavi isn't on his game, no matter how well Messi plays, Barca will have a very tough time beating Real Madrid.
Xavi is basically the heartbeat of Barcelona and he'll need to be strong on Saturday. 
Victor Valdes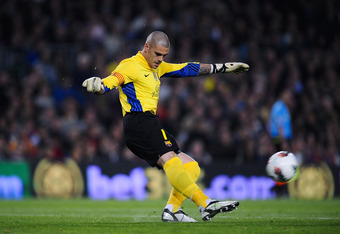 David Ramos/Getty Images
Few goalkeepers in the world are more decorated than Victor Valdes and he will have to use his past successes to his advantage as he will face a stiff challenge from Los Blancos on Saturday.
Valdes has had a fine season as he has started all 33 games for Barca and recorded a clean sheet in nearly half of them with 16 on the year.
Pitching a shutout against Madrid obviously will be a very tall task, but he has the ability to do it and may have to if Messi gets held in check.
Madrid has a ton of skill that they can throw in Valdes' direction, particularly the likes of Cristiano Ronaldo and Xabi Alonso.
With just one goal in this game, Madrid will break their own record for most goals in a single Spanish Primera Division season. Madrid has been held scoreless just three times all season in La Liga play, and two of those were 0-0 draws, so Valdes has his work cut out for him.
When he's at his best, though, he's one of the best there is, so it will be interesting to see the state of his game this weekend.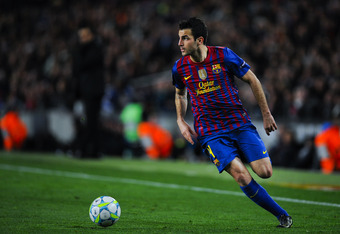 David Ramos/Getty Images
Lionel Messi receives the bulk of the headlines, but if Cesc Fabregas played for pretty much any other team in the world, he would be the one getting most of the notoriety.
Fabregas may not be quite as speedy or flashy as Messi, but having played at the highest level since he was 16 years old, Fabregas is already a crafty veteran at the age of 24. He knows how to manipulate defenses and make things happen and that is apparent based on his nine goals and eight assists on the season.
Fabregas hasn't disappointed since joining Barca last year and he has a real chance to put his stamp on the history of the team in this game.
Provided Barcelona is able to win, they will be a mere point behind Madrid in the standings and Los Blancos will really be feeling the pressure.
Fabregas unquestionably has the ability to put a team on his back offensively, and if Messi is neutralized on Saturday, then he'll need to do exactly that.