L.A. Angels of Anaheim: Why OF Mike Trout Needs to Be Called Up to MLB
April 20, 2012

Jeff Gross/Getty Images
How long is too long before playing in Triple-A is a detriment to a player who is MLB-ready?
The highly talked-about offseason for the Los Angeles Angels has yet to pay off two weeks into the season. Acquisitions of C.J. Wilson and Albert Pujols have resulted in a disappointing four wins through 13 games.
A big reason for the failures in Anaheim have to do with the team not meshing as well in the outfield.
It is impossible to ignore that the Angels have a crowded outfield that is not producing and a 20-year-old in Triple-A who is playing on another level altogether.
Torii Hunter, hitting .283, is the only outfielder who is putting up respectable numbers to this point. Beyond Hunter, the outfield is barren. Vernon Wells is hitting .240, Peter Bourjos is at .206 and part-time outfielder Bobby Abreu cannot buy a hit at .176.
Meanwhile, at Triple-A Salt Lake, Mike Trout is hitting .383 and, for the first time in his Triple-A career, is dealing with leaving the ballpark without a hit.
Trout began the season on a 14-game hitting streak that ended on Thursday, although he still had a sacrifice fly for an RBI.
Unfortunately for Trout, the Angels cannot make room for him in the outfield. Wells is owed too much money and will be impossible to trade without taking a significant financial hit, and Abreu only fills in from time-to-time. Hunter is still producing and is in the final year of his contract, therefore he is not gong to be moved this season.
That puts the pressure on Bourjos to perform and perform fast.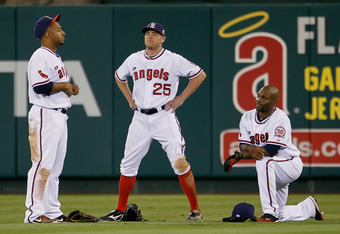 Jeff Gross/Getty Images
Bourjos has been involved in trade rumors for two seasons now, but the Angels have wanted too much in return. Every day there are more and more fans on Twitter calling for Trout to be called up to the majors. With Bourjos barely producing, fans are beginning to feel as though he should be pushed aside to make room for Trout:
"Just watched Peter Bourjos bat for about the 15th time this year, painful to watch, how is Mike Trout not on the big league roster."
It is only a matter of time before more and more fans jump on the Trout bandwagon. If Bourjos can replicate his numbers from last season, then perhaps having Trout in the minors is the right move. He will be able to play every day and prepare himself for the rigorous schedule of the majors.
But if Bourjos keeps up on the path that he is on, then it is going to become impossible to ignore what Trout is doing in Salt Lake.
This team is in need of a change, and Trout can provide the spark that the Angels need at this point in the season. Big names and big signings might be impressive on paper, but sometimes it is the youngster in the minors who can make a team click. 
Trout has shown tremendous heart and hustle in Triple-A this season. He plays every game with a determination that is rarely matched—he even scored from first base on a single earlier this season.
Jeff Gross/Getty Images
The Angels are trying to have the best of both worlds, but in this case, it might not be possible.
They want to hold on to Bourjos and let Trout develop in the minors while Hunter is still around. But if the Angels do not want to fall too far behind in the division and don't want to lose the support of their fans, then they better take another look at Trout's progression in the minor leagues.
As for Trout, he needs to keep producing in Salt Lake. If he keeps it up, then he might be earning his wings sometime very soon.