NHL Playoffs 2012: Top 10 Playoff Performers Through 4 Games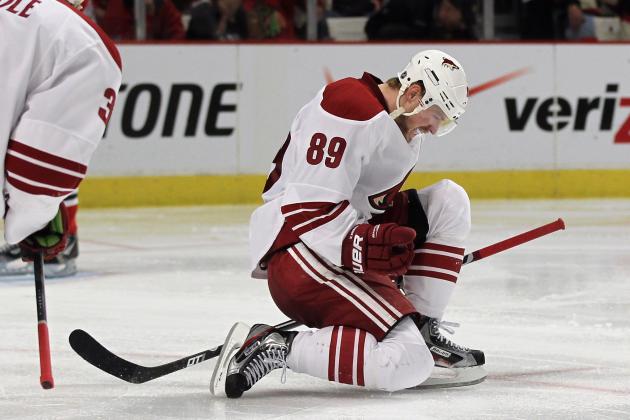 Jonathan Daniel/Getty Images

The NHL Playoffs have had plenty of drama in the first four games of each series.
Five series could be over in Game 5, while three series are tied at two games apiece.
Los Angeles, St. Louis, Nashville, Phoenix and Philadelphia are all on the verge of advancing to the second round.
But all of these teams have had heroes (some likely and some unlikely) help them win games to put them in their advantageous positions.
Here are the top 10 heroes from the first combined 32 games of the 2012 NHL playoff season.
Begin Slideshow

»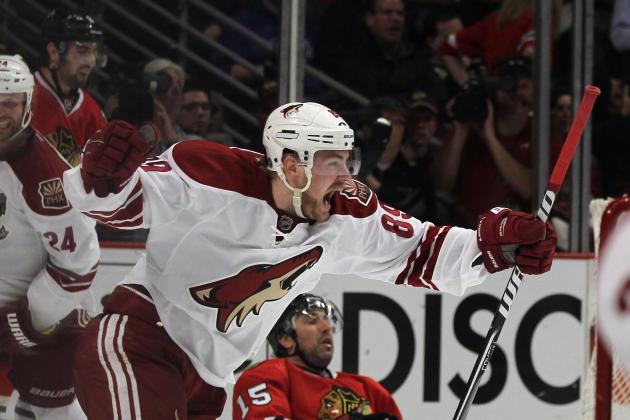 Jonathan Daniel/Getty Images

The Phoenix Coyotes are up three games to one on the Chicago Blackhawks.
When you have a player that can come in for you and score a game-winner in overtime, it really gives your team a boost in the playoffs. When that same player puts up back-to-back overtime winners in the same series, your team is destined for great things.
Mikkel Boedker has two goals and an assist in four games; both of his goals are overtime game-winners.
Why does he make the list?
Both of those goals were on the road in Chicago.
Phoenix now returns home, needing just one win to punch the Coyotes' first-ever ticket to the second round of the playoffs.
Did someone say Cinderella?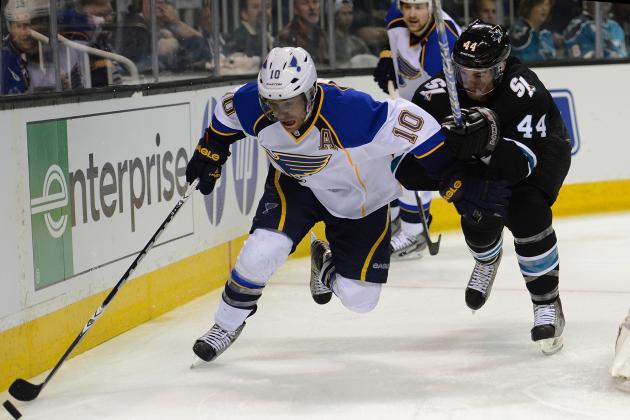 Thearon W. Henderson/Getty Images

The phrase "bounce-back player" comes to mind when talking about Andy McDonald.
McDonald missed 51 games this season with a concussion and didn't play from mid-October to mid-February.
He finished with 22 points in 25 games during the regular season, and has been lights out in the playoffs.
McDonald put up seven points in the first four games of the Blues' series with San Jose.
Two of his three goals have been on the power play and one of his power-play goals was tonight's game-winner to send St. Louis home with a chance to clinch the series.
The play of McDonald will be an X-factor in how far the Blues go in the playoffs.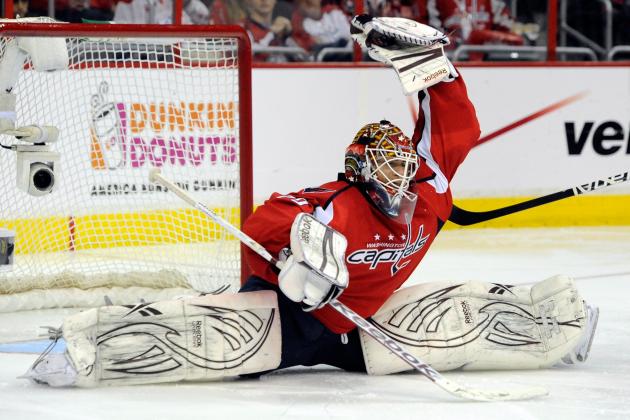 Patrick McDermott/Getty Images

Braden Holtby, welcome to the show.
The NHL that is.
Holtby, starting in his first-ever playoff series, had played just 21 NHL games before this playoff season started.
In those regular-season games, Holtby owns a 14-4-3 record with three shutouts, a 2.02 GAA and a .929 save percentage.
Now if you thought those numbers were good, his stat line in the playoffs looks like this. 2-1-1 with a .953 save percentage and a microscopic 1.60 GAA.
What's amusing is that his GAA could be even smaller if he hadn't given up four goals in Game 3.
With the saves that he has been making (and the number of saves), Holtby has been one of the busiest goaltenders in the first round, and he has not lost his cool while under fire.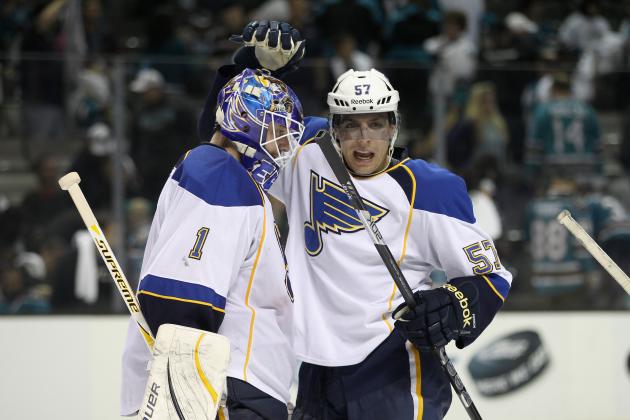 Ezra Shaw/Getty Images

The St. Louis Blues have not won a playoff series in a while.
In fact, it was 10 seasons ago that the Blues last advanced past the first round.
The Blues looked to be in a rough spot after they had their home-ice advantage snatched away in Game 1, but Brian Elliott came to the rescue for the back half of Game 2, and his performances in Games 3 and 4 have the Blues sitting pretty with a 3-1 series lead.
Elliott benefits from playing in the best defensive system in the league under Ken Hitchcock.
Elliott's record in the postseason reflects this, with a 1.51 GAA and a .944 save percentage, along with a 2-0 record.
Elliott hasn't been spotless; but make no mistake, he is a big part of his team's success.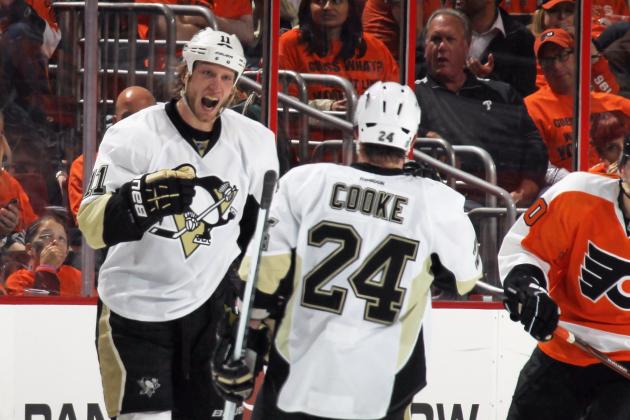 Bruce Bennett/Getty Images

With five goals in his last two playoff contests, you might think that Jordan Staal's Penguins would be in a better position than they are right now: facing elimination for the second straight game.
Staal and company managed to stave off elimination by putting up 10 goals on 36 shots.
Staal had himself a hat trick, and made a complete mockery out of the Philadelphia goaltending.
The Penguins will need more big plays out of Staal if they hope to make the series go the distance, but Staal's Penguins finally managed to stop the Flyers from scoring more than three goals, and just completely blew them out in Game 4.
The momentum is definitely with the Penguins for Game 5, but with no room for error, Jordan Staal will have to continue to step up.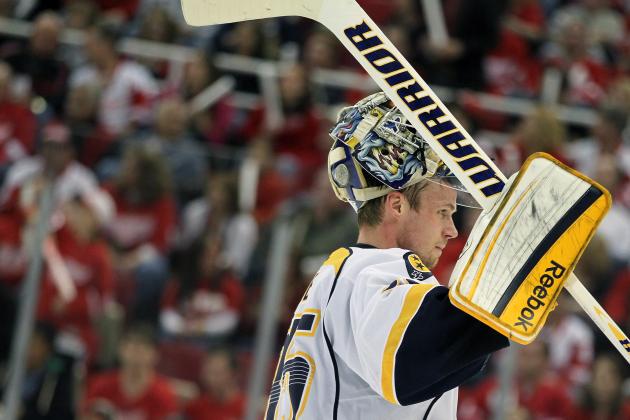 Gregory Shamus/Getty Images

Pekka Rinne has been well (pardon the pun) Im-Pekka-ble in his first-round series against the Detroit Red Wings.
Rinne has surrendered just eight goals on 138 shots against in four games.
His solid outings game-in and game-out give the Predators the opportunity they need to stay around in games and beat Detroit as they have three of the four games in this series.
Pekka Rinne will have to be solid again in Game 5 as the Red Wings will likely try to crash the net to get him off of his game.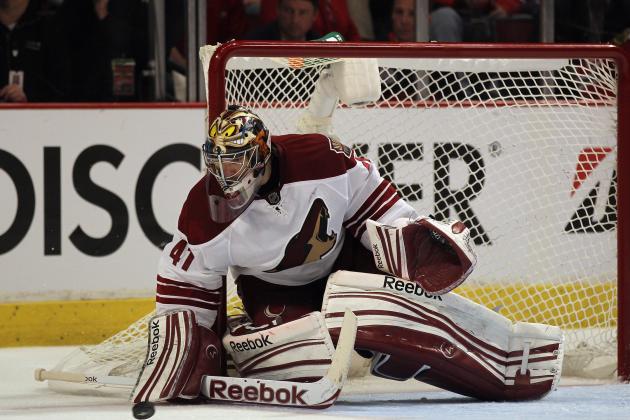 Jonathan Daniel/Getty Images

Mike Smith may not be the "be-all" and "end-all" as far as goaltenders go.
But one cannot deny that Smith is a gamer.
Smith gets up for games that "experts" have already written him off for. As far as that is concerned, Smith has faced the most shots and made the most saves so far in the playoffs.
With a 2.17 GAA and a .939 save percentage in the playoffs (both numbers are improvements from the regular season), Smith looks to be the main reason that the Coyotes have been able to put themselves in a position to win the series in Game 5.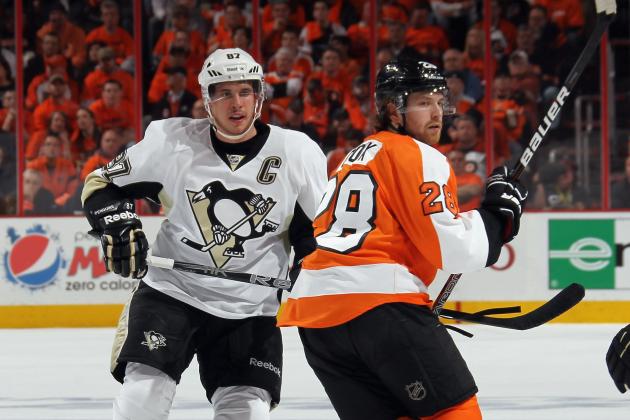 Bruce Bennett/Getty Images

Sidney Crosby is back to his old self.
Anybody surprised?
No, didn't think so. The surprise comes in the fact that Crosby's Penguins lost the first three games of the series, and then put up 10 goals in Game 4.
Crosby will have to continue his dominance offensively (he had three points in Game 4) while not getting goaded into taking dumb penalties.
Eight points in four games is enough to give Crosby second place in the scoring race.
But he's right behind...(see next slide)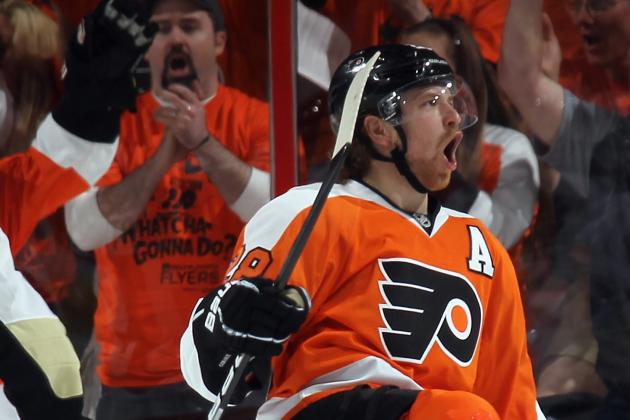 Bruce Bennett/Getty Images

Claude Giroux.
(Insert Sidney Crosby doing the "DOH" from Homer Simpson.)
Simply put, Giroux has been outstanding.
Since his absence on the scoresheet in Game 1 of the Pens-Flyers series, Giroux has 10 points in three games; six of them coming in Game 2, when Giroux had three goals and three assists.
Giroux's continued offensive success is critical if the Flyers hope to put away the Penguins and not become like the Bruins of 2010, who blew a 3-0 series lead and lost to the very same Flyers.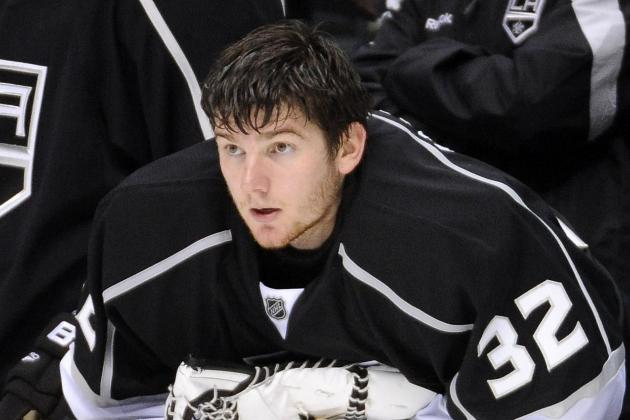 Harry How/Getty Images

Before the Game 4 hiccup, Jonathan Quick was looking pretty sturdy.
Giving up just four goals in three games, including a Game 3 41-save shutout at home, Quick was on a roll.
Quick still owns a 1.76 GAA and a .952 save percentage in four games against the President's Trophy winners, the Vancouver Canucks.
But if Game 4 was an indication of anything, the Canucks showed how dangerous they are with Daniel Sedin back in the lineup.
One might forget how dominant Quick had been up to this point, but for the job that Quick has done against the Canucks, Quick has earned the nod as the top playoff performer through four games.
For more article updates, Follow @isaacesmith91