NHL Playoffs 2012: Can the Chicago Blackhawks Fight Back to Win the Series?
April 19, 2012

Jonathan Daniel/Getty Images
Surely, this is where nobody thought the Chicago Blackhawks would be right now.
Yes, the Hawks were the No. 6 seeds in the Western Conference, but they were clicking late, and looked to be serious contenders to win their second Stanley Cup in three years. They were playing a division champion, but that was what seemed to be the ideal matchup—going against the division champ in the West with the worst record.
Now, the Hawks are down three games to one in their first-round series against the Phoenix Coyotes. All four games have gone to overtime, and the last two were decided on OT goals by Phoenix's Mikkel Boedker. Andrew Shaw still has one more game on his suspension, and Marian Hossa likely won't appear in a game for the Blackhawks until next season.
The Hawks are facing a tough task. Not only do they have to win out against a goalie who is having a Vezina Trophy-worthy season, they're going to have to win two of three games in Phoenix. One slip-up, and the Hawks face their second straight first-round elimination.
The main issue, however, is the Blackhawks' lack of scoring from their star players. Yes, it's been nice to see some heroics from role players like Bryan Bickell, Brandon Bollig, Michael Frolik and Brendan Morrison, but guys like Jonathan Toews (1G, 2A, 4PIM), Patrick Kane (no goals), and Patrick Sharp (1G, 0A, -1) need to step up in the playoffs.
All season long, Corey Crawford (.902 save percentage through four games) had been shaky at best in net. Now, when it matters most, he seems unable to stop soft goals. In only 19 shots against him all game on Thursday, Crow still managed to let three sneak past.
On the other end of the ice, Coyotes netminder Mike Smith faced more shots in the first three games than Crawford has in all four, yet he's still got three wins to his name, courtesy of an impressive .938 save percentage. Say what you want about his flailing after his collision with Andrew Shaw, he has been playing very well for Phoenix.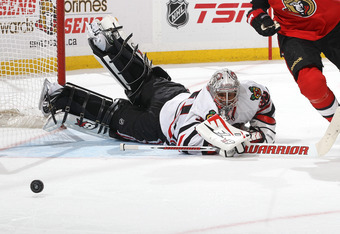 Jana Chytilova/Freestyle Photo/Getty Images
So, with the daunting task ahead of them, the question remains: Can the Hawks overcome the 3-1 deficit to get to the second round? After all, it was only last season that the Hawks forced overtime in Game 7 against the eventual Western Conference champion Vancouver Canucks after being down 3-0.
These are two very different series, however. Last season, Crawford was riding high, and the Hawks were bolstered by the returns of Dave Bolland and Brent Seabrook to their lineup. Now, Chicago has to try and piece together a lineup with a bunch of rookies (Brandon Saad, Brandon Bollig, Dylan Olsen and possibly others) and a far-less-impressive Corey Crawford.
Of course, the Blackhawks still have Jonathan Toews, Patrick Kane, Patrick Sharp, Duncan Keith, Brent Seabrook and were cup champions all of two seasons ago. The role players will need to continue to contribute, and the stars will have to pick up either Crawford or possibly Ray Emery in net if the team wants to go anywhere.
If they can't, then the city of Chicago will turn their hopes to Derrick Rose and Luol Deng for a summer victory parade.