NHL Playoffs 2012: 4 Key Takeaways for the Boston Bruins After Game 4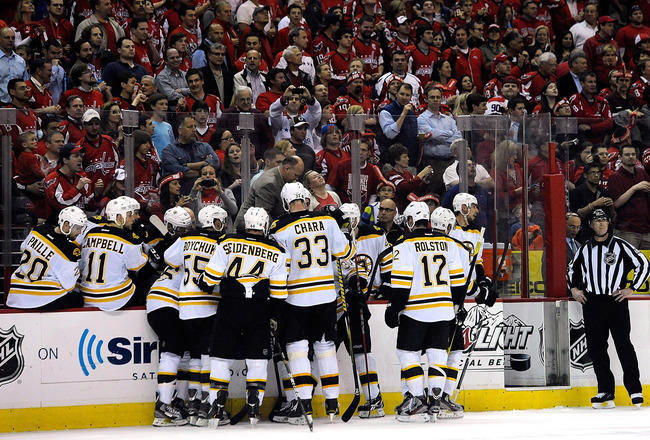 Patrick McDermott/Getty Images
The Boston Bruins have grudgingly engaged in an arm-wrestling match with the Washington Capitals for their first-round playoff series. And for the ostensible favorites, the mutual grip is too tight for comfort.
The contesting clubs have now twice alternated wins as the Caps extracted a 2-1 triumph in Game 4 Thursday night at the Verizon Center, drawing a 2-2 knot and making this as good as a best-of-three affair.
Between the final horn and the opening draw for Game 5, the Bruins have roughly 41 hours to retool and recharge for a momentous matinee at TD Garden.
The mere fact that it will be an afternoon puck-drop likely curls the toes of New England puckheads all the more. But that's an issue for Saturday's preview.
Concerning Thursday, here are the four primal post game points for the Bruins.
Braden Holtby Isn't Going To Fade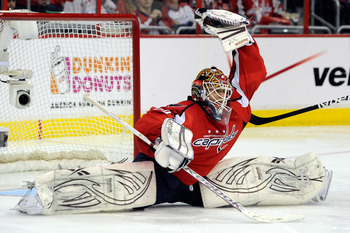 Patrick McDermott/Getty Images
Washington's rookie goaltender is maturing at an otherworldly rate as his first-ever Stanley Cup series progresses. And beyond his 44-save dolphin show on Thursday, the most impressive aspect of Holtby's performance is that he has yet to yield a multi-goal deficit at any point in this series.
Victories like the one Holtby garnered in Game 4 simply do not happen by accident, especially not—considering what immediately preceded this contest. The green goalie has now repelled 141 out of 148 Bruins' shots in four games.
That said, there is still more that the ordinarily explosive Bruins could be doing to at least ensure Tim Thomas is on the right side of these duels. On that note…
Loss of Power
Patrick McDermott/Getty Images
Sorry if this is sounding like a smudged CD, but facts are facts.
In the wake of Game 4, the most alarming aspect of Boston's man-advantage problem is not that they are the only playoff team still looking for their first power-play conversion.
Rather, even in the midst of relentlessly pelting Holtby, the Bruins hardly did anything to instill detrimental desperation to the Capitals' skaters. Very little, if anything occurring in Washington's zone could have warranted a penalty Thursday night.
And wouldn't you know it? Long before they garnered their first and only man-up segment of the night, the Bruins authorized the deciding strike on a Washington power play via Alex Semin.
In keeping with the theme of transition, that last point shall roll right along into the next.
Semin Specialty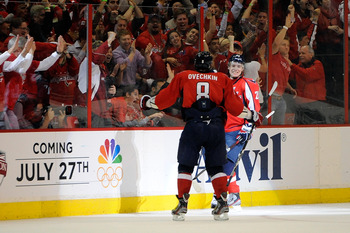 Patrick McDermott/Getty Images
Semin now leads the Capitals with two of their seven playoff goals, both of which have been cultivated with the man-advantage. His threat level is comparatively negligible when laboring at even strength.
And with Nicklas Backstrom serving his one-game suspension Thursday night, Semin was all the more crucial to Washington's offensive cause. All he needed was for Boston to go on one penalty kill too many, and that was exactly what he got with 2:07 left in the second period when Patrice Bergeron constituted Boston's third unanswered infraction.
Semin's strike came at a critical time, with a mere 77 seconds to spare until intermission.
The Kids Aren't All Right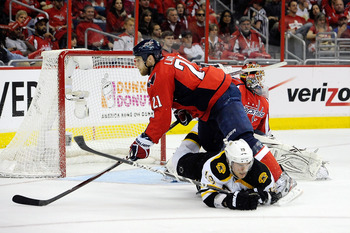 Patrick McDermott/Getty Images
Boston has not had a chance to flex one of its best documented boons in this series, namely putting a stranglehold on a game in the third period.
During the regular season, the Bruins were a perfect 32-0-0 when leading after two periods. But so far in the postseason, they have yet to even put that perfection on the line.
Had they reversed their roles with the Caps on Thursday by nailing a late second-period tiebreaker, odds are the series would be 180 degrees from where it currently stands.
All of this just draws an umpteenth underline beneath an ongoing lack of production from various top-six forwards aged 25 and under. Milan Lucic, along with the entire line of David Krejci, Brad Marchand and Tyler Seguin (pictured) are still pointless in the playoffs.
Head coach Claude Julien should consider another round of reconfiguration ahead of Saturday's Game 5.
Keep Reading

Boston Bruins: Like this team?