Phil Hughes Will Pitch Himself into the Top of the New York Yankees Rotation
April 20, 2012
Nick Laham/Getty Images
Phil Hughes needed just two starts with the New York Yankees to show his potential—six innings of no-hit ball, as a 20-year-old rookie.
Then he grabbed his hamstring and his bright future unraveled into what has become his present, where every start begins with doubt and every mistake is met with certainty that the Yankees' former first-round pick does not belong in the starting rotation.
Welcome to New York.
Some call for him to move to the bullpen: He was great there in 2009. That's where he belongs!
Still others believe the Yankees should trade him: Get what we can for him before he really gets bad!
I have a different idea: why don't the Yankees and their fans let Hughes develop, and exercise some patience?
Yes, Hughes has a number of wrinkles to work out in his game if he is to regain his effectiveness. He needs to get his control back to where it was, and the curveball that seemingly used to drop off the table way back in that no-hit bid needs to resurface.
But he has regained the velocity he lost last season, placing his fastball in the 91-94 MPH range once again. And he has worked on his conditioning.
Most importantly, despite a five-year career, Hughes is still only 25.
His best years are still ahead of him, and the Yankees should see to it that he is in pinstripes when he hits his stride.
If they really want to see what he can become, they need to commit to him as a starting pitcher. Let him learn on the job. Let the young Californian regain his confidence. Let the Yankees offense build him some leads that he can work with.
Even the great Felix Hernandez was not "King Felix" right from the start. In his first full year as a starter, Hernandez posted a 4.52 ERA. His next two seasons saw him post WHIPs that approached 1.400. 
Those numbers would have had New Yorkers begging for Hernandez to be traded for a couple of bat boys. Luckily for Hernandez, he matured as a pitcher in Seattle.
It wasn't until his fourth full season, at the age of 23, that Hernandez became the dominant pitcher we know him to be.
Hughes, in contrast, will have only two full seasons as a starter under his belt if he stays in the rotation this year.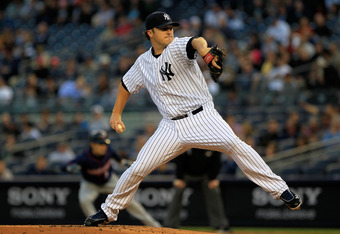 Chris Trotman/Getty Images
His first, in 2010, compares favorably to Hernandez' early years. Hughes posted a 1.248 WHIP and struck out 7.5 batters per nine innings to Hernandez' 7.8.
He was also much better before the All-Star break, indicating that fatigue may have factored into his ERA creeping over four runs per game.
The 2012 version of Hughes can build on the success of 2010, but it will take time. He will need two or three starts in a row where he can feel good about his performance to build both his confidence and the confidence of the Yankees organization and its fans in him.
Thursday night's start against the Minnesota Twins may not look like it qualifies as one, as Hughes allowed six runs (two earned) in 5.1 innings. But Hughes should be encouraged. He fell behind early due to an untimely error, but he kept the Yankees in the game with four shutout innings.
His pitch placement was much better on the whole, and the speed was back on his fastball. His teammates also posted seven runs, and Hughes walked away with his first victory.
In the end, the number in the win column is ultimately what will decide how Hughes is judged in New York.
That number will grow.
Continuously.
If he stays healthy, exponentially.
Hughes was that good before, and he will be again. All he needs is for the Yankees and their fans to give him the room to do so.