New York Yankees: Are Mark Teixeira and Alex Rodriguez Done Being Superstars?
April 20, 2012

With a bloated payroll and a front office that is willing to go the extra mile, the New York Yankees fan base certainly expects a lot of their team. In reality, there aren't many clubs in professional sports that consider anything less than a championship a failure on an annual basis.
With virtually unlimited resources and the weight of their word on their shoulders, the baseball brains in the Bronx diligently strive to put the best product on the field. So, when they made third baseman Alex Rodriguez and first baseman Mark Teixiera the two richest players on the team, it would be safe to say their results would presumably lead by example.
Both men have been fed some of the most affluent contracts in baseball and have put up exceptionable numbers to coincide with it. However, even at different points in their career, both sluggers seem to be taking a nosedive in overall play. 
While different reasons and theories exist to each Bomber, one must entertain the question: Are Mark Teixeira and Alex Rodriguez "superstars" anymore?
Obviously, when someone asks a question like that they have to ready to deal with the "big league" implications attached to it. These are men who put up gaudy numbers that make their peers slip into a green shade of envy.  
In the upper echelon of today's big hitters, both Teixeira and Rodriguez are the common names are repeated year after year. Suddenly, their numbers simply aren't good enough to hobnob with the best in the game?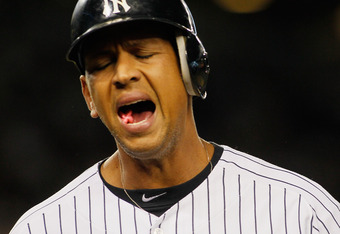 Mike Stobe/Getty Images
Judging if Rodriguez is still a star is easier than his teammate at first base. 
In July, Alex Rodriguez will be 37 years old and a shell of his former self. In the past several years, injuries and a propensity for cameos in US magazine seem to have made more headlines than his actual on-field accomplishments.
Last year, because of those said injuries, he had one of his worst offensive years ever, recording only 16 HR, 62 RBI and a .276 AVG. Terrible for your normal player? Absolutely not. For a possible Hall of Famer making $27.5 million? Simply unacceptable.
His admittance of steroid abuse has many believing that his body may be crumbling before it should. A relatively healthy player for most of his career, Rodriguez has been crippled by everyday nicks that were once played through.
Sitting atop 630 career home runs, Rodriguez is still associated with baseball excellence. But the remaining time in A-Rod's career will be defined by a term he is not used to: average at best.
Judging the moniker of Teixeira is not nearly as easy as A-Rod. 
While Rodriguez is creeping up on 40, the Yankees first baseman is entering possibly the prime of his career at 32. In the past three years, he has over 30 HR and 100 RBI every season, all the while playing a stealth glove at first base. 
So, many are again pondering, "How is Tex not a superstar?"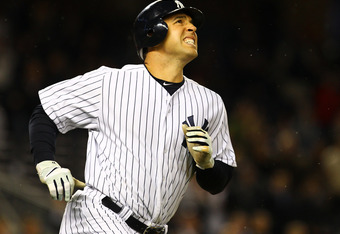 Al Bello/Getty Images
Last year, he experienced in some ways one of his worst years at the dish. While he managed to pop 39 dingers and 111 runs batted in, he dealt with his nearly career lows in batting average, on-base percentage and slugging percentage. 
Even with Teixeira going through a tough year in some respects, there is an ever-looming unfortunate consistency with him that chaps all Yankee fans: His clutch hitting (or lack of).
Like many Yankees the past few seasons, he has struggled mightily with runners in scoring position.  And it would be irresponsible to not note his career postseason woes in New York including three hits in his last 32 postseason at-bats.
It's tough to judge players on a few off years, but this is New York. A player is measured on two things: "What have you done for me lately?" and "What you did do when it mattered?" 
At this moment, the two highest paid men on the Yankees can't answer these questions with a of glow inner confidence.