Ohio State Football 2012: The Top 5 Potential Playmakers for Urban Meyer
April 20, 2012

Joel Auerbach/Getty Images
Though he hasn't gone as far as Al Golden and posted wanted signs up around campus, Urban Meyer has made no secret of the fact that he's in the market for someone to be the butter for the new spread attack that he's breaking the seal on this year in Columbus.
A successful season depends on Urban Meyer finding someone to be the butter for the new spread attack that he's breaking the seal on this year in Columbus.
Here's a look at the top five most likely players to be the "chosen one" for the Ohio State offense for the 2012 season:
*Disclaimer: Jake Stoneburner will be a big part of the Ohio State offense in 2012, but we'll focus on looking at guys that fit the Swiss-army knife type of player that Meyer has historically had—and featured.
No. 5: Michael Thomas—WR, Freshman
A freshman on the list—really? Don't count it out.
Thomas has done well as an early enrollee to get up to speed on the offensive scheme, and his ability to make consistent plays because of his hands and coordination haven't gone unnoticed.
In an offense where catching the flu in the dead of winter, standing in water, with no coat was as chore in 2011, he'll get more than just a look.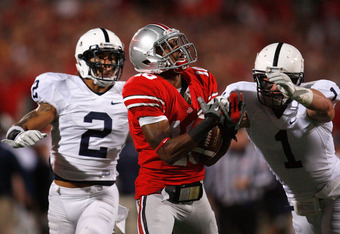 Kirk Irwin/Getty Images
No. 4: Corey Brown—WR, Sophomore
If it weren't for Brown's tendency to drop passes, he would likely be higher on the list. He has game-breaking speed and can shake his way open, but his route-running and ability to not just go up and make a play, but to simply make the easy play has got to get better.
So is this a merely a question of gaining some confidence, or does Corey Brown just not have the physical tools and hand-eye coordination to blossom into something special? Time will surely tell as Meyer will be trying to fit round, square and obtuse-shaped objects into any offensive holes he can plug.
Brown will get his chances to add to the 14 catches he had last year as a freshman—if he can hold onto the pigskin.
No. 3: Evan Spencer—WR, Sophomore
Notice a trend? The most likely playmakers in the Urban Meyer spread are going to come from the outside as a wide receiver. Remember Percy Harvin? He lined up in the slot as a wideout, often caught quick passes in space, but had plenty of carries coming around end as well.
Spencer has the size at 6'2" and 205 lbs. to go up in traffic, and he's has shown flashes of freakish athletic ability with some of his catches in 2011.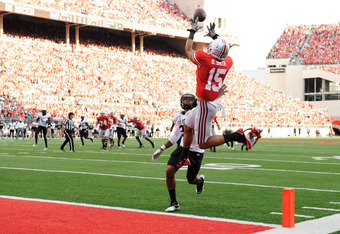 Jamie Sabau/Getty Images
The tools are there, it's just his ability to learn the offense and continue to progress and show some more flash-and-dash that could hold him back. The good news for Evan Spencer is that he'll still get every opportunity to separate himself, and if he can wiggle free in the two-deep, you'll likely see him featured often this fall.
No. 2: Devin Smith—WR, Sophomore
Yes, another returning sophomore wide receiver. At some point you have to believe that one of the highly touted kids that were recruited under the Jim Tressel regime are going to show the promise that everyone thought would shine.
Devin Smith is one of those guys.
In fact, It would not be a stretch to state that the 6'1", 180 lb. sophomore has more ability than anyone else that the still young Ohio State team can throw out there. Smith has continued to impress—taking a pass from Braxton Miller to the pay-dirt from 45 yards out in front of a couple thousand spectators just this last Saturday.
Smith will be used, just how much is up to the rest of his body of work throughout the rest of spring ball and into fall camp.
No. 1: Jordan Hall—RB, Senior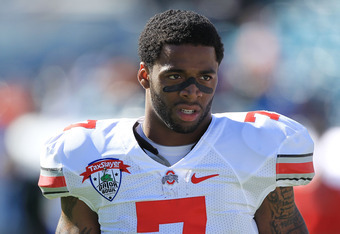 Scott Halleran/Getty Images
This is not a newsflash. If you have been paying attention this spring—and prior—you probably already know that Jordan Hall is the most consistent and explosive playmaker that would come the closest to fitting the mold of a guy that could be used as a mismatch in a spread attack.
And that's what it's all about. Meyer's offensive philosophy is surely built on the spread, but more importantly, it's all about putting a guy in space in one-on-one matchups to make plays. Jordan Hall can run the ball between the tackles, take it off end, and his ability to catch passes out of the backfield are well chronicled.
Look for Hall to have more than a leg on on the competition as the shadow of what this offense can become gets clearer and clearer. The things he has already shown in the past, in combination with what appears to be the carving of the totem pole is pointing towards him being the guy.
But it's clearly not over.
With the spring game upon us this weekend, how each of these potential offensive linchpins show against competition in a close-to-game situation could have a big say in the natural selection process of OSU's offensive upgrade.
Only the strong shall survive.
You can follow Phil on Twitter @PhilHarrisonCFN