Sidney Crosby: Why He Is the John Cena of the NHL
April 19, 2012

Bruce Bennett/Getty Images
The most loved and hated man among fans and players in the NHL just so happens to be the face of the league, Pittsburgh Penguins captain, Sidney Crosby. 
Anytime he steps onto the ice or is in the media he elicits strong positive and negative reactions from people.
Quite frankly, he is the John Cena of the NHL. 
For those of you who are not professional wrestling fans, let me bring you up to speed on who this wrestler is.
Cena is the face of the WWE. Every week, Cena steps into whatever arena the WWE is holding an event and is met with an even amount of cheers and boos from the fans. 
Crosby, like Cena, has his millions of fans that will support everything that he does and wants to see him win every time he's performing. But, just like Cena, Crosby has his detractors that want to see him fail all the time. 
However, the similarities between the two superstars go deeper than just the support of the fans.
Leaders in Sales
Over the last six years, Crosby and Cena have led their respective companies in merchandise sales. 
From the time that Crosby entered the NHL, his Pittsburgh Penguins No. 87 jersey has been the most purchased uniform in the league. According to the Sports Business Daily Journal, Crosby's jersey dominated sales numbers for the NHL from 2005 until 2011.
However, his run as the league's top jersey seller came to an end this year, as Philadelphia Flyers All-Star Claude Giroux, overtook Crosby for the top spot.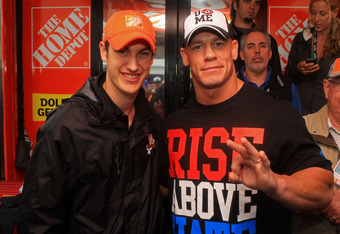 Matthew Stockman/Getty Images
Like Crosby, Cena dominated merchandise sales for the WWE. Starting in 2004, Cena took over as the top seller for the company. From Cena's "You Can't See Me" shirts, hats, wrist bands and foam hands to whatever else the WWE could put Cena's face on, people bought it in droves.   
But, just like Crosby, Cena met his demise this year as the company's top merchandise seller. According to Wrestlnewz.com, Cena was taken over by CM Punk after Punk released two new t-shirts after his "Summer of Punk" run. 
Leading in sales numbers is one thing; these two men have earned the respect from their peers as the best in the business. 
Earning Respect 
For as much grief that is given to Crosby for his complaining to referees, or mixing it up with the opposition, he is viewed as the best player in the NHL by his peers.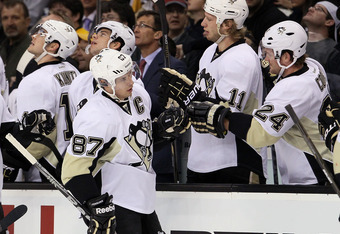 Elsa/Getty Images
This respect from his opposition is coming from a poll that was taken by The Hockey News in March saying: 
For our March 19 issue of The Hockey News, we polled five players from each NHL team for who they thought were the top five players in the league today. Players couldn't vote for teammates. After tabulating the votes, we ended up with a ranking of the top 50 players in the NHL.
After releasing our list day-by-day, we are left with one last spot, the best NHLer as voted by the players, Sidney Crosby.
Just like Crosby, Cena is looked upon by his coworkers in the WWE as someone that loves the business and works hard at being the best. In an interview with Mickey, Amelia and Spiegel on 98 Rock in Baltimore, Maryland, current WWE Champion CM Punk praised Cena for his work ethic saying (H/T to PWFempire.com): 
I think John Cena is tremendous. I think Cena doesn't get the credit for how hard he works. I said it in the promo I cut in Vegas, 'I don't dislike you, John, I dislike this idea that you're the best and you're afforded all of these opportunities.'

I don't hate John at all. He's actually one of my favorite guys to get in the ring with.
Everyone Hates a Winner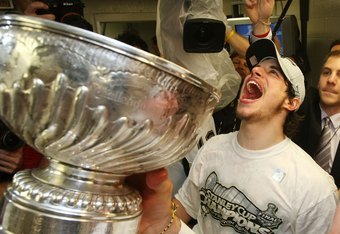 Bruce Bennett/Getty Images
These two men are the faces of their companies and well-respected by their peers, but they've been very successful during their runs, which gives a reason for fans of the WWE and the NHL to boo them. 
For Crosby, he's won a Stanley Cup, Gold Medal, Hart Memorial Trophy (as the league's most valuable player), scoring title and the Maurice Richard Trophy (as the league's top goal-scorer).
With all of that success, it brings on the detractors that love to chant, "Crosby sucks!" Along with the chants, there are the anti-Crosby signs, shirts, pictures and whatever else opposing fans can think of. 
While Crosby hears negative chants on the road, he at least has a home crowd in Pittsburgh that cheers everything he does. Cena is on the road every night to hear "Let's Go Cena" followed by "Cena sucks" chants from the crowd.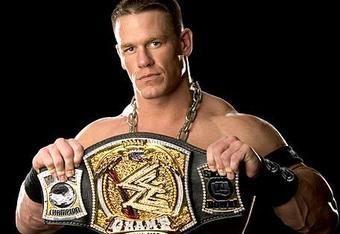 Cena's professional wrestling resume is right up there with the legends of the business. He's a 10-time WWE Champion, a two-time World Heavyweight Champion, two-time Pro Wrestling Illustrated Wrestler of the Year and has a number of other awards, titles and accomplishments. 
Both of these men have dominated their sport, which has made fans who like to see a "changing of the guard" hate them with all the vile that's in their bodies. 
Continued Support/Hate 
Crosby and Cena can — and will — continue to have success earning more championships, awards and accolades from their profession. 
No matter what else happens to these two men during the rest of their careers, they will still continue to have their supporters and detractors. 
From now, until these two men retire they will be the face of their sport and they will have their supporters cheering, "Let's go Cena/Crosby" and "Cena/Crosby sucks" which will be music — a.k.a. money — to their companies' ears.