Michigan Football: Fitzgerald Toussaint Will Not Get to That 1,600-Yard Minimum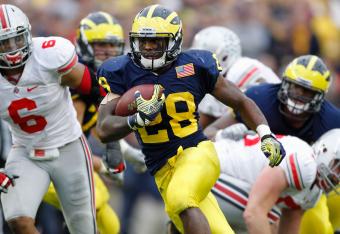 Gregory Shamus/Getty Images
Fitzgerald Toussaint was a revelation for the Michigan offense in 2011.
The sophomore netted 1,041 yards and nine touchdowns as the Wolverines' primary running back. He helped pick up some of the tough yards and gave Brady Hoke's team an option that wasn't Denard Robinson in the run game.
With 2011 in the books, the rising junior is looking toward 2012 with big aspirations. Actually, improbable aspirations is more like it. From a talk with Brian Bennett at ESPN, we get this:
"The goal is to try to go beyond that," Toussaint said. "I want 1,600 yards to be the minimum."
Not 1,100. Not 1,200. Not the very respectable 1,400 that would have put him second in the Big Ten for 2011.
No, the running back is talking about crossing the 1,600-yard mark and pushing toward 1,700 yards on the season.
Setting goals are great. Dreaming the impossible dream is what makes things like putting a man on the moon happen. Getting to 1,700 yards in 2012 is a lot less akin to Neil Armstrong and more of a George Jetson proposition. Some things just aren't going to happen.
That's not a slam on the kid, more taking stock of the reality of the situation. Much like flying cars are not happening in our lifetime and we won't have Rosie to clean up our mess, Fitzgerald Toussaint will not get to that 1,600-yard minimum that's he's setting on the table.
Six players passed the 1,600-yard mark a season ago: Montee Ball, LaMichael James, Ronnie Hillman, David Wilson, Bobby Rainey and Trent Richardson.
The biggest difference between those guys and Toussaint? None of them play with a quarterback who was 15 spots ahead of them on the rushing list.
Will Fitzgerald Toussaint cross the 1,600 yard mark in 2012?
Throw out the Big Ten defenses, Toussaint's physical abilities and Michigan losing the Rimington Trophy winner David Molk. We won't even consider those factors in this argument.
Just look at the man who is touching the ball every play, the human highlight real that is Denard Robinson, and you've got your reason for Toussaint not touching that 1,600-yard plateau.
The Wolverines can say what they will about scaling back Denard Robinson running the ball and trying to develop a better, more equal attack. The fact remains that they have to let Shoelace loose to win ball games. That means designed quarterback runs where Toussaint is not getting the carries. That means read-option plays where Denard has the option of keeping the football.
While we should expect Robinson's numbers on the ground to go down this year, possibly dipping below 1,000 for the first time as a full-blown starter, that doesn't mean there's room for Fitzgerald to pick up 600 more yards.
This offense is going to look a lot like last year's, hopefully with Robinson completing passes for more than 167.2 yards per game. That's where the true growth is going to come for the Wolverines on the offensive side of the ball.
Toussaint is most certainly going to go after that goal. Unfortunately, given his situation, the odds that he reaches that 1,600-yard plateau are highly unlikely. That said, if the kid, in his second year as the starter, can get over the 1,300- or 1,400-yard mark, that's a win for the Wolverines as Robinson tries to grow as a passer.
This article is
What is the duplicate article?
Why is this article offensive?
Where is this article plagiarized from?
Why is this article poorly edited?

Michigan Wolverines Football: Like this team?