MLB: Why Los Angeles Angels Fans Are Some of the Best in Baseball
April 19, 2012

Christian Petersen/Getty Images
What word best describes how Los Angeles Angels fans are feeling regarding the team's 4-8 start?
Disappointment? Shock? Frustration?
All of the above?
The starting rotation, which was supposed to rival the Philadelphia Phillies' for the mythical title of best in baseball, has been inconsistent.
The bullpen, coming off a terrible 2011 campaign, has picked up right where it left off, which is not a good thing for a team with playoff aspirations.
The offense, supposedly bolstered by the addition of Albert Pujols and the return of Kendrys Morales, is even worse than last year, and that's saying something.
Yes, the Angels are officially in trouble. I feel absolutely confident in saying that despite having a relatively small sample size from which to evaluate. But seriously, how many more games does one need to watch (and I've watched them all) before they embrace the reality of the situation? Based on what we've seen so far, what do you expect the standings to look like 10 games from now?
Despite the obvious right in front of us, Angels fans appear to remain optimistic, convinced that once Pujols gets "locked in" and starts mashing, everything else will fall into place. And if not, oh well.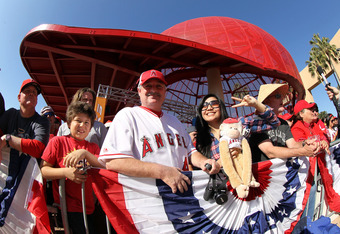 Stephen Dunn/Getty Images
It got me thinking about what it's like to be an Angels fan compared to the fans I encounter on a regular basis out here on the East Coast, where I live now. I came away concluding Angels fans are some of the best in baseball, and that makes me proud. Here's how I came to that conclusion.
Angels fans are passionate about their team but at the same time able to keep everything in perspective. We don't live and die by the results of last night's game. We feel great when they win, and bad when they don't, but either way, life goes on. That is a far cry from the average Yankees or Red Sox fan I come across. 
I think we're that way because of Los Angeles' World Series title in 2002. We were such a tortured fanbase before that, coming off so many years of unsuccessfully trying to buy our way to a title for Gene Autry, the team's original owner and by all accounts a sweetheart of a man. 
After that it was the Disney debacle, which made people respect the Angels even less. I mean, periwinkle? Seriously? 
But in 2002, the Angels caught lightning in a bottle, took home the title and have been playing with house money ever since. 
Similar to Red Sox fans, many of us thought we would die without having ever seen our team win it all. Unlike Red Sox fans, however, once we got our title we've truly been at peace, so no matter what happens tomorrow we'll always have 2002. Which is why, despite World Series-sized expectations this year, we're not running around with torches preparing to storm the castle after 12 games. It's that kind of perspective that makes it so great to be an Angels fan.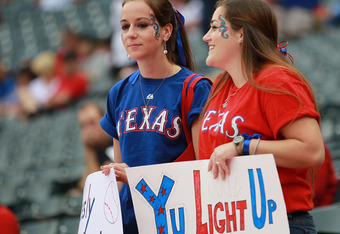 Ronald Martinez/Getty Images
Another reason why I think Angels fans are some of the best in baseball is the respect we have for our opponents and their fans. You can show up to the Big A with your Texas Rangers jersey on and not have to worry about getting accosted. You might get some chatter in your ear when the team is winning (it'll be pretty quiet this year, though), but that's to be expected. We're just not going to fight about it win or lose. I catch the Angels every time they come to Baltimore, and it always seems there's at least one near-altercation between an Angels fan and an Orioles fan. I have children now, so I'm more mindful of what goes on around me at the ballpark than I used to be. As a result, I only take my girls to non-Angels games so we can root, root, root for the home team.
Angels fans also care about how the team represent—and reflects—their respective communities. Look at our roster. Despite a wild variance in talent, everybody plays hard and has bought into the team-first philosophy. Take a Gold Glove center fielder and ask him to move to right field? No problem. Take the Rookie of the Year runner-up and ask him not only to switch positions but also accept a platoon role? No problem. Take the team's leading hitter average-wise from a year ago and ask him to take a seat on the bench? No problem. 
The Angels are full of guys who play the game the right way, which to many Angels fans is a much more important trait to have than a winning record. To us, baseball is still a game where many of life's lessons can be taught to our children. That's why malcontents like Jose Guillen are shipped out of here regardless of their production. 
There's still a long way to go in the season. I hope I'm wrong about my assessment for the team's prospects this year. I hope they shake off this sluggish start and bounce back in time to make things interesting come September. But either way, I'll still watch and root for them to win, as I'm sure will most residents of Angel Country. Because win or lose, they have a great team, and a great team deserves great fans, and that's precisely what Angels fans are.