NHL Playoffs 2012: Was Brendan Shanahan Right Choice for VP of Player Safety?
April 19, 2012

Jonathan Daniel/Getty Images
When the NHL announced in June of 2011 that Colin Campbell would be stepping down as the discipline czar, a sigh of relief was heard all across North America.  Yet, here we sit at the 11-month mark with Brendan Shanahan at the helm, and we are possibly worse off than before. 
After doing some research, some valuable pieces of information came to light.  Allowing Shanahan to have the second-most visible position within the NHL was a mistake for several reasons.  First, Shanahan retired from his 21-year career in November of 2009, and a month later accepted a position with the NHL as VP of Hockey and Business Development. 
It is somewhat mind-boggling to conceive why this position was given to someone with no background or experience with business development. At the age of 18, Shanahan went right into the NHL draft.  Various online biographies show no degrees for Shanahan, and he was given this position with no real experience or formal education to speak of. 
Then, just shy of his two-year anniversary with the NHL's front office, Shanahan replaced Colin Campbell as the NHL's disciplinarian. While Shanahan has a much more calming personal presentation than Campbell, it is possible that the NHL chose Shanahan because he would provide a stark contrast to Campbell, whose volatile outbursts were an embarrassment to the NHL. 
Yet, why would the NHL think that someone who accumulated almost 2,500 PIM in his playing career would somehow make for an appropriate face of NHL discipline, the second-most visible position within the NHL?
Going further, with his retirement as a player only two years old, how could one sincerely expect Shanahan to be able to separate himself from his relationships with players he either played with or against when giving out supplemental suspensions and fines?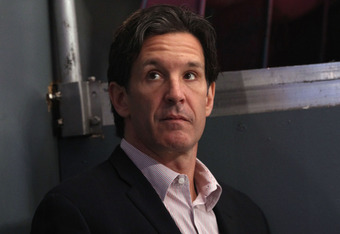 Bruce Bennett/Getty Images
In the December 2009 press release on NHL.com announcing Shanahan's addition to the league's front office, he is quoted as saying,
I had a lot of preconceived notions of how things were done by the people that were doing it until I saw it for myself firsthand. I think that sharing some more information with the players and with the coaches, and them giving us feedback, is really the only way we're going to improve.
Shanahan is quite possibly still in the learning-curve stage of his new position, yet, it is safe to say that patience is running thin for coaches, players and fans alike.  The present situation with Phoenix's Raffi Torres and Chicago's Marian Hossa is becoming a clear example of how discipline is crumbling.
It is not far-fetched to conclude that because the penalties are so inconsistent, the officials on the ice are at a loss—their structure is crumbling from above.  In this first round of the playoffs they often appear to not know what to do on the ice: the trickle-down effect at work. The players also know well that things aren't consistent, so some, such as Torres, are taking chances, knowing they have a 50/50 chance of getting away with potentially career-ending plays.
More on Shanahan and the Torres/Hossa situation later today.