UNC Basketball: 6 Reasons Roy Williams Will Have Tar Heels Back in the Hunt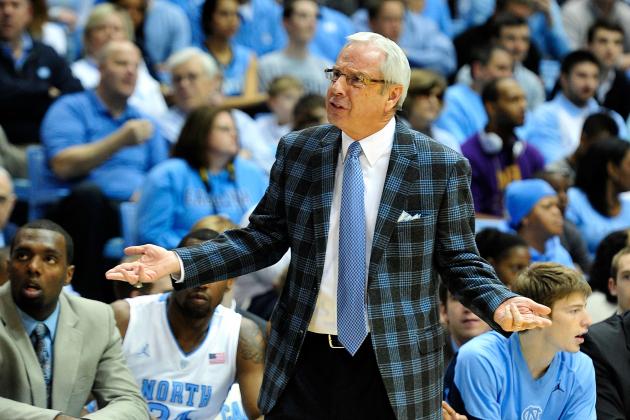 Grant Halverson/Getty Images

That title is just preposterous, isn't it? I mean, the North Carolina Tar Heels have lost four starters to the 2012 NBA Draft. I must be sniffing model airplane glue and eating a bag of vodka-doused gummi bears. Or it could just be that UNC's got it like that and Roy Williams knows exactly how to put this team back in the hunt.
This is Chapel Hill, North Carolina, ladies and gentlemen. The place where the sky is always Carolina blue and rains enough talent to float Noah's Ark.
Any non-North Carolina fans vomiting yet? Don't hate.
The 2012-13 is no different. With an overloaded backcourt and fresh, 4-star talent coming in, this team is set to shock the nation. Will they follow in Kentucky's footsteps with a title? I kind of doubt that, but they will be in the running for an ACC title at the least.
The future of the Tar Heels rests in the hands of the man rocking Carolina plaid—Coach Williams.
Begin Slideshow

»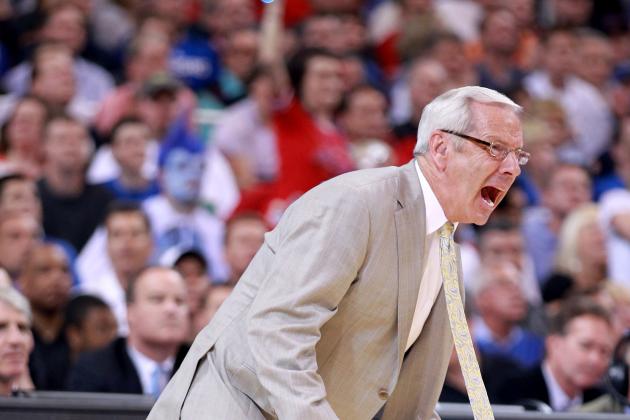 Andy Lyons/Getty Images

North Carolina's success starts and ends with the man heading the team. The rest of the article is mere speculation on the performance of individual players meshed as one unit. It is up to Roy Williams to glue the pieces together for optimal performance.
Unlike the players, we have seen nine seasons from Roy Williams as head coach of the Tar Heels—not to mention the 15 excellent seasons he had with the Kansas Jayhawks. We know what he has to offer.
Aside from a rough first season —taking over a program that went through a carousel of coaches—and the 2009-10 season, Williams has given few indications for us to doubt his ability.
What he has given Tar Heel Nation is promise—year in, year out.
In his nine seasons at Chapel Hill, Coach Williams has led his Heels to six regular-season ACC titles, two ACC tournament titles, two NCAA titles, three Elite Eights and one Final Four. Shew! UNC has also logged five 30-win seasons in that time.
As fast as folks are to compare the 2012-13 Tar Heels to the 2009-10 team, somewhere the 2005-06 team gets lost in the mix. Yes, North Carolina lost big-time players to the NBA after the 2009 championship and then stunk it up all the way to the NIT Championship—where they lost to Dayton 68-79.
Did everyone forget UNC lost its top seven scorers after the title in 2005? The 2005-06 Heels finished the season 23-8 overall and 12-4 in conference play—earning a second-place finish in the ACC. Though the 2005 recruiting class boasted Tyler Hansbrough and Danny Green, I think this class will be better.
We can speculate and argue until our faces turn devil blue, but Roy Williams has continued to bring in outstanding crops of talent that he molds into champions—at least the ones that allow him the time.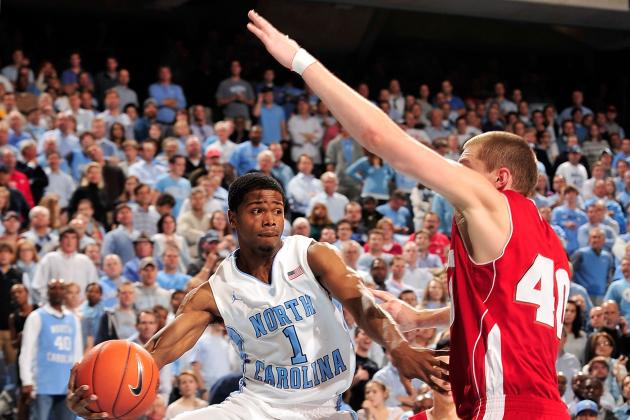 Grant Halverson/Getty Images

I can only speculate the performance of the 2012-13 roster, but on paper it would appear the Tar Heels have great depth—despite losing four of their starters to the NBA. Having Dexter Strickland and Leslie McDonald back will help alleviate that situation.
Starting with the point guard, I assume the responsibilities of the floor general would fall on 4-star recruit Marcus Paige. Dexter Strickland and transfer Luke Davis will likely spell him when he needs a rest. As long as everyone stays healthy, the transition from Kendall Marshall should be virtually seamless.
The 2 and 3 positions are where things get a little funky as far as predicting the depth chart. Carolina has an abundance of players that have spent time as shooting guards while Harrison Barnes headed up the small forward position. Now that he's gone, things will have to be mixed up.
I think Strickland and Leslie McDonald will probably be the first in at the 2. Strickland provides great perimeter defense, while Leslie McDonald led the team in three-point percentage last year before going down in the offseason with a knee injury. P.J. Hairston and Reggie Bullock will also take turns at the 2, but I expect they will see more time at the 3.
With Hairston at 6'6" and Bullock at 6'7", they will likely be able to take over where Barnes left off. Both are good shooters that are only getting better as their careers progress. They can also slash to the basket as well as Barnes.
The only problem with the 2 and 3 is that it's too loaded to find a good spot for J.P. Tokoto. I'd like to see him start, but I'm not sure he will with the overloaded backcourt. Tokoto doesn't have great range compared to Hairston and Bullock, but he may be a better slasher. Needless to say, ol' Roy is in quite the pickle, having to choose his starters.
The power forward position is much more clear-cut. James Michael McAdoo will definitely be the incumbent starter, filling the void of John Henson. Freshman Brice Johnson will see time right behind McAdoo, while returning sophomore Jackson Simmons will be limited. Simmons could surprise and overtake Johnson as the backup, but I wouldn't go betting my next paycheck on it.
Finally, there is the 5.
With Tyler Zeller gone, it's going to be a fresh start for the Heels. Incoming freshman Joel James should fill the hole nicely, and brings a little more physicality on the block. We will probably see Brice Johnson and sophomore Desmond Hubert take turns spelling James. Hubert could be a surprise next season if he adds some offense to go along with his shot-blocking ability.
As you can see, the Heels are so stacked, it's hard to predict the starting squad. There could be some messiness as Coach Williams tries to nail down the perfect rotation, but this kind of depth is a great problem to have.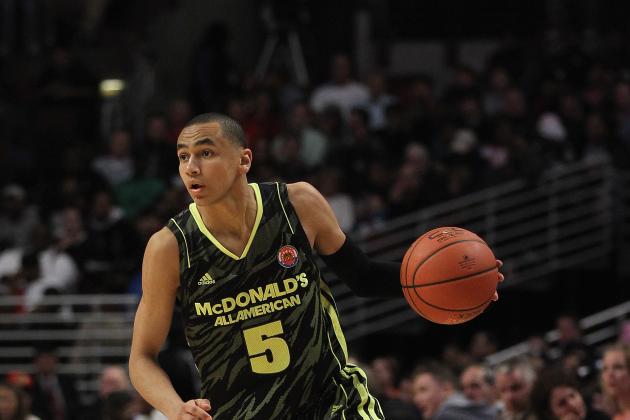 Jonathan Daniel/Getty Images

Roy Williams' crop of 4-star recruits will shine in 2012-13—and I will bet my paycheck on that.
Marcus Paige brings more athleticism, better defense and instant scoring ability to the point. That's not a shot at Marshall, either. Paige is just that talented. I have a hard time believing anyone will have the vision and precision of Marshall, but the intangibles Paige brings will make this offense just as potent.
Though I don't have him starting, I'm hoping we at least see 20-25 minutes a game from J.P. Tokoto. He has the potential to become the most explosive player we have seen since Vince Carter. Great athleticism combined with jaw-dropping jams, Tokoto will be an exciting player to watch—and deadly when he develops some range.
Brice Johnson will probably see a lot of minutes between the 4 and 5 positions. He has a similar weight problem as Henson, so he may get thrown around a lot in his first season. But he is a scorer and a shot blocker, and I have no doubt we will see plenty signs of greatness come out of this young buck.
Joel James is one of the more interesting prospects after trimming 50 pounds to handle Roy Williams' run-and-gun system. He is an extremely physical player with great presence in the paint. James will have to work on his post game, but there should be no loss of rebounds and putbacks—this is where James shines.
There is no crystal ball to tell me exactly how these players will perform, but I love the potential of this group of recruits.
For more on the incoming freshman, check out "Getting to Know UNC's 2012 Recruiting Class".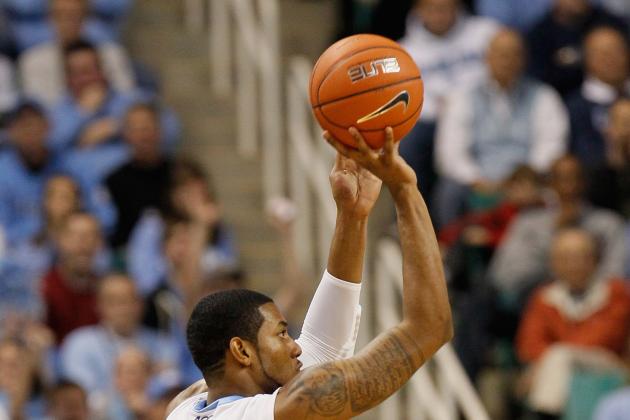 Kevin C. Cox/Getty Images

On paper, it appears Carolina's shooting will also be improved in the backcourt. The frontcourt still has it's question marks, but the perimeter game will be greatly improved.
As I said earlier, McDonald led the team in three-point shooting before he went down. He shot 38 percent from the arc in his sophomore season and hopefully his time off allowed him to improve his jump-shot even more.
Reggie Bullock also finished his sophomore campaign shooting 38 percent from downtown.
The wild card here is P.J. Hairston. Touted as one of the best shooters in his class, he didn't show us much of that until late in the season. He was one player that kept Carolina in the ACC Championship, going 3-of-7 from the arc and just missing a difficult game-tying three. I expect him to shake off his freshman slump and show us all why he was a 5-star recruit out of high school.
Though the line is pushed back a little further in college, Paige shot 44 percent from the three-point line in his senior year of high school. He is a better pure scorer than Marshall and I expect him to be a force on the perimeter. As we saw with Marshall when he started knocking them down, the threat of a three from the point guard will make it that much easier for him to get in the paint, too, as defenders can't just sit back.
We could see the best season of three-point shooting since 2002-03, when the Heels buried a UNC record of 290 threes on a record 822 attempts. In comparison, the 2011-12 team sank 189 threes on 559 attempts.
Let's just hope that doesn't lead to the same outcome as the 2002-03 Tar Heels, as they went 19-16 and flopped in the NIT.
However, I doubt that will happen and I think the improved shooting will only serve as refreshment from 2011-12. Roy Williams will still want them to pound it inside, but they should actually make more of their perimeter shots when they are given the opportunity.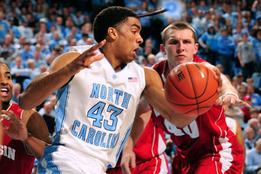 The Angler
Overall, it's hard to say if the defense will be better all around, but I think we will see a spike in opponent turnovers.
Though his 0.7 steals-per-game average is nothing to gawk at, Bullock's defense greatly improved from his freshman campaign. Bullock's athleticism and length make him a force on the perimeter and we will probably see that average climb in his junior year. He might have actually taken over Strickland as the best perimeter defender on the team.
While we are on the subject of Strickland, he averaged 1.3 steals per game last season and we saw a big drop-off in perimeter defense when he went down against Virginia Tech. Having him back will help solidify the perimeter defense that was so weak last season.
P.J. Hairston also showed signs of being a great defender during his 13 minutes per game. He only averaged 0.4 steals, but with more minutes, I have no doubt we will see that average increase, too.
As for The Angler, there is no introduction necessary for the defensive prowess of James Michael McAdoo. The guy averaged almost one steal per 15 minutes of play. Every time I blinked, it seemed like he was jumping the passing lane and taking it coast-to-coast. I question a lot about McAdoo, but this area of his game is definitely an exception.
I feel pretty safe saying you can expect two or more steals per game from McAdoo on average—and he may finish the season as the NCAA leader in steals.
Those four players will probably account for about six steals per game, a huge improvement from the seven steals the entire team averaged last season. Aside from Strickland, only Barnes and Marshall averaged over one steal per game—and Paige could make up for the loss of Marshall in that department, too.
My prediction for the team is 10 steals per game, putting them among the best in the NCAA. VCU led the way this past season with 10.68 steals per game. Defense may become the most intimidating part of this 2012-13 Carolina squad.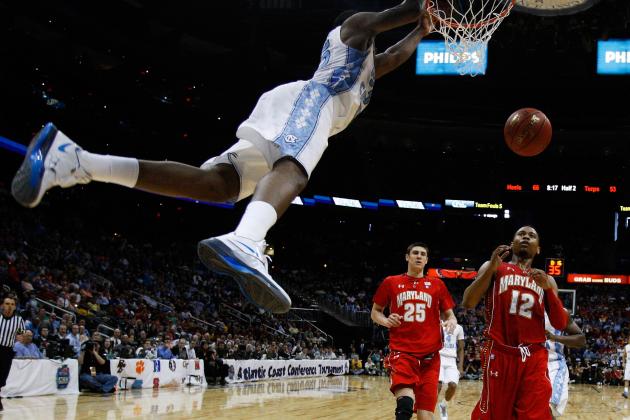 Streeter Lecka/Getty Images

The consensus may be that expectations are low for the latest team of Tar Heels—and that's just fine with me. My expectations are high, and nowhere are they higher than with the returners.
McAdoo and Hairston showed signs of why they were 5-star recruits, but we haven't seen anything near their full potential yet. McAdoo will develop a post game in the offseason, and I have to believe Hairston will get his shooting back on track. We will also see him driving to the basket a lot more at small forward.
I feel we will see more dimension to the games of Strickland and McDonald, too. I'm not sure either will be the "stars" of the team, but we will see improved defense from McDonald and more of a perimeter game from Strickland.
I wouldn't have said it after his freshman season, but it appears his sophomore year has changed my mind—Bullock just might be the star of the team. Say what you want about McAdoo, but I love Bullock's all-around game. The potential I see in this young man has me grinning like John Henson.
In the end, predictions are just that—predictions. There's no way to truly tell what will happen between now and November. But I have the utmost confidence in this young Tar Heel squad—even if nobody else does.
There's only one thing better than pounding on ACC competition—and that's doing it as an underdog. Bring it.
Follow Rollin Yeatts on Twitter at @TSBRollin.