NFC South Morning Jog: A Healthy Gerald McCoy Greatly Improves Bucs Defense
April 19, 2012

J. Meric/Getty Images
Each morning, I like to start the day off with a workout—usually a morning jog. I can clear my head, plan my day and think about what's going on around the NFC South.

Tampa Bay Buccaneers

Dezmon Briscoe's absence from Tampa Bay's minicamp this week stems from personal issues surrounding his reality-star girlfriend, according to Stephen Holder of the Tampa Bay Times.
Ira Kaufman of the Tampa Tribune gives a look into defensive tackle Gerald McCoy's health and just what that could mean to the Buccaneers.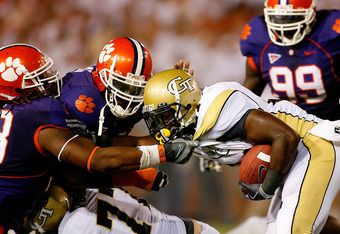 Kevin C. Cox/Getty Images
Atlanta Falcons

Clemson's Brandon Thompson could be available at the Falcons' second-round pick. If Atlanta chooses to go for a defensive tackle, it could be Thompson. Scott Carasik examines Thompson's resume.
Steelers linebacker LaMarr Woodley pulled off a decent prank on Steve Breaston, Marcedes Lewis and Falcons running back Michael Turner. [Video] [h/t to Jay Adams over at AtlantaFalcons.com for finding this one]


Carolina Panthers

Cam Newton is a finalist in the ESPN Madden '13 Cover Vote. It's down to Detroit wideout Calvin Johnson or Newton to go on the cover of the new football game.


New Orleans

Who better to mentor the 6'1" Boise State quarterback Kellen Moore than the 6'0" Drew Brees. Apparently the Saints like Moore enough to bring him in for a visit on the final day of player visits before the NFL Draft.
Safety Malcolm Jenkins talks about the team's comfort level with interim head coach Joe Vitt. [Video]