Arsenal: Good News, Bad News, Fear and Disaster at Ashburton Grove
April 19, 2012

Clive Brunskill/Getty Images
It is confirmed. Arsenal midfielder Mikel Arteta is out for the rest of the season. The Guardian reports:
Mikel Arteta has been ruled out for the remainder of the season with ankle ligament damage, leaving Arsène Wenger with selection issues in midfield for the derby against Chelsea at the Emirates Stadium on Saturday. 
Meanwhile, Yossi Benayoun, who has been on good form lately at Arsenal on loan from Chelsea, is ineligible to face his parent club.
That's two important midfielders not available for selection in what could be a make-or-mar match for Arsenal against Chelsea.
Chelsea, as the reader knows, have gained some second wind lately, having trounced London neighbors Tottenham Hotspur 5-1 in the FA semifinal encounter at Wembley Stadium.
Subsequently, having produced a brilliant defensive performance against the world's best team to eke out a one-nil victory at Stamford Bridge, Chelsea has the momentum.
They now seem the odds-on favorite to win the derby encounter against Arsenal at the Emirate. Should they do so, they will have avenged their 5-3 loss to Arsenal in the first leg of the encounter in October of last year.
Then, they had been experimenting with free-flowing football under Andre Villas-Boas, an experiment that must have contributed to Chelsea's dismal league season and which led to Villas-Boas' sack.
Shaun Botterill/Getty Images
Now they've gone back to their tried-and-tested defensive ruggedness and physicality, which saw them through the first leg of the Champions League encounter with Barcelona unscathed.
So the bad news is that Mikel Arteta is out and Benayoun is ineligible for Saturday.
The good news is that Abou Diaby might be available for selection.
He played 45 minutes of an Arsenal XI versus Oman match, a lineup that included Gavin Hoyte, Conor Henderson, Carl Jenkinson, Sebastien Squillaci,  Ju Young Park, Marouane Chamakh, Oguzhan Ozyakup and Thomas Eisfield among others.
Part of the good news might be hope, hope that a repeat of the Arsenal-Spurs encounter will occur on Saturday. Then, Spurs were heavily tipped to win the encounter, after enjoying a great run up to that point in the Premier League.
Now the fear.
The loss to Wigan Athletic, a fluke actually, has exposed some so-called Arsenal fans to be fickle indeed.
How can a single loss—in a match that, had Arsenal won, the players would have been commended for their tenacity—generate such paranoia as to resurrect hatred for Arsene Wenger, even dead threats to Aaron Ramsey?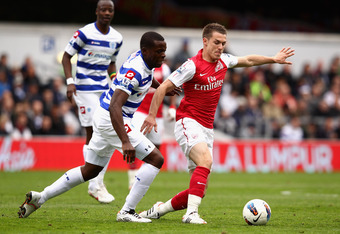 Ian Walton/Getty Images
I cannot call such people fans. They are not fans—they are fanatics hooked on the drug of excitement that victory generates.
The fear is that this was a first-fruit of yet another collapse by Arsenal.
But let's hope not.
A draw against Chelsea wouldn't be a bad result at all. What's more, never bury someone before they're dead. Wait before Arsenal are really dead before you count them out.
Which leads to disaster.
It exists within the realm of possibility that Arsenal could tumble out of the Champions League spot. Losses to Chelsea and Stoke City could cause that.
But before Gooners give in to their fears, they should remember the team's resilient performance against Manchester City.
They should also look more objectively at the Wigan loss. If you eliminate those early goals, what do you see lacking in Arsenal's performance on the day? They practically led siege to Wigan's penalty area. What refused to happen was the final pass.
Compare this performance with Barcelona's frustration against Chelsea, and you should find some parallels.
Now, even that loss to Manchester United in January wasn't such a bad match, bar the tentative first half display. Arsenal could have won that match. Forget the debacle of the Arshavin-AOC substitution.
These examples are the difficult matches. Add the victories and there's cause for encouragement.
Disaster is a possibility, but so is hope and triumph.
Let's all cling to hope, and let's hope for triumph at the end of the season.