Christian Watford Returning to Indiana Hoosiers Best Choice for His Draft Stock
April 19, 2012

Andy Lyons/Getty Images
On April 10, Indiana basketball fans let out a sigh of relief as junior Christian Watford and freshman Cody Zeller announced their decision to forgo the NBA draft and play at Indiana for the 2012-13 season.  
Many Hoosier fans were stricken with panic after Watford, in his postgame interview after the Sweet Sixteen, made a comment alluding he was considering the NBA draft this year.  
Watford made the right decision to stay at Indiana for his senior season and increase his draft stock.  He's not quite ready for the pros.  Here are three reasons why Watford needs another year at Indiana.
1. This Draft Class is Too Stacked
I think it's safe to assume, based on who has committed, that this draft class is arguably one of the best draft classes in years. 
With all the star-like talent entering the draft this year—the Draymond Greens, Thomas Robinsons and Kentucky's starting five—great-but-not-"star" players like Christian Watford will fall towards the end of the pile.  It is likely Watford would end up undrafted this year or maybe the end of the second round (if lucky). 
2. Watford Needs to Strengthen His Inside Game
There is no debate that Watford is a great asset and shooter, averaging 43.7 percent behind the arc and an overall 41-percent field goal percentage.  Watford is able to step up Indiana in pressure situations and make big plays when needed (like his four threes during Indiana's battle vs. VCU in the NCAA tournament).  Watford could be transitioned to the 3 position in the NBA.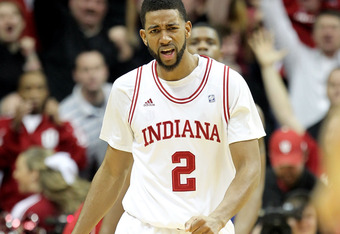 Andy Lyons/Getty Images
Regardless of whether he is transitioned from a power forward, it is imperative for Watford to improve his inside game before entering the draft.  Watford's play in the post is weak—unable to penetrate the lane effectively and undersized compared to other power forwards.  Another season (and offseason) will serve him well, allowing him to strengthen his game inside and add some build. 
Coach Tom Crean will work to make Watford a better player and NBA-ready over the next year.  The NBA will not.  They expect those who have entered the draft to be polished and ready to play at the professional level. 
It's evident that Crean has a strong appreciation of and cares for those who have stuck around to help rebuild Indiana basketball.  It would be stupid of Watford not to take advantage of this special help he may not receive during his first year in the NBA. 
3. Watford Will Gain a Closer Look from Scouts in Indiana's National Spotlight
Watford earned much acclaim and publicity from "the shot" vs. Kentucky on December 10.  His shot represented Indiana's rise from the dead by the media and was played on repeat anytime Indiana was discussed in the press. 
But with ESPN, USA Today and many sports analysts crowning Indiana as the preseason No. 1 team for 2012-13, the Hoosiers and Watford will have a buzz about them throughout the season and high expectations to produce success—something entirely new to Tom Crean's squad. 
Indiana's national spotlight and discussion in 2012-13 will give Watford more exposure and second looks from NBA scouts who may not have him on their radar.