Alabama Crimson Tide Football: Michigan the Biggest Challenge on the Schedule?
April 19, 2012

First off, it's pretty clear that Alabama is Michigan's biggest challenge during the 2012 regular season. Any time you play the defending national champions, you know you are going to have your hands full. 
But what threat does Michigan pose to Alabama? How does Michigan differ from Alabama's usual competition?
What threat does Michigan pose?
College football is too uncertain for one to guarantee anything with absolute certainty. Upsets do happen. Michigan upsetting Alabama is well within the realm of possibility because Michigan poses unique threats across the board.
I won't beat a dead horse here, but obviously Denard Robinson is a big-time player that can produce on the ground and through the air. He isn't getting any slower, and word around Ann Arbor is that his passing is improving a great deal.
Despite popular belief, he still has a talented group of receivers. Roy Roundtree and Jeremy Gallon are notorious for stepping up at big moments in big games.
Michigan's running game is coming along nicely as well, as Fitzgerald Toussaint will start at fullback for the Wolverines. In my humble opinion, he has one of the best lateral cuts in the league. If the offensive line manages to get him through the defensive line, he will often use that cut to make at least one defensive back miss. Additionally Thomas Rawls showed some nice power moves running the ball for Michigan in the spring.
There are concerns about the Wolverines' defense. They lost some big hefties on the defensive line, but everything behind it is pretty well set. The linebacker play is particularly good. The safeties and corners have matured a lot since last year and will not allow receivers the large cushions they have had in the past.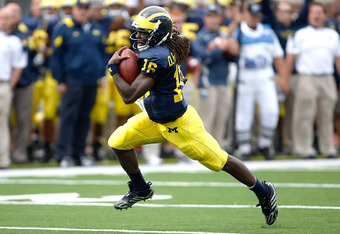 Greg Mattison is notorious for building something out of seemingly nothing. Since he isn't exactly starting from square one with this defense, it should be interesting to see just how good he can make it.
Even with the losses of Mike Martin and Ryan Van Bergen on the defensive line, Michigan is capable of fielding an even better defense than last season. Expect Mattison to do what he knows best and attack the football. Alabama will have to watch out for turnovers.
How does Michigan differ from the usual competition?
They differ in several ways. Firstly, there is the simple element of unfamiliarity. None of the current Alabama players has ever lined up across from a maize and blue jersey. That fact in itself has meaning.
The two teams have not played each other since their thrilling 2000 Orange Bowl meeting. Currently Michigan leads the series 2-1. Each of their three contests has been decided by four points or fewer.
In actual play on the field, Michigan differs from many SEC teams in their offensive play. Many SEC teams have stuck with pure pocket quarterbacks over the years. A good example is Ryan Mallett from Arkansas (2009-2010).
LSU and Auburn have run a little bit of option play over the last few years, but they are most comfortable with their quarterbacks in the pocket. Cam Newton is a noted exception. He was a true dual-threat quarterback. After transferring from Florida to Auburn, Newton passed for 2,908 yards and rushed for 1,586, all in the 2010 season.
Conversely, Denard Robinson is dangerous on the edge. When he rolls out on a bootleg with a run-pass option, he can torch a defense. He can also set up the screen as a third option to running or throwing downfield. As a result, Alabama will have to pull their corners up close to the line so Robinson doesn't kill them with his feet. This leaves gaps for wide receivers Roundtree and Gallon.
How does the rest of the schedule stack up?
Western Kentucky is Western Kentucky. I don't mean to diss on them, and as I said before anything is possible. However, WK is out of depth on this one.
Arkansas was poised to do serious damage in the SEC with their high-octane offense. However, if you put a bunch of great players on the field with nobody to coach them, you won't get very far. Unless Arkansas finds a fantastic interim head coach quickly, it may be in some trouble.
Florida Atlantic: See Western Kentucky.
Ole Miss needs to find some defense if it does not want to get laughed out of the SEC. They gave up 52 points against both Alabama and LSU last season and did not manage to win a single conference game. The 2012 season will likely be much the same.
Missouri is a conference new-comer that is about to get a rude awakening. They sleepwalked to an 8-5 record against some very lax defense last season. They will be lucky do half as well against the fast attacking SEC defenses they will face annually.
Last season, the Tennessee Volunteers were respectable in non-conference play. Then they were shellacked by Georgia, LSU, Alabama and South Carolina in four consecutive weeks of hell. They were outscored by these opponents 109-28. Tennessee showed a little promise, but folded in the face of true competition. Same story in 2012.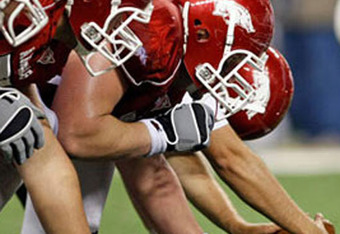 Last season, Mississippi State was just about as perfectly middle-of-the-road as Missouri. There isn't a whole lot to say about them. I wouldn't be surprised to see them lose about 24-7 to Alabama, as they did last season.
If Michigan is not the biggest threat to Alabama, LSU is. I am not 100 percent convinced that LSU's defense will be as stellar as some seem to think. They are holding on to "Honey Badger" Tyrann Mathieu, but one player does not a defense make. They are losing linebacker Ryan Baker, corner Ron Brooks and safety Brandon Taylor. There is no doubt the defense will be very, very good, but I don't know about best in the country.
Those are some pretty big hits to their secondary. Pass coverage may suffer in 2012. Also, if Tyrann Mathieu has as good a season in 2012 as he did in 2011, I will eat my shoes. Once a player exceeds your expectations, they can't exceed them again. I'm sorry. Tyrann Mathieu will not be bathed in Heisman hype.
The LSU offense also loses quarterback Jordan Jefferson.
Texas A&M will get a similar (Welcome to the conference!) working-over to that of Missouri.
Western Carolina: See Western Kentucky.
Auburn misses Cam Newton so much it hurts sometimes. Like when they were held to seven points by Georgia's crushing defense last year. Once Auburn develops some depth on offense and tightens up the defense, it will do well once again. For the next couple years they will struggle against the big four of the SEC: Alabama, LSU, Arkansas and Georgia.
In summation: Michigan might be the stiffest competition Alabama faces in 2012. If not, it will likely be LSU. Arkansas might bounce back from Petrino's loss this summer and surprise us. Nobody else stands a chance.