San Antonio Spurs: European Prospect May Finally Solve Big-Man Woes
April 19, 2012

Christian Petersen/Getty Images
If you had asked an NBA fan which aspect of San Antonio's team was the strongest, for years the obvious answer would be the play of their big men.
Since David Robinson first made an appearance in a Spurs' uniform in 1989, both the defense and the offense have been centered around the play of their centers and power forwards.
When Tim Duncan was added to the roster in 1997, the "Twin Towers" were formed, showcasing one of the greatest big-men tandems to ever play in the league.
Even after the reins were officially passed over to the Big Fundamental, the team's inside play remained their main aspect.
However, in this day and age, the same question would draw entirely different results. In fact, not only has the Spurs offense shifted away from their play in the paint, but their lack of size and talent at these positions has become one of their most glaring weaknesses.
Tim Duncan, though still an incredibly talented player, is no longer in his prime. With just one week until his 36th birthday, Duncan's seasons are limited.
Tiago Splitter, the 6'11'' prospect from Brazil, is developing into a stud, and may very well be the team's centerpiece in future years.
However, outside of those two, the Spurs are left with a 6'7'' DeJuan Blair, a 6'8'' Boris Diaw and the unathletic three-point specialist, Matt Bonner to provide depth in the frontcourt.
Their lack of size and athleticism is a major issue facing the organization, which was exploited in last year's playoffs, as the Spurs were sent home early at the hands of Marc Gasol and Zach Randolph.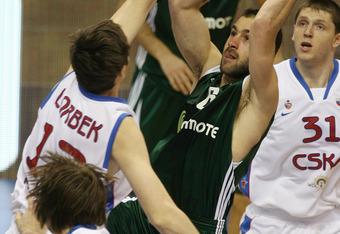 Matthias Kern/Getty Images
Most recently, this problem was showcased as Andrew Bynum grabbed 30 boards as the Lakers stepped on the Spurs in a potential preview of a playoff matchup.
However, after waiting and waiting for an answer, the solution may be closer than you think—figuratively.
While the distance from San Antonio to Barcelona is in no way a short walk, the Spurs have a prospect developing overseas there, and by next season, he may finally make his NBA appearance.
Erazem Lorbek was drafted in 2005 by the Indiana Pacers. It wasn't until recently, however, that the 6'10'' European product has showed any interest in joining an NBA roster.
Spurs fans—and most NBA fans—know about the draft-day deal that went down between the Spurs and the Pacers. The deal sent Indiana's first-round selection, Kawhi Leonard, in exchange for Spurs' guard, George Hill.
Another player sent to San Antonio was European big man, Erazem Lorbek, who may provide the solution to the Spurs' big-man woes.
After being acquired by San Antonio, Lorbek's perspective of his future in the NBA completely changed. While he was once skeptical about leaving Europe, he now states, "With this change, it's much more interesting to me. My hope is to cross the Atlantic to play in the strongest league in the world."
Davis Bertans and Adam Hanga are also two future prospects developing overseas, but Lorbek in particular has caught the Spurs' eye as they look to bring him over for the 2012-13 season.
While his defensive game needs work, Lorbek is an offensive juggernaut, with a wide range of talents. Like most power forwards, he can post people up and work the paint strongly. However, his other talents are what separate him from most big men.
Unlike most 6'10'' players, Lorbek can put the ball on the floor, and use this talent to create big shots for himself. Similar to Mehmet Okur, Lorbek is a surprisingly good shooter for a man his size, currently averaging over 53 percent from the floor and 40 percent from beyond the arc.
His fundamentals are an added bonus, not only adding to his repertoire but making him the pure definition of a Spur.
Whether or not Lorbek finally makes the jump to the NBA anytime soon is a question, but signs point to yes, and with this, the Spurs have hope to solve their growing big-man problem by next year.