NHL Playoffs: 5 Changes the Philadelphia Flyers Need to Make Heading into Game 5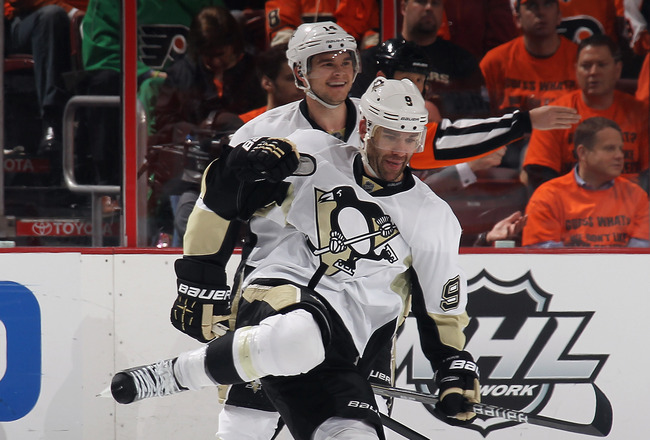 Bruce Bennett/Getty Images
With their backs against the wall, the Pittsburgh Penguins kick-started their comeback from 3-0 down in their series with the Philadelphia Flyers in a big way. The Pens took advantage of everything that went their way, including capitalizing with the man advantage and on poor goaltending by the Flyers.
To put it softly, the Flyers got blown out of the water in Game 4 on Wednesday night, and several aspects of their game have been exposed. Everything that could have gone wrong did go wrong for the Flyers on Wednesday night.
The Philadelphia Flyers must forget about this game immediately and wipe their memories clean, but at the same time, big changes need to be made entering Game 5 of the series. If they allow Pittsburgh to dominate like they have, they will lose Game 5 as well.
Play with Discipline
Bruce Bennett/Getty Images
The Flyers were extremely undisciplined in Game 4 against the Penguins. The one thing they knew heading into the game was that the referees were going to call the game tight to take away from the brawling in the first three games in the series.
The Pens were given nine power plays and capitalized on four of them. Unfortunately for Philadelphia, the Penguins' run of bad luck on the power play came to an end Wednesday night, and they took advantage of almost every opportunity.
The Flyers must also improve their penalty kill. The Pens' power play is on a roll and has all the momentum going into Game 5. The Flyers must return to their penalty kill structure that has frustrated the Pens in this series and throughout the regular season.
In addition to the lazy penalties resulting in goals against, rookie Zac Ronaldo finished the game with 26 penalty minutes, including a misconduct.
If the Flyers want to win Game 5, they must be more disciplined and not allow the Pens to get under their skin.
Play Better Five-on-Five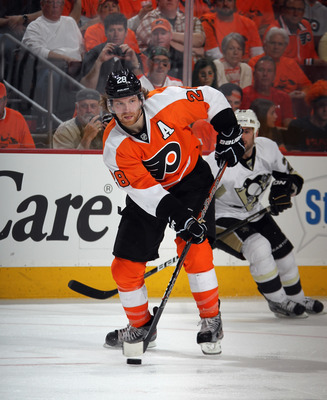 Bruce Bennett/Getty Images
When they weren't trying to kill off their nine power plays, the Flyers tried their best to play five-on-five, but even at full strength they were not that successful. They struggled to make plays, and their defence got caught pinching down far too often.
At times, they could not gain the Pittsburgh zone and keep the puck down low, instead choosing to go with low percentage shots on Marc-Andre Fleury. Philadelphia was severely outshot 35-24, and things only went downhill for them when playing at even strength.
Of eight consecutive unanswered goals for the Penguins, six were scored at even strength, compared to no even-strength goals by the Flyers.
The Flyers must make better hockey decisions at even strength in Game 5, as they are bound to find themselves in the box yet again if they keep playing their style of hockey.
Play with More Structure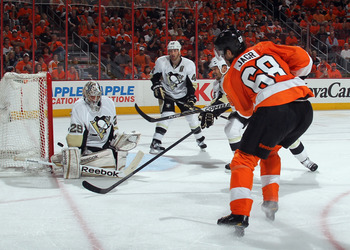 Bruce Bennett/Getty Images
Too often in Wednesday's 10-3 loss, the Flyers demonstrated unorganized play. On several of the Pens goals or scoring chances, the Flyers were all over the ice. At times it looked as if they did not even know if they were on the right line.
The lack of structure as the game wore on was very apparent when Pittsburgh had multiple odd man rushes as well as overloading one side when it is unnecessary, leaving men open in front of the Philly net.
In addition to the disorganization of the Flyers in their own end, they were equally out of sorts in the offensive zone. Too often the defence of Philadelphia got caught trying to do too much, leaving a forward to try and defend odd man rushes. Taking these forwards out of the play cost the Flyers on the scoreboard in a big way.
They must play with a structure to their game in Game 5 if they want to win. It is easy to come unraveled when the game is spiraling out of control as it did on Wednesday evening in Philly, but they can't let the same thing happen during Game 5 in Pittsburgh.
Rookie Resurgence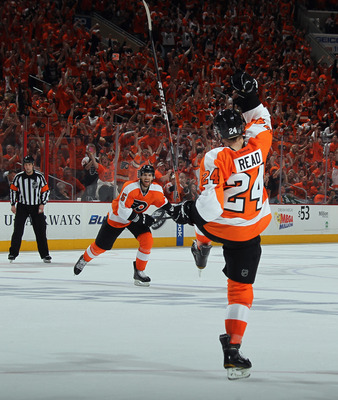 Bruce Bennett/Getty Images
Throughout the 2012 Stanley Cup Playoffs, the Philadelphia Flyers have counted largely on their unique combination of veteran and rookie players. It worked the first three games of their series with Pittsburgh, but rookie mistakes cost them in Game 4.
The rookies did not play as well as they did the first three games of the postseason. Matt Read overstayed his time on a shift, and it resulted in a goal. Brayden Schenn and Sean Courturier were undisciplined in their puck possession, and Zac Rinaldo got himself kicked out of the game altogether.
The Flyers' rookies are a huge reason as to why they have found success in this series, and many of them have been the unsung heroes in the playoffs so far. The rookies must return to form in Game 5 and put the puck past Marc-Andre Fleury, while remaining defensively responsible, to help their team to victory.
Ilya Bryzgalov Must Steal a Game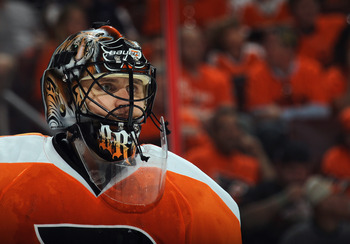 Bruce Bennett/Getty Images
Wednesday's game was a game to forget for both of the Philadelphia goaltenders. Starter Ilya Bryzgalov and backup goalie Sergei Bobrovski allowed five goals on 18 shots each. Although the goaltending in this series has been atrocious in general, a Philly goalie, namely Ilya Bryzgalov, must play better and almost steal a game in game five.
And by steal, we mean let in less than three goals. If possible, it is almost a guarantee in this series that the Flyers will skate to victory. This means no more .844 save percentage and 4.95 GAA, and time to play like he is being paid $5.6 million.
The most important aspect of this series—although it doesn't appear to be—is the lack of good play by either goalie on either team. A big goaltender performance could really allow the Flyers to walk away with the 4-1 series victory.
John Bain is a Bleacher Report Featured Columnist. Follow John on Twitter: @JohnBainSports
Keep Reading

Philadelphia Flyers: Like this team?