Chris Young Injury: Updates on Diamondbacks Star's Shoulder Injury
April 19, 2012

Bad news has come out of Arizona where the Diamondbacks have announced that star outfielder Chris Young has been placed on the 15-day disabled list.
The explanation early in the day was that it was a "right shoulder contusion," according to Hardball Talk, but later in the day the team found out the news was even worse.
Update: Friday, May 18 at 7:50 p.m. ET
He's baaaaack.
The official website of the Diamondbacks tweeted out this picture of Young as he warmed up for tonight's game against the Royals:
Outfielder @CY24_7 prepares for his return to the #Dbacks lineup tonight: twitter.com/Dbacks/status/…

— Arizona Diamondbacks (@Dbacks) May 18, 2012
This will be his first game since injuring his shoulder all the way back on April 17th. It will be interesting to see how quickly he can shake off the rust and add to his .400 batting average and .500 OBP.
Update: Tuesday, May 15 at 9:40 p.m. ET
Nick Piecoro, Diamondbacks beat writer for the Arizona Republic, passed along this injury updated on Young from skipper Kirk Gibson.
Gibson said Chris Young has an "outside shot" of playing this weekend in Kansas City.

— Nick Piecoro (@nickpiecoro) May 16, 2012
He will certainly be a welcome sight in this lineup whenever he does return.
UPDATE: Monday, 5/7, 7:15 p.m. ET
The Diamondbacks have been treading water without Young for the last three weeks, and it sounds like they won't have to for very much longer. Jack Magruder of FoxSportsArizona.com is reporting that Young is swinging the bat and a rehab stint is on the way:
#Dbacks CF Chris Young takes 50 swings on the cage, throws from 120 feet at Chase. Hopes to play on rehab assignment by this weekend.

— Jack Magruder (@JackMagruder) May 7, 2012
This is great news for Arizona. When you hear the words "tear" in any discussion regarding an injury you feat the worst but it sounds like the injury isn't nearly as bad as some expected. 
As long as he doesn't have any setbacks, expect Young to be back with the Diamondbacks at some point in the next two weeks. 
—————————————————————————————————————————————
Steve Gilbert of MLB.com reported that Young actually has a slight tear in his shoulder in addition to a deep bruise in the joint:
#Dbacks Chris Young has deep bruise in shoulder joint. Slight tear of ligament. Team will see if he's ready after 15 days.

— Steve Gilbert (@SteveGilbertMLB) April 18, 2012
It's a more severe injury than initially thought, and the team will likely be without Young for more than the required 15 days.
He injured the shoulder in the fourth inning of Tuesday night's game against the Pittsburgh Pirates. A Pedro Alvarez fly ball sailed to the fence and Young slammed into the wall as he made the catch. He remained on the ground for several minutes before being helped off the field.
The team called up Triple-A center fielder AJ Pollock to take the spot of the injured Geoff Blum, and he will now likely be the prime candidate to hold down the fort for Young if Gerardo Parra is forced to sub for another ailing outfielder in Justin Upton.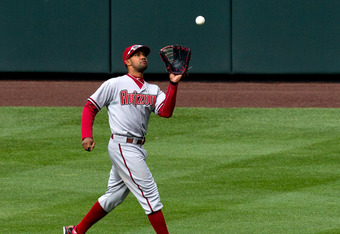 Justin Edmonds/Getty Images
The injury is a real shame considering the blistering start Young had gotten off to. He was hitting .410 with five home runs, 13 RBI and two stolen bases in 46 ABs.
Now he has suffered a huge setback that may have lingering effects for the remainder of the season if the team rushes him back. Being a center fielder, the full range of motion he has to incorporate with his throws when the arm and shoulder are not completely healthy could spell disaster.
That is why the team has to take a very cautious approach with Young.
It's not a death blow by any means, but this is certainly not what the team needed to deal with so early in the season.