San Francisco Giants: Madison Bumgarner Will Emerge as the Team's Ace This Year
April 19, 2012

Ezra Shaw/Getty Images
To be deemed the ace in a pitching rotation that features both Tim Lincecum and Matt Cain might sound ludicrous, but Madison Bumgarner has the tools to surpass both of his peers and become the San Francisco Giants' No. 1 pitcher, and this might be the year he does so.
This article was not inspired by Lincecum's recent command struggles, but rather the immeasurable amount of potential that the 22-year-old lefty undeniably has. 
After Bumgarner shut down the world's best offense in baseball—the Texas Rangers—in Game 4 of the 2010 World Series, I became a believer and realized that the sky is the limit for him.
If you want to relive that unforgettable moment, you can do so here. Enjoy.
The most remarkable facet of his performance that game was that he was only 21 years old at the time. Most kids his age were sitting in their college apartments and enjoying their last couple months of freedom, but Bumgarner was on the mound pitching a masterpiece that even Hall of Fame pitchers could only dream about.
Since his coming-out party in 2010, Bumgarner was arguably the best Giants' starter during the second half of the season in 2011, as evident by his 7-3 record and 2.16 ERA during the final two months of the season.
But never mind his W-L record or ERA, because that isn't what separates Bumgarner from the rest.
His overall presence on the mound is far beyond his years. You will rarely see him lose his composure on the mound, but when it happens, he'll make sure he gets ejected from the game so that he doesn't have to come back out and pitch after being involved in a heated confrontation. That last sentence was exaggeration, but I don't think Bumgarner has lost his cool since pitching in the major leagues.
Moreover, his 8.40 K/9 and 2.02 BB/9 ratios were extremely impressive, especially when coupled together. Not a lot of pitchers possess the ability to strike batters out and limit their walk totals at the same time. In fact, Madison Bumgarner is only one of five pitchers who placed in the top 20 of both K/9 and BB/9 in 2011.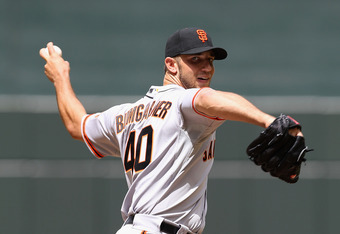 Christian Petersen/Getty Images
Roy Halladay, Clayton Kershaw, Justin Verlander and Cliff Lee were the only other pitchers to accomplish this feat in 2011. That's not bad company at all.
Speaking of Lee, an article written by David Schoenfield of ESPN got me thinking a little bit.
Not only could Bumgarner emerge as a dark-horse candidate for the Cy Young award this year, but he is extremely reminiscent of Lee in regards to his pinpoint accuracy and strikeout ability.
Also, both are lefties who rely on their devastating cutters to get right-handed hitters out. It's a pitch that Bumgarner has been developing, and its effectiveness was put on display last night against the Philadelphia Phillies, which can be seen here. 
There were three separate instances when Bumgarner needed a double-play ball to get out a jam, and he elected to use a cutter all three times. Since his cutter has late movement in on the hands of a right-handed hitter, it prevents the batter from making solid contact with the ball. That said, Bumgarner forced all three batters to hit into a double play right to the shortstop, Brandon Crawford.
This pitch is just one of the many puzzles that Bumgarner has already solved during his extremely short stint in the major leagues. He won't be 23 years old until August, and even then, he'll still be years away from even entering his prime.
The Giants' front office made a huge statement when they signed Bumgarner to a five-year extension worth roughly $35 million. According to SFX, the contract was the largest sum of money guaranteed to a player with only one-plus year of service in the history of MLB (h/t NBC Bay Area).
And on the heels of receiving the monumental contract, Bumgarner backed it up by pitching six strong innings against the Philadelphia Phillies. It wasn't the best start of his career by any means, but it pretty much assured that his slow start last year—Bumgarner started off the season 0-5 in 2011—won't be repeated this year. Plus, there was no way that the unflappable Bumgarner would've let signing that hefty contract get to his head.
One thing that all great pitchers, and all great athletes for that matter, have in common is determination and the drive to get better.
Bumgarner possesses that trait.
And if you combine that with his ability to hurl a baseball and the fact that he's been able to legally consume alcohol for only eight months, it's plausible that one day the two best lefties in MLB will reside in the NL West. And yes, Kershaw would be the other fellow.
If this prediction holds true, not only would Bumgarner's contract be one of the best value contracts in baseball, but he'd become the ace of one of the best rotations in the game.