5 Reasons Why Marcus Mariota Will Be the Starting QB for the Oregon Ducks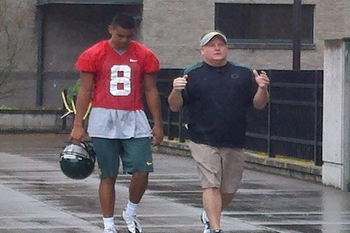 247sports.com
Not so fast, my friend! My most excellent colleague, Joe Penkala, wrote a fine article earlier this week about why Bryan Bennett will be the starting quarterback for the Oregon Ducks in the fall.
I almost always agree with Joe—the guy is one smart Ducks fan—but in this case I think he has it wrong. I believe the starting QB job for the Ducks is going to redshirt freshman Marcus Mariota. Here is my argument.
Keep Reading

Oregon Ducks Football: Like this team?