Mind Control: How Rashad Evans Might Beat Jon Jones at UFC 145
April 20, 2012

Former UFC champion Rashad Evans is alone in a room with coach Al Fuentes. Evans knows that in order to beat Jon Jones—the reigning light heavyweight kingpin considered the odds-on favorite to not just win this fight, but to cement his place in history—he will need to be sharp.
Boxing, kickboxing, wrestling, grappling—these are a fighter's tools. No one can win without them, and Evans trains them every day with experts in each field.
"Everyone in my camp has a great vibe," Evans told Bleacher Report at the UFC 145 open workouts. "Mario Sperry is one of the best coaches I've ever gotten a chance to train with. He's so cool and relaxed, you know? Henri Hooft is one of the best coaches I've had as well. He's super chill and relaxed. They've got different vibes and relate to me in different ways.
"We all have our own unique relationships. It makes it easier to train. Because if they think I'm doing something (wrong) they'll be up front with me. They won't treat me like some kind of superstar...They really care."
But Rashad and a growing number of MMA stars have learned there is another powerful tool that's just as important as anything martial—as important as the wrestling he learns from Mike Van Arsdale, the jiu-jitsu he trains with Sperry, and the kickboxing lumps he takes from Hooft and Tyrone Spong.
Al Fuentes, despite his background as a collegiate wrestler and coach at Arizona State, isn't teaching Rashad how to jab or shoot the double leg. Fuentes isn't sharing revolutionary techniques to maximize the deadlift or how to push the body with interval work. He's training an organ even more powerful than the fist or the shin—Al Fuentes is helping Rashad Evans mold his mind into a dangerous weapon.
"It's so important," Fuentes told Bleacher Report in an exclusive interview. "You have this camp, all fighters do, and it's usually eight to 12 weeks long. And you can do everything physical you need to do there. But when it comes to fight time? If your mind isn't in the right place it doesn't matter how physically ready you are...
"A lot of fighters use negativity to try and motivate themselves. They tell themselves 'I'm not doing enough' or use adrenaline to try to get themselves worked up. The traditional way for a fighter to motivate themselves is to get emotionally angry and super psyched up, or they have to talk down to themselves to get themselves going.
"That's all stuff I try to get my fighters past, to help them reach mental maturity. To help them understand the science behind the mental game and to perform. That process starts with the understanding that the more chemicals you fire into the body, the worse it will be for you."
Evans, the former light heavyweight champion, is all in. He's made Fuentes a regular part of his fight-week entourage and works with him several times during fight week.
"It helps out a lot," Evans said. "I like to bring him to every fight. It's so easy to get pulled away from yourself. Being able to mentally recenter myself, breathe, and get everything under control, it keeps me ready to go."
Who Are You So Wise in the Ways of Science?
Talking with Fuentes, even for a half hour, can leave you feeling ready to take on the world. He's an interesting dichotomy, a mixture of new age mystic and grounded athlete. His revolutionary approach to the mental game honestly changes fighter's lives, not just their games.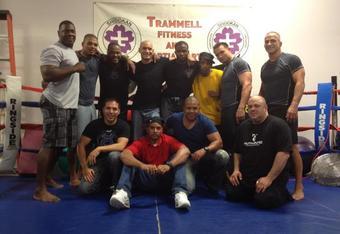 "This is way more important and way more productive than anything they've ever done," Fuentes said. "It gets way better results and it's been proven by all the people I work with."
What Fuentes does is a little different than traditional performance coaching, probably because his background is a little different than the typical mental coaches. An All-American wrestler at the University of Findlay, Fuentes didn't start considering how to improve athletic performance to help a client. He focused his life on performance issues to help himself and figure out why his own athletic career wasn't as successful as he'd hoped.
"I started developing my breathing techniques back then," Fuentes said. "I needed answers about my own shortcomings.  I needed answers about my own self sabotage and I didn't get them. When I would go see other counselors or other psychologists, they just wanted to talk. But didn't want to give me any solutions. It was really frustrating."
Like most athletes, Fuentes was a physical person. There was a time for talk and introspection, but on the field of play, it was detrimental to be stuck in your own head. Athletes, he knew, were used to hard work, drilling and repetition. Why, he wondered, couldn't that ethic apply to the mental side of the game as well?
"I logically and intellectually knew what I didn't want to feel, I didn't need (a sports psychologist) to tell me that. I just wanted to fix it...If you can give (athletes) an exercise that helps them work their mind, that sounds great to them," Fuentes said. "I knew myself, as an athlete, if you could show me something to do, I would have no problem doing it. If you'd told me I could do a thousand pushups and my problems would go away, I would have done 2000. That's where I got the concept of using the physical body to control the mental body."
Breathe in, Breathe Out
In athletics, it's considered a given that at least half of the game is mental. Yet, almost the entirety of an athlete's training effort is spent in the physical realm. To achieve peak performance, Fuentes believes athletes need to devote more time to controlling their own minds and bodies. And it all starts with breathing.
"Everyone breathes, and it's an autonomic process," Fuentes said. "The body just does it. The problem with that is, because it is automatic, we don't think about it. We don't think about how breathing is effecting our bodies. And we certainly don't try to control it. The one time we do try to control it, it's already too late.
"When you start thinking 'Man, I should take a deep breath,' you're already way too late and the chemicals in your body have taken over and you're not coming back to a very relaxed place unless you've been training your breathing."
Fuentes' breathing system allows the body to send the right signals to your brain. The brain and the body are intimately connected. When the brain checks the body to see how things are going, Fuentes believes it senses the distress that comes with labored or inconsistent breathing. And the end result are exhausted fighters who are a step slow.
Evans had felt the connection between the mind and the body in his own Octagon experiences. When he spoke with Fuentes, it was like a switch clicking on. Energy is not limitless and when you waste it on unproductive thoughts and anxiety; the result is a less effective athlete.
"It's easy to get too excited. It's easy to think about the fight. For it to be the only thing on your mind," Evans said. "I've had many fights where I thought about it too much. It was in my mind so much that when I got into the fight I was already exhausted. By the first punch I was already (gasping for breath). I couldn't breathe. It's good to just wait for the time to open up and fight."
The Visual
The second part of the Fuentes system involves cutting-edge visualization techniques. These aren't the garden variety "picture yourself holding the trophy" techniques many sports psychologists utilize. Proper breathing allows the athlete to be in control of his body and mind. The visualization process allows the athlete to use the brain to their advantage.

"I work with a lot of professional athletes in a lot of sports and there's not one that didn't already do some form of visualization," Fuentes said. "When I talk to them and try to explain that it is a different kind of visualization, it's hard to grasp. They think of their fight, punching or kicking, but it's much more than that. We're going to a very heightened state of awareness."
The visualization is so specific and intense that a fighter can essentially learn to ignore pain and discomfort with the power of his mind. UFC light heavyweight Kyle Kingsbury had separated ribs going into his UFC 104 fight with Razak Al-Hassan. With Al's help he focused his energy on the ribs, with some amazing results.
"Anytime there was any attention brought to that rib it brought me to a very relaxed place," Kingsbury said. "During the fight there was twice in the second round when I was kicked directly in the injured rib. There was no panic. I was very calm and relaxed and knew what I needed to do to win."
If it seems a bit like meditation, that's because it is. Fuentes prefers the term visualization because it eliminates the spiritual and religious connotations from an ancient art. But the two are one and the same. Fuentes, however, draws the line at the suggestion that his work with Kingsbury may have been  hypnosis of some kind.
"If it was hypnosis, that means I would be in control," Fuentes said. "I teach all of my athletes how to be self-empowered. So they have to be conscious during this process of visualization. Otherwise the system doesn't work.
"What we're really doing is helping them connect on a whole new level. And when they're at that level, their ability to change their chemical body structure and their mental structure is amazing."
The Session
It starts like any other session with a headshrinker. Al Fuentes and Rashad Evans just sitting and chatting about how things are going. But Al isn't looking to help fighters solve personal problems—he's looking to help them get to a mental place where they can succeed. And that involves the body every bit as much as the mind.
A heightened sense of awareness, an intense focus on his own body creates a comfortable feeling. When the mind and body start partnering together, that's where we find the system at its best.
"A lot of athletes have a hard time getting into the zone. Sometimes they just magically fall into it, but they don't know why," Fuentes said. "We actually help create that experience."
After Evans is zoned in on his own body, the breathing techniques begin. It's not a silent process. If you're picturing monks and a temple, that's the wrong mental image. Fuentes walks Evans through the whole process, coaching him along the path. And then the performance training goes to a whole new level.
"I take an athlete and put them in their physical movement," Fuentes said. "I create a physical visualization. Typically their eyes are closed and I'm programming this mind and body connection. So they can start feeling more, instead of just doing.
"Most athletes, they go in and they do. Whether it's punching somebody, kicking a bag, lifting, running, swinging a baseball bat or a golf club, they just do. Very few athletes feel. I want you to feel first and do second. That's a lot of training and that's what the physical visualization I've developed does."
While he didn't discuss his strategy, Evans and other fighters Fuentes works with makes no bones about the fact he helps them execute it and get results.
"Ever since I lost to (Lyoto) Machida, I've always brought Al with me and I've always had great results," Evans said. "It's about having a great performance and having the performance that I want to have. You can go into a fight and even win a fight. But it's another thing to compete the way you want to compete."