Virginia Football: 5 Weakest Positions to Worry About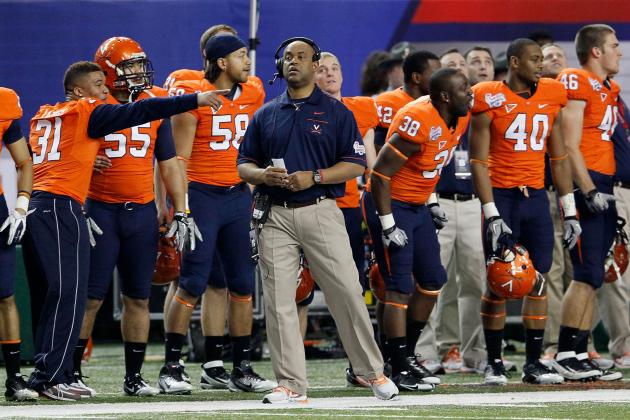 Kevin C. Cox/Getty Images

Virginia football surprised everyone when they went 8-5 and played in the Chick-fil-A Peach Bowl on New Years Eve last season.
The Cavaliers had won only one ACC game in Mike London's first season as head coach at Virginia but used his highly-touted recruiting class to surprise people.
Granted, it was not an easy task. Virginia was clearly a work in progress on both sides of the ball.
Yet, now Cavalier fans must deal with a new enemy: expectations.
Virginia is not going to sneak up on people's radars anymore. How are they going to be able to handle their new role in the ACC?
London did a good job by bringing in another good recruiting class, improving the overall depth and talent of the team. However, major question marks remain on both sides of the ball.
While some units have incredible depth, other units will have plenty of pressure of trying to avoid being the weakest link in the chain.
Sure, Virginia fans have to love the progression of quarterback Michael Rocco and the running game, led by a three-headed monster at tailback.
Will they be enough to counter-balance some of the perceived weaknesses?
Let's take a look at the units that must improve if Virginia is going to take a step forward in 2012.
Begin Slideshow

»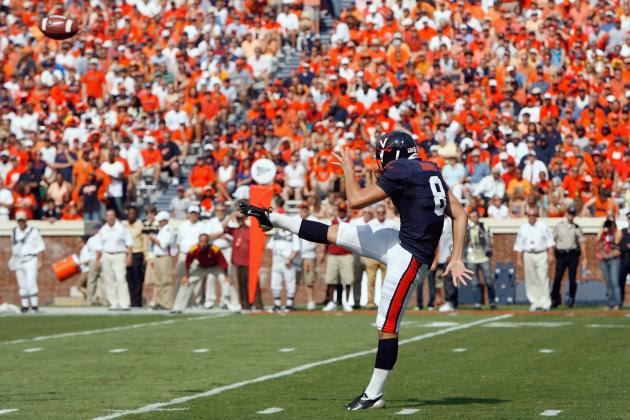 Kevin C. Cox/Getty Images

Over the years, Virginia's offensive futility made Cavalier fans all to cognizant of punter Jimmy Howell.
As a freshman, Howell was a saving grace to a team mired in offensive bungling. His distance and accuracy kept games competitive and gave opportunities to keep field advantage in the Cavalier favor.
However, Howell is gone now and in his place is a young man who has yet to take the field at Scott Stadium.
Alec Vozenilek is a rising sophomore who dressed for just over half the games played last season, getting an opportunity to learn from Howell but not getting a chance to put his teachings into practice in a game setting.
As a kicker at St. Christopher's, Vozenilek set school records for just about every kicking category, but he inherits a unit that finished 11th out of 12 ACC schools in net yards per punt.
While his long snapper is experienced and was recruited as one of the best in the country, Virginia's coverage of punts has to improve in 2012. If Vozenilek cannot get the ball away quickly, he not only risks a block but forces the coverage to play conservatively, allowing for big gains in the return game.
Punting may seem rather innocent, but the results loom large in the final result of the game.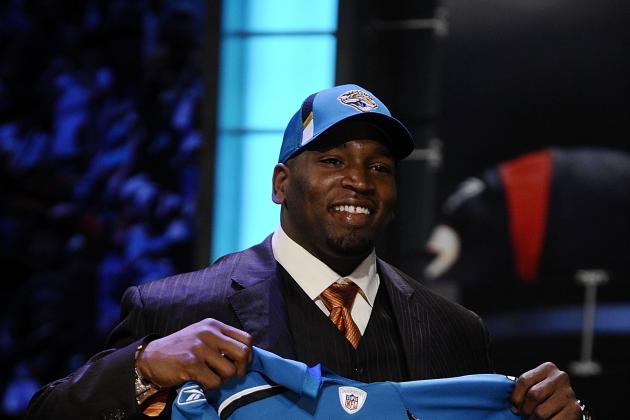 Jeff Zelevansky/Getty Images

It was not that long ago that Virginia was "Offensive Lineman U."
With guys like Branden Albert, D'Brickashaw Ferguson and Eugene Monroe going early in the first round, Virginia has used these big men to power their rushing attack.
Unfortunately, the two veteran forces of Austin Pasztor and Anthony Mihota are gone and leave a hole on the offensive line.
Pasztor was not only talented, he was an anchor for the Cavaliers, starting 44 games and allowing zero sacks on 781 plays in 2011. His presence will be sorely missed.
Not to be outdone, Mihota twice earned ACC Offensive Lineman of the Week honors and helped Virginia's rushing offense rank fourth in the conference.
While losing two veterans is bad enough, three of the five projected starters on the line missed the spring game due to injuries.
On one hand, that allows other linemen an opportunity and Virginia definitely clicked on offense, but that does lead to concerns over continuity.
Can Virginia's line develop a rapport and bond that will make them build on their success of 2011?
It is certainly a question worth asking.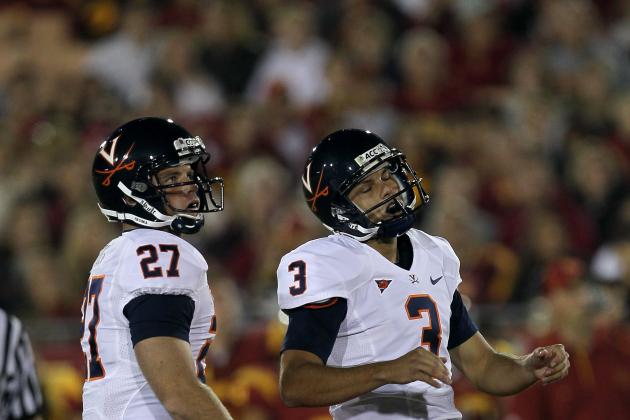 Stephen Dunn/Getty Images

While kickers are often overlooked, they often hold the balance of the game on their foot.
Coach London famously said that three games a year will come down to special teams and if that holds true for the Cavaliers, then fans should be nervous.
Robert Randolph, a streaky kicker last year, is gone. Behind him stands a big unknown.
Ian Frye and Drew Jarrett are the two options at this position and although Frye is number one on the depth chart, Jarrett got plenty of opportunities in the spring game as well.
Frye has the most impressive kick in the game with a 42-yarder, but it appears that neither has really secured the unquestioned starter position.
The last time Virginia entered the season with such uncertainty at placekicker, the Cavaliers went 9-of-15 on field goals and 6-of-12 from 30 yards and out.
Jarrett may have handled kickoff duties before, but that was way back in 2008 before Chris Hinkebein replaced him.
That sort of fluidity cannot reassure Cavalier fans, particularly if 2012 will be decided in some shootouts where every point matters.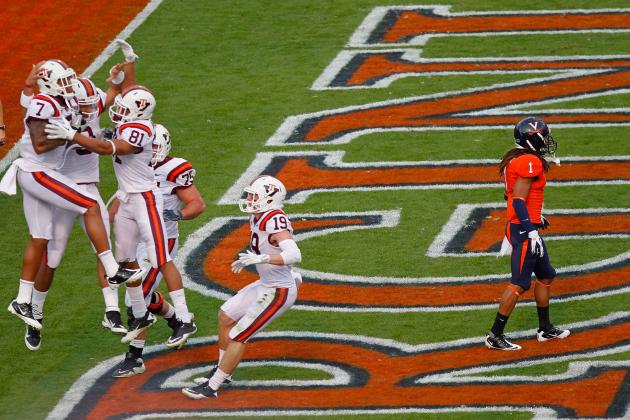 Geoff Burke/Getty Images

Sorry to break it to Cavalier fans, but Chase Minnifield is not walking through that door.
For years now, Virginia has had one the deeper secondaries in the ACC. However, those stalwarts have graduated, leaving a chasm left to be filled by inexperienced and unproven talent.
The one experienced option is Demetrious Nicholson. Starting alongside Minnifield as a true freshman, Nicholson impressed with his speed and tenacity.
His size, however, has proven to be a big liability against the top teams in the country.
Although he finished fourth on the team in tackles with eight break-ups and two interceptions, the Virginia pass defense gave up over 12.5 yards per completion in three of the final four games of the season.
Against Miami, that number was a staggering 21.5 yards per completion.
Nicholson's 5'11'' frame makes him an easy target and he will probably be picked on again next year.
His current teammate in the backfield is Drequan Hoskey, who made one of the plays of the year when he broke up a would-be touchdown completion late in the Florida State game, helping Virginia towards its biggest victory of the season.
Outside of that flash of brilliance, though, Hoskey has limited game experience and those numbers dwindle dramatically behind the starters.
Cornerback is one of the toughest positions to play in football and being talented is not enough. You have to do your homework and be able to recognize packages.
That knowledge requires time, effort and repetition. In other words, the question marks loom large at this position.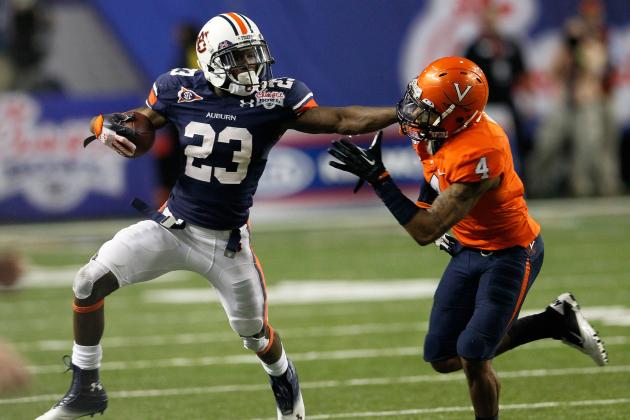 Kevin C. Cox/Getty Images

The safety has a responsibility to clean up messes.
They are the last line of defense and require not only great speed and agility, but the ability to knock people to the turf to avoid big plays.
While Virginia's tackling improved greatly in 2011, their penchant for giving up big plays did not disappear.
Whether it was the 3rd-and-23 conversion by Southern Mississippi, the 51-yard pass to Tommy Streeter by Miami or the two 25-plus-yard runs by David Wilson and Virginia Tech, Virginia has seen SportsCenter highlights with them on the wrong end.
If Virginia is going to try and avoid these secondary gaffes, it is going to come from a relatively unknown group.
The current crop of safeties feature one junior, four sophomores and two redshirt freshmen.
Rijo Walker, the starting free safety, played in 13 games, starting two and finishing with 10 tackles. His running mate at strong safety, Anthony Harris, finished with 14 tackles.
No other safety on the roster has more than three tackles to their credit in their collegiate careers.
Harris, in particular, cannot afford injury given the lack of depth behind him.
This puts Virginia in a precarious position, relying on erasers who are unaccustomed to the task. This trial by fire will show us not only a great deal about the heart of these players but the future of this program.