Mark Melancon: Latest in a Long Line of Cringe-Worthy Boston Red Sox Relievers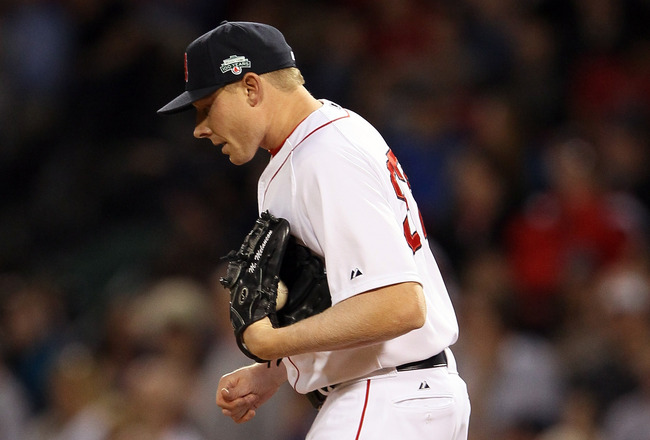 Elsa/Getty Images
Nothing has gone right for reliever Mark Melancon in his first season in Boston.
In four appearances, he has given up almost as many home runs (five) as outs he's recorded (six). His ERA is an unsightly 49.50. Brought in for his ability to make batters swing and miss during his time as a Houston Astros closer, he's not fooling anybody. Only time will tell if Melancon's demotion to Pawtucket today can turn his season—and possibly his career—around.
Sadly, he is the latest in a line of Red Sox pitchers that stretches back a long time: The Whipping Boy Reliever. Each time said pitcher trots in from the bullpen, Boston fans cover their eyes, as the opposing lineup prepares to feast on meat balls. Having them leave the mound to a chorus of boos from the Fenway crowd isn't unfortunate, it's expected.
Bob Stanley, who was on the mound for the Sox during the Buckner Play, may have been the first member of this infamous club. But for the purposes of limiting the masochism of this article, we'll just review the past decade's worth of inept Boston relievers.
Prepare to cover your eyes—after you read on, of course.
2011: Dan Wheeler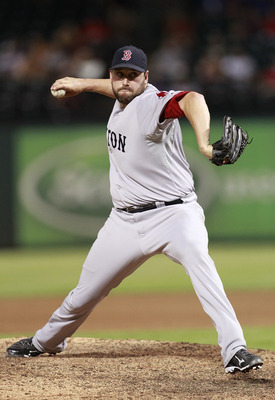 Rick Yeatts/Getty Images
When Wheeler signed with the team he grew up rooting for as a kid in Rhode Island, the Red Sox thought they'd be getting the same durable, effective reliever who had thrived with division rival Tampa Bay.
Instead, they got a guy who left fans shaking their heads.
Was it age that caught up to the then 34-year-old Wheeler? Or the mounting number of appearances accumulated over previous seasons (64 or more every year since 2005)? Whatever it was, Wheeler was decidedly average in 2011 and left the Red Sox wanting more.
Wheeler made his fewest appearances (47) since 2004 and struck out fewer batters (39) than any season since 2003. His 4.38 ERA was a full run higher than the season before, and while his WHIP was a respectable 1.12, it was his worst showing in that category since 2007.
Long story short, Wheeler was underwhelming when the Red Sox expected him to be the same shot-in-the-arm reliever he had been before.
Matt Albers is a close second here, which makes the fact that he's still on the pitching staff a little sad. But I suppose every team needs a cult hero like "Fat Albers."
2010: Hideki Okajima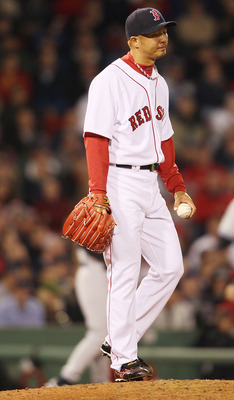 Elsa/Getty Images
After such a brilliant start to his major league career in 2007—both in the regular season and the Red Sox's march to the World Series—it was sad to see the man behind the "Okie Dokie" fool fewer batters in 2010 and have the stress of the previous three seasons catch up to him.
While the lefty was reliable enough to make 56 appearances and pick up four wins in relief, he was past his prime. A not-terrible 4.50 ERA masked a WHIP that had ballooned to 1.72—nearly double the minuscule 0.97 that he maintained during the '07 regular season.
Between 2008 and 2010, the American League got used to Okajima's unorthodox delivery and the deceptiveness of his breaking pitches, diminishing his effectiveness as a shutdown reliever. In his final full season in Boston, he was walking batters at a higher rate and making shorter and shorter relief appearances.
Considering how much Okajima had endeared himself to Red Sox Nation with his performance in 2007, it was incredibly sad to see his tenure at Fenway end with such a whimper.
2009: Manny Delcarmen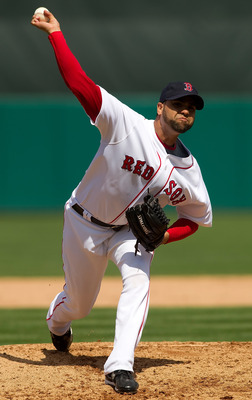 J. Meric/Getty Images
Delcarmen had all the makings of a reliever who would carve out a long-term niche in the Boston bullpen. He was a native of Hyde Park—just a 20-minute drive from Fenway—with a high-90s fastball and a willingness to go after any batter.
He seemed to harness his preternatural gifts during the 2007 and '08 seasons when he averaged nearly a strikeout per inning and gave the Red Sox a combined 117 appearances. But just as quickly as Delcarmen seemed to find his groove, his effectiveness deserted him.
Delcarmen regressed in 2009, while fellow relievers Jonathan Papelbon, Ramon Ramirez, Hideki Okajima and Takashi Saito all enjoyed solid seasons. His K/9 IP dropped from 8.7 to 6.6; having never fully harnessed a complimentary breaking pitch, opposing batters were less and less fooled by Delcarmen's plus fastball.
Control was never Delcarmen's strong suit, but he made up for it by inducing a lot of swings and misses. When the batters stopped missing, Delcarmen's ERA jumped a run and a half over 2008 (3.27 to 4.53) and his WHIP increased by over half a point (1.12 to 1.64).
This carried over into 2010. After 48 appearances with the Red Sox to the tune of a 4.70 ERA, Delcarmen was traded to the Colorado Rockies.
2008: Mike Timlin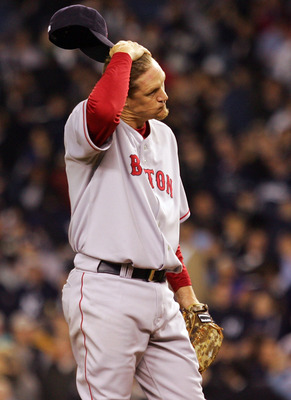 Jim McIsaac/Getty Images
The 2008 season began as an earnest quest to get Timlin the all-time record for appearances by a right-handed pitcher, which he achieved in September. Alas, it was also marked by his penchant for allowing the long ball at a rate not seen in Boston since John "Way Back" Wasdin.
It was an unexpected regression from Timlin. Despite turning 42 before the season began, he was coming off a solid 2007 highlighted by a streak of 14 consecutive scoreless innings pitched. And it appeared he was recovered from the oblique and shoulder injuries that had affected him before.
This was before Timlin's bread-and-butter sinker—the signature pitch throughout his 18-year major league career—stopped sinking. When it started flattening out, Timlin's ERA rose to a career-high 5.66 and he surrendered nine home runs in just 49.1 innings pitched.
2007: Eric Gagne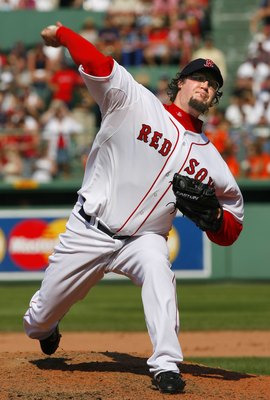 Jim Rogash/Getty Images
It was a trade deadline deal that, on paper, made perfect sense: Have a record-breaking closer (Eric Gagne) serve as a setup man for Boston's budding star reliever (Jonathan Papelbon). The Red Sox bullpen had already been effective before the deal, and now it would be downright dominant.
Alas, how things look on paper are not how they always turn out.
Gagne spent the first half of 2007 as an effective closer with the Rangers, and he never fully got used to being a setup man upon arriving in Boston. In his first 15 appearances with the Red Sox, Gagne allowed 14 runs in 14 innings, with three blown saves and an opponent batting average over .350.
By the time the postseason began, Gagne was mostly brought in when the Red Sox had already put the game out of reach. The one exception was Game 2 of the American League Championship Series against the Cleveland Indians, when Boston had used all other eligible pitchers through 10 innings. Gagne allowed two runs in the top of the 11th and took the loss.
In recent memory, few players have contributed as little as Gagne did to the 2007 Red Sox and gotten a World Series ring in return.
2006: Rudy Seanez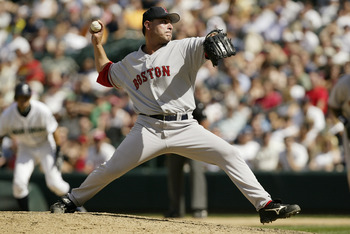 Otto Greule Jr/Getty Images
Just a season before, while with the Padres, Seanez had set career highs in wins (seven), games pitched (57), innings (60.1) and strikeouts (84). Then he moved to the American League—away from the spacious confines of San Diego's Petco Park—and his performance in Boston was a dud.
An aggressive pitcher, Seanez was never afraid to challenge batters with a fastball that touched 96 on the gun. But it was a fastball with little movement. While he still managed to strike out a batter per inning with the Red Sox, Seanez fooled fewer batters in the American League. His ERA jumped more than two full runs, to 4.82, while his K/BB rate—a stellar 3.82 in '05—plummeted to 1.85.
This was a classic case of a National League pitcher being unable to adjust to a change in leagues. Following his tenure in Boston, Seanez spent two more full seasons in the majors, with the Dodgers ('07) and Phillies ('08). His ERA never exceeded 3.79 in either year.
2005: Curt Schilling
Jim McIsaac/Getty Images
There are a lot of candidates to choose from for this season—a putrid one for Sox pitchers as a whole.
There was Keith Foulke, one of the heroes from the previous year's World Series champions. Worn down to a nub after pitching 83 regular season innings in 2004 and another 14 in the postseason, Foulke struggled with injuries throughout 2005. He also alienated himself from Red Sox fans with his "Johnny from Burger King" comment after a particularly brutal outing in June.
There was Matt Mantei, the onetime fire-balling phenom with the Diamondbacks. Coming to the end of a career derailed by assorted arm injuries, Mantei had more walks (24) than strikeouts (22) and finished his last season in the major leagues with a 6.49 ERA over 34 appearances.
But the dubious honor for Boston's most cringe-worthy reliever in 2005 goes to Curt Schilling. Considering his Bloody Ankle heroics in the 2004 ALCS and World Series, Schilling deserves a mulligan. That said, it was hard to watch him struggle—especially after the team decided to make him the closer.
Schilling took the loss in his closing debut on July 14 against the Yankees, courtesy of a two-run bomb by Alex Rodriguez that traveled well over 400 feet to straightaway center field. Schilling was able to convert seven straight save opportunities at one point in the season, but with 14 earned runs allowed in 24.1 innings pitched out of the pen, he was far from effective.
Thankfully, this square-peg-in-a-round-hole experiment only lasted for two months, after which Schilling went back to the starting rotation.
2004: Curt Leskanic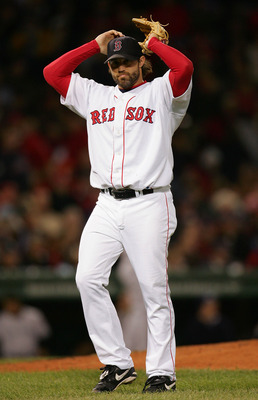 Al Bello/Getty Images
This is not an indictment on Leskanic's performance in '04. Boston's relief pitching was rock solid that year—a major reason why they broke the curse—and Leskanic finished the regular season with a 3.58 ERA in 32 appearances.
What made Leskanic so aggravating to watch was how unpredictable he was.
The first significant event in his Red Sox career was a painful one, giving up a walk-off hit in a 5-4, extra-innings loss at Yankee Stadium that led many Boston diehards to believe the season was over. And while he strung together enough scoreless outings to be considered reliable, he had fans and coaches biting their nails all the while, walking 5.2 batters for every nine innings pitched.
So naturally, he throws 1.1 shutout innings and earns the win in Game 4 of the ALCS against the Yankees, helping kick-start the biggest comeback in MLB playoff history. Leskanic would have made it so much easier to watch him if he wasn't such a schizophrenic pitcher.
2003: Ramiro Mendoza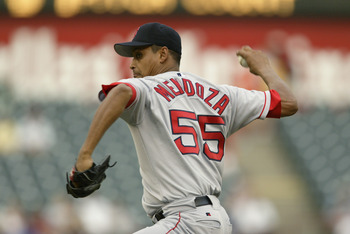 Brian Bahr/Getty Images
With the Red Sox still mired in a World Series drought at the time, this just seemed like a cruel trick that the Yankees played.
Following two straight seasons in the Bronx where he finished with an 8-4 record, an ERA no higher than 3.75 and no fewer than 56 appearances, Mendoza was battered around in his first season with Boston. In 66.2 innings pitched, he allowed 98 hits—including 10 home runs—and 50 earned runs, resulting in a 6.75 ERA and 1.77 WHIP.
Scott Sauerbeck is a close runner-up. Thought to be the lefty specialist that Boston needed for its stretch run, he had a WHIP of over 2.00 in 26 appearances with the Red Sox following his trade from Pittsburgh. To make matters worse, the Red Sox gave away future National League batting champion Freddy Sanchez as part of the deal.
2002: Rich Garces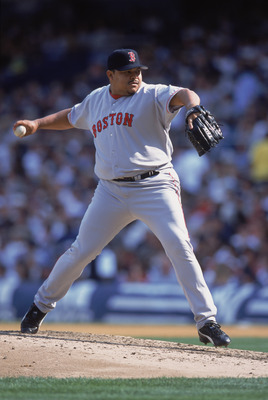 M. David Leeds/Getty Images
El Guapo wasn't just a Boston fan favorite. From 1998–2002, he was one of the most reliable middle relievers in baseball, posting a 20-4 record and a consistently low WHIP.
At 30 years old entering the 2002 season, logic would dictate that Garces had plenty left in the tank. But as the season progressed, it was clear that he was physically a much weaker pitcher than in his previous four seasons. The late-life fastball that he had ridden to success seemed to completely disappear.
Over the first two months of the season, Garces surrendered two or more runs in six of his 16 appearances. He made just 10 more appearances for the Red Sox, who released him shortly before the trade deadline.
Did Boston screw up Garces' mechanics when they asked his to lose a drastic amount of weight? Was Garces' arm shot after pitching over 140 innings the previous two seasons? Regardless of the reasons, he was not the same pitcher in 2002 that he had been before. And sadly, the "Handsome One" was shown the door because of it.
Keep Reading

Boston Red Sox: Like this team?