2012 Stanley Cup Playoffs: What the Caps Need to Do to Beat the Bruins in Game 4
April 18, 2012

Patrick McDermott/Getty Images
The Boston Bruins entered the Verizon Center on Monday and secured a win in Game 3 of their first-round series with the Washington Capitals. The Bruins now lead the series 2-1 as the two teams gear up for Game 4 Thursday night in DC.
On paper, it seemed like the Caps had done about everything right. They outshot the Bruins and recorded 15 takeaways, tripling Boston's five. Guys like Brooks Laich and Jay Beagle, to name two, helped establish a net-front presence.
Alexander Semin became the first player to score on the man advantage in this series. Captain Alexander Ovechkin scored a goal and also assisted on Semin's goal. Laich scored an amazing breakaway goal to tie the game late in the third and also recorded two assists.
What did the Caps do wrong? They got sloppy. They racked up 24 penalty minutes. While the Bruins were still unable to score on the power play, they did score twice during 4-on-4 play.
The Bruins, Milan Lucic in particular, have been known to play a physical, and sometimes dirty, game. The Caps should, by all means, play just as physical.
However, they shouldn't let the Bruins get under their skin. Once the hard-hitting Bruins players get inside a player's head, discipline is one of the first things to go. The last thing the Caps need is to take unnecessary penalties. There is no problem with the Caps continuing to hit hard so long as it isn't detrimental to their game.
There are also some aspects of their game that Ovechkin and company can simplify. They did a good job at firing the puck at the net, and it yielded three goals, which is as many as they had across the first two games.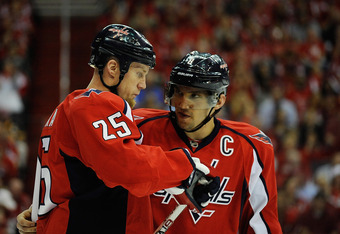 Patrick McDermott/Getty Images
One thing they can simplify is their odd man rush. If they're coming down the ice with a 3-on-2 rush, they should simply fire the puck at the net and have the other forwards crash the net in hope of catching a rebounding puck.
Finally, Braden Holtby needs to put this game behind him. In a postgame interview, Holtby came out and said that that first goal shouldn't have made it by him. His best move would be to start Game 4 with a new, clean slate and not worry about that unfortunate goal.
The Caps will miss center Nicklas Backstrom in their lineup Thursday night due to a one-game suspension. Granted, he scored the winning goal in Game 2, but Backstrom missed a lot of the regular season, and the Caps have proved they can carry on just fine without him.
By implementing these suggestions, in addition to continuing to play like they have this series, the Caps definitely have what it takes to get an important win in Game 4.