FYI WIRZ: NASCAR's Point Aces Bring Heart to the Heartland in Kansas
April 18, 2012

For fans that have never had a ride or driven a stock car at 170 mph or so, the experience is way faster than it looks on a racetrack or on TV. Add 42 other cars to any track and the racing is pure chaos, especially when contact doesn't cause wrecking.
Getting to NASCAR's top series in Sprint Cup takes talent and lots of training, but to do it at all—takes heart.
All 43 drivers who qualify bring heart to the competition, but certainly no stronger than one brave extreme sports legend, Travis Pastrana, who will debut this year in NASCAR's Nationwide series.
Pastrana is quick to describe just how difficult it is to race a stock car.
"This is the most competitive, most intense form of racing that I've ever experienced," Pastrana said. "There are so many guys that are so close, and it all comes down to not only driver's skill, but all skill. Every driver out there that qualifies is amazing and they're really good at what they do."
All drivers will bring heart to the nation's heartland this weekend for the STP 400 on the 1.5-mile tri-oval with 15 degree banking at Kansas Speedway in Kansas City, Kansas.
Fans without tickets for April 22nd race can view the action at 12:30 p.m. ET on FOX.
The top five in points after seven Cup races, Greg Biffle, Matt Kenseth, Dale Earnhardt Jr., Martin Truex, Jr. and Kevin Harvick, commented on the heartland speedway.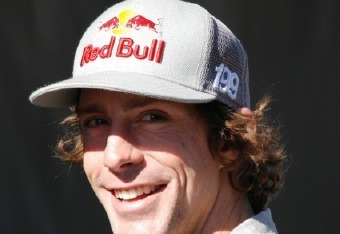 Greg Biffle (No 16 Ford)
"Kansas is a great track, Biffle said. "We are coming off the win at Texas and I'm ready to go. Kansas and Texas might be the same distance, but they are extremely different tracks. Kansas is much flatter and the track is more uniform from one end to another."
Matt Kenseth (No 17 Ford)
"One of the aspects about Kansas that makes it a little different is the pavement, and how the surface has started to wear out over the years," Kenseth said.
"Kansas is a track where cars can be aero-tight so you want to make sure that you have all of the handling the best it can be for the race so that you're able to pass for position when you need to."
Dale Earnhardt Jr. (No 88 Chevrolet)
"Kansas is great, Earnhardt said. "I look forward to getting another race in on that surface they've got before they tear it up. It's a fun race track.
"Both corners are really different. Turn 1 and (Turn) 2 to me are kind of flatter than (Turns) 3 and 4. Three and 4 offer a lot more banking; just way different styles of driving each corner. So the track is a challenge and a fun challenge."
Martin Truex Jr. (No.56 Toyota)
"The key to Kansas is finding the right balance especially over the tar strips, Truex said. "There's about five of them and when the sun is out, the strips make it extremely slick out there. It's one of the toughest tracks for me.
Kevin Harvick (No. 29 Chevrolet)
"The track has aged to the point to where the tires fall off," Harvick said. "You can move up the race track, you can run in the middle of the race track and you can run the bottom. You still have to carry a lot of speed at the beginning, but there's a lot less throttle time than some of the other tracks we go to.
"The race track itself is a lot like a lot of the other race tracks we go to as far as the race track shape and size. The one thing that does set it apart is the way that the race track has aged."
FYI WIRZ is the select presentation of topics by Dwight Drum at Racetake.com. Unless otherwise noted, information and all quotes were obtained from personal interviews or official release materials provided by NASCAR and team representatives.
Photo credit: Dwight Drum at Racetake.com.