Michigan Football: Why Big Blue's Return to Glory Will Be Completed This Year
April 18, 2012

Kevin C. Cox/Getty Images
The Michigan Wolverines are back. They won 11 games last year, including the Sugar Bowl, and are on the verge of returning to national prominence, if they haven't gotten there already. 
Their arch-rival, Ohio State, is down right now after a stunningly bad 6-7 season after winning at least a share of the past six Big Ten championships. 
Ohio State is ineligible for the postseason in 2012 due to former head coach Jim Tressel lying to NCAA investigators, leaving Michigan in the driver's seat to win the Big Ten next year and complete its return to glory.
In addition, Ohio State won the last seven games in the most heated college football rivalry not named the Iron Bowl before Michigan broke the streak last year. 
The times are changing, and it's Michigan's time to rise in the Big Ten. 
The major reason why Michigan will return to glory is because of scrambling quarterback Denard Robinson. 
Robinson returns for his senior season after running laps around defenses the past two years. In college football, dual-threat quarterbacks win championships, evidenced by Cam Newton, Tim Tebow, Vince Young, etc. 
In the last two years, Robinson has piled up 2,878 rushing yards in addition to rushing 30 touchdowns, playing as a quarterback—30!
During that same period of time, "Shoelace"  accumulated 4,743 passing yards to go with 38 passing touchdowns.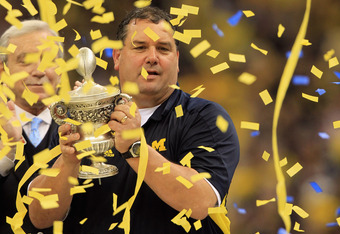 Matthew Stockman/Getty Images
Robinson's accuracy is often questioned, as is his entire passing game. Even though Robinson's throwing ability is not on par with that of an elite college quarterback, his legs more often than not are able to bail him out. 
Robinson shredded defenses the past two years and should improve with more emphasis on improving his passing attack in offensive coordinator Al Borges' West Coast offense. 
Robinson isn't all alone on the Michigan offense. In particular, the running backs at Michigan allow him to run an option attack. 
Running back Fitzgerald Toussaint is one of the more underrated players in the country. He's not a household name yet because Robinson steals all the headlines, but his 1,041 rushing yards say otherwise. 
On the defensive side of the ball, once a major liability, Michigan is improving rapidly, averaging right around 17 points a game allowed last year. 
Credit defensive coordinator Greg Mattison, a man with NFL experience, for the turnaround. This marks Mattison's second stint with Michigan as a defensive coach, previously with the Wolverines from 1992 through 1996. 
Michigan is starting to recover from the mess left by former head coach Rich Rodriquez. Rodriquez might be the only guy who can't win at Michigan, piling up a 15-22 record in three seasons there, including a disastrous 3-9 season in his first year. 
In Brady Hoke's first year at Michigan, he won 11 games. Hoke is building the program back to where it wants to be and will soon revel in the glory of success.