NHL Playoffs 2012: Pittsburgh Penguins Should Roll the Dice on Brent Johnson
April 18, 2012

Justin K. Aller/Getty Images
After Sunday's Game 3 loss to the Philadelphia Flyers, Pittsburgh Penguins coach Dan Bylsma said he still had faith in Marc-Andre Fleury, who was pulled after allowing six goals over two periods. Fleury also surrendered seven goals in Game 2, making Game 3 his second straight poor performance.
"As we go forward here, I think it's imperative that if we are going to scratch back in this series and get back in this thing and start with a win in Philly on Wednesday, it's going to be on the strength of Marc-Andre Fleury in our net," Bylsma said during a conference call with the media on Monday.
While Bylsma can say what he wants to the media, the Penguins are in a desperate situation, and sometimes, desperate times call for desperate measures.
In order to try to get back in the series, it can't hurt to give Fleury additional rest and give Brent Johnson the nod on Wednesday night.
Fleury has not been the same goaltender that came up big during the 2009 Stanley Cup run, making big saves at the right moments and playing beyond his years.
In recent years, his playoff performance has dropped, even losing the past two elimination games in which he has played. These starts came against the Montreal Canadiens in the 2010 Eastern Conference semifinals (Game 7) and the Tampa Bay Lightning in last season's conference quarterfinals (also a Game 7).
This is the second year in a row he has a losing record in the postseason as well.
In 2011, he was 3-4 with a .899 save percentage and a 2.52 GAA. This was an improvement from 2010, when he had a .891 save percentage and a 2.78 GAA. However, those numbers still dropped from the 2009 Stanley Cup run, which gave Fleury a .908 save percentage and a 2.61 GAA.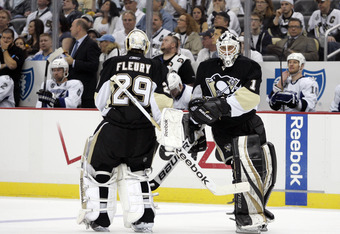 Justin K. Aller/Getty Images
So far in the Flyers series, Fleury has hit rock bottom.
He is 0-3 with an abysmal .798 save percentage and a 6.34 GAA. He surrendered seven goals in Game 2 and gave up six goals in Game 3 before being pulled for Johnson at the start of the third. Johnson allowed two goals, but still stopped four out of the six shots he faced.
To date, Johnson has played three playoff games for the Pens; all of his playing time has come from replacing Fleury in games in which the starter has faltered. In that time, he has stopped the majority of shots that have come his way, but he has not played enough to be credited with a win or a loss.
Johnson's career playoff record is 5-6 with three shutouts to accompany a .914 save percentage and a 2.20 GAA. Although he has a losing record, his statistics are solid. His playoff experience largely comes from the St. Louis Blues, Phoenix Coyotes and Washington Capitals.
Johnson mostly struggled this season while Fleury worked toward his second 40-win season. However, upon returning from an injury, he won two starts over the Buffalo Sabres and Boston Bruins. In the Bruins win, he stopped 26 of 29 shots against one of the East's elite teams.
Furthermore, he picked up a win in the Penguins' regular-season finale against the Flyers.
Although he only played 28 minutes to get Fleury some rest, he made five saves on six shots, solidifying that it was health problems that kept him from being the capable backup he's been for three seasons in Pittsburgh.
No one knows the exact reason why Fleury is not playing up to snuff right now.
Maybe he is burned out from too much regular-season play. Perhaps he is putting himself under too much pressure to perform and forget the past two disappointing postseasons. Maybe he has gotten hurt somewhere along the way and is not showing it.
Regardless of the reason, Bylsma should consider any and all scenarios that could shake up the Penguins locker room and help his team right the ship.
Starting Brent Johnson just might be one of them.