NFL Free Agency: Why Jason Brown and Eric Steinbach Make Sense for the Ravens
April 18, 2012

Justin K. Aller/Getty Images
Lost in the hoopla that surrounds the upcoming NFL draft, NFL free agency is still in full swing.  With the Baltimore Ravens' salary-cap issues, it is hard to imagine them being major players in the free-agent market—but that hasn't stopped the free-agent rumor mill.
NFL Network Jason La Canfora has reported that the Ravens have made a conservative one-year contract offer to free-agent center/guard Jason Brown.  Of course, Brown has a history with Baltimore.
The Ravens drafted the University of North Carolina product in the fourth round of the 2005 NFL draft.  He left Baltimore in 2009, cashing in on a lucrative offer from the St. Louis Rams.  Brown has experience at center and guard.  Known for his strength, Jason Brown still holds several weight-room records at UNC. 
A reunion with Brown would make a lot of sense.  He would be an inexpensive upgrade over free agent Andre Gurode.  Brown could possibly start at left guard, a position vacated by the departed Ben Grubbs, and provide insurance for veteran Matt Birk.  Birk, ironically, was Jason Brown's replacement when he left for St. Louis. 
It was originally reported on ESPN Chicago that the Ravens had expressed interest in guard Eric Steinbach.  When healthy, Steinbach is one of the best guards in football and is certainly familiar with the AFC North, having played for both the Cincinnati Bengals and the Cleveland Browns.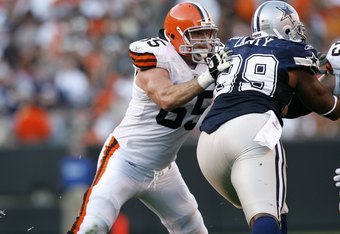 Kevin C. Cox/Getty Images
Steinbach was cut by the Browns after he refused to take a major pay cut.  ESPN Chicago reported that "Steinbach, 32, signed a seven-year, $49.5 million contract with the Browns in 2007 and was set to earn $6 million this upcoming season."
ESPN's Jamison Hensley stated that "the Ravens hinted they won't make any more free-agent moves until after the draft."
Signing either or both of these players would shore up their line and not force the Ravens to reach to draft a lineman.  There is not much room in the salary cap, so signing Ray Rice and Joe Flacco long term is very important.  Ozzie Newsome has made a habit of adding offensive linemen late in the offseason, often getting good value out of those signings.
Last season, Newsome added starting left tackle Bryant McKinnie and Andre Gurode.  Of course, in 2008, the signing of Willie Anderson also strengthened the offensive line for a playoff run.
A reunion with Jason Brown, and convincing Eric Steinbach to move south to Baltimore, makes a lot of sense for the Baltimore Ravens.