Raffi Torres Hit on Marian Hossa Must Garner Longer Suspension Than Andrew Shaw
April 18, 2012

Jonathan Daniel/Getty Images
It's fair to say that the NHL playoffs have been marred by dirty hits and all-around despicable plays to this point, but perhaps none have been worse than the hit Phoenix Coyotes forward Raffi Torres laid on Chicago Blackhawks forward Marian Hossa Tuesday night.
The hit in question took place about midway through the first period of Game 3 in Chicago. Hossa cut through the middle of the ice with his head down, so he burdens a bit of the blame, but Torres' hit was both predatory and illegal.
Not only did he leave his feet and appear to contact Hossa's jaw with his shoulder, but the puck was long gone as well. Hossa was stretchered off the ice and brought to a hospital, but was later released.
Despite that, Torres wasn't penalized on the play, but he can certainly expect a call from league disciplinarian Brendan Shanahan. To say Shanahan has been busy over the past week would be an understatement, but that has been the case over the course of the entire season as there have been plenty of plays to review.
Fair or not, the prevailing thought seems to be the Shanahan's discipline has been arbitrary and inconsistent. A perfect example is Blackhawks forward Andrew Shaw's hit on Coyotes goaltender Mike Smith in Game 2. Smith was playing the puck behind the net when Shaw came skating around and made contact with Smith, sending him tumbling to the ice.
Even though Shaw looked as if he tried to avoid Smith as he hit him with a glancing blow, there was plenty of outrage regarding the hit. Shaw was called for a five-minute charging penalty and was ejected from the game. This resulted in a three-game suspension from the league. Smith was on the ice for quite some time, but he stayed in the game and played in Game 3 as well.
Compare that to a hit by Boston Bruins forward Milan Lucic on Buffalo Sabres goalie Ryan Miller early in the regular season. Miller left his crease to play the puck and Lucic blatantly skated right through him, delivering a huge check. The hit caused Miller to suffer a concussion and he missed several games because of it.
Lucic wasn't disciplined in the least, however, despite the fact that his hit on Miller was far worse in every way than Shaw's hit on Smith. Shanahan's reactionary ban of Shaw probably had a lot to do with the shenanigans that have gone on in the playoffs thus far. He felt he had to make a statement, but ignoring precedents is the wrong way to go about doing things.
Failing to suspend Lucic early in the season essentially signaled that goaltenders are open season to the rest of the league. Despite that, Shanahan overreacted to a hit by Shaw that he seemed to try to avoid. With that said, it's tough to trust that Shanahan will do the right thing with regards to Torres.
It seems quite likely that Torres' hit will put Hossa out for the remainder of the season, so that's one strike against him. Also, leaving his feet to hit a defenseless player without the puck pretty much makes this the worst hit imaginable. If Shaw got three games for a glancing blow, then Torres had better get five or more for what he did to Hossa.
If all of that weren't enough, Torres' nonchalant attitude should seal his fate. According to Chris Kuc of the Chicago Tribune, Torres didn't see anything wrong with the hit and simply said that it was a hockey play.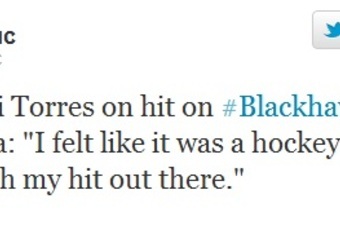 If Torres felt as though the hit was clean and nothing was wrong with it, then he has no business being on the ice for the next several games and perhaps beyond if the Coyotes advance. His hit is exactly the kind that the league is trying to eliminate as there was contact above the shoulders to an unsuspecting player.
Sometimes Shanahan rules with an iron fist like he did in the Shaw situation, but in others he turns a blind eye, as in the Lucic situation. You honestly never know what you're going to get with Shanahan, but if he wants to preserve any shred of credibility he has left, then he needs to make an example out of Torres.