STP 400 2012: Start Time, Lineup, TV Schedule and More
April 18, 2012

Tom Pennington/Getty Images
With NASCAR coming to the Kansas Speedway this weekend, the anticipation over the fastest sport in the world returning to one of the wildest race tracks on the circuit has everyone excited.
Veteran driver Greg Biffle muscled his car to a victory in Texas last week, but it will be the tough corners and fast straightaways of Kansas that have the entire field working extra hard on the wheel this time around.
Where: Kansas Speedway, Kansas City, Kan.
When: Sunday, April 22, 12:30 p.m. ET
Watch: Fox
Live Stream: TrackPass
Listen: Motor Racing Network
Starting Order: Qualifying will be Saturday, April 21, at Noon ET on SPEED Channel
Full TV Schedule
STP 400 Practice, April 20, 1:30 p.m. ET, SPEED
SFP 250 Final Practice, April 20, 3 p.m. ET, SPEED 
STP 400 Final Practice, April 20, 4:30 p.m. ET, SPEED
SFP 250 Qualifying, April 21, 10:30 a.m. ET, SPEED
STP 400 Qualifying, April 21, Noon ET, SPEED
SFP 250, April 21, 1:30 p.m. ET, SPEED
STP 400, April 22, 12:30 p.m. ET, Fox
Drivers to Watch 
Greg Biffle
After a huge win at Texas that brought Greg Biffle back into the conversation for a Sprint Cup Series title, the veteran looks to build on that success at Kansas Speedway. With Roush/Fenway Racing having a storied tradition at the track already, Biffle will have the inside lane to a win.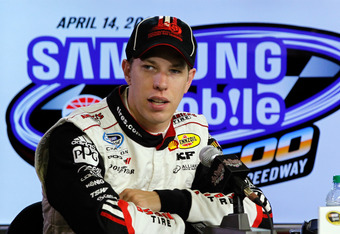 Tyler Barrick/Getty Images
Brad Keselowski
While the season hasn't gone exactly how the NASCAR star would have liked, the success the young driver had at the track over the years is undeniable. In two Kansas races last season, Keselowski finished in first and third.
In seven out of nine career races at Kansas Speedway for Carl Edwards, the fitness freak has finished in the top 10. While this season hasn't been exactly what Edwards was hoping for, the turnaround could easily begin this week.
Predicted Winner: Brad Keselowski
Check back for more on NASCAR as it comes and check out Bleacher Report's NASCAR Page to get your fill of all things motorsports.