Knicks Keep Division Hopes Alive, Bury Celtics with the Long Ball at the Garden
April 18, 2012

With moving up in the standings in mind, the New York Knicks came out with something to prove against the Boston Celtics. They got huge contributions from Carmelo Anthony, Tyson Chandler, J.R. Smith and Steve Novak to keep their division hopes alive as they defeated the Celtics 118-110.
Even behind Paul Pierce's impressive 43-point night, the Celtics did not have enough to compete with the Knicks' hot shooters.
Anthony posted his second career triple-double, scoring 35 points, grabbing 12 rebounds and dishing out 10 assists. His play last night demonstrated his displeasure with the Celtics' recent dominance over the Knicks as he put forth his best overall statistical night of the season.
Tyson Chandler also came through offensively in a big way offensively. He constantly positioned himself around the rim in position to score, shooting 9-of-10 from the field and adding 20 points. He worked the pick and roll to perfection and constantly became the beneficiary of scoring opportunities.
The Knicks were unstoppable from three-point range, shooting nearly 60 percent from behind the arc, largely in part to their sharp shooters off the bench.
Like I mention in one of my recent articles, the Knicks live and die by the production of J.R. Smith, and he absolutely killed it. Smith was unconscious from beyond the arc, shooting 7-of-10 from three-point range. His hot shooting allowed the Knicks to pull away in the first half and they never looked back.
Smith finished the game with 25 points on 8-of-16 shooting for the game. He came out with so much energy and the Knicks fed off it all night. He also did a great job in manning the point guard responsibilities while Baron Davis was on the bench, dishing out six assists.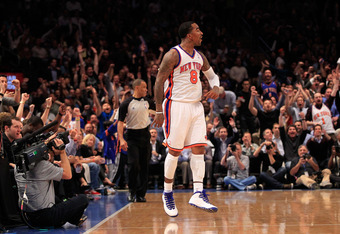 Chris Trotman/Getty Images
The only man hotter than Smith from three-point range was fan favorite Steve Novak. The Knicks' three-point specialist flashed multiple discount double-checks as he worked his magic from distance, shooting 8-of-10 from downtown, finishing with 25 points.
Anthony, Chandler, Smith and Novak combined for 105 of the Knicks' 118 points for the night. They played relentlessly and the Celtics could not find an answer to any of them defensively.
The Knicks needed this game in the worst way. If the Knicks had lost, not only would it have ruined their chances at avoiding the Heat or Bulls in the first round, but it would have been a tremendous shot to their confidence going forward.
With two very winnable games in the next three days, the Knicks need to take care of business and get to five games above .500 and continue to chase the Magic and Hawks.