NHL Playoffs 2012: Detroit Red Wings Need Breaks, Not Perfection, for Game 5 Win
April 19, 2012

Gregory Shamus/Getty Images
The Detroit Red Wings dropped back-to-back games at home to the Nashville Predators on Tuesday night, pushing the Red Wings to the brink of elimination as they now trail three games to one.
Red Wings fans aren't used to seeing Detroit facing elimination in the first round as of late, and the Red Wings haven't been eliminated in the first round since 2006, when they lost to the Edmonton Oilers in six games
Most fans have mixed emotions about elimination games, especially when their team is trailing by two or more games. But after watching the Red Wings drop back-to-back games at home, that is exactly where Detroit fans find themselves.
My advice to all you Red Wings fans as far as Game 5 goes: don't sweat it.
Detroit has out-shot Nashville in the series, 138-91. An average of 35.5 shots to 22.75 shots per game. With those kind of numbers, it seems like Detroit (not Nashville) should have the 3-1 series lead.
The Red Wings haven't been getting those breaks. Whether it's self-induced, like their over-pursuit of Martin Erat, leading to the Kevin Klein tap-in goal, or the unfortunate fact (Game 3) that goals don't count after the clock hits 0.0 seconds, Detroit will need some puck luck to turn the series in Game 5 down in Nashville.
Detroit played an excellent game through the first two periods of Game 4, holding Nashville to 10 shots through those two periods. But Detroit imploded on itself in the third period, leaving rookie Gabriel Bourque with a wide open net for the first Nashville goal, and then the over-pursuit of Nashville's Martin Erat leading to the game winning goal.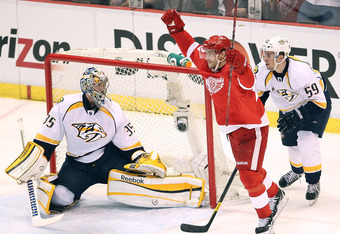 Gregory Shamus/Getty Images
Detroit needs to work harder to stay in position in front of the net, and not beat themselves by leaving the slot wide open. But more importantly than that, Detroit just needs to get to the net and outwork Nashville in all three zones.
The late journalist Ed Bradley had a quotation that applies to Detroit in their preparation for Game 5:
"Be prepared, work hard, and hope for a little luck. Recognize that the harder you work and the better prepared you are, the more luck you might have."
Creating opportunities is the most that the Red Wings can do right now. Getting traffic to the net, and making life hard for Pekka Rinne and the Predators' defensemen.
Detroit hasn't gotten a single bounce in this series relatively speaking. Nashville has outscored Detroit 11-8 in four games, and you better believe Detroit isn't going to be held to two goals in Game 5 if their puck luck picks up.
A little hard work and the Red Wings will be going home with a chance to keep the series going.
For more article updates, Follow @isaacesmith91