NHL Playoffs 2012: Please Get a Hold of Your Players, Brendan Shanahan!
April 18, 2012

Gregory Shamus/Getty Images
The number of dangerous hits in this season's NHL playoffs has been second to none.
Today, it was the gutless hit of Raffi Torres on Marian Hossa; before that, Andrew Shaw charged Mike Smith.
Last week, Shea Weber used Henrik Zetterberg's head in an attempt to test the glass resistance, and Carl Hagelin, a Swedish rookie, laid an elbow to Swede Daniel Alfredsson's head.
This year's playoffs is ridden with gutless hits that would be suspension-worthy in the regular season, but have resulted in only light supplemental discipline in the playoffs. I can see that most players mentioned in the incidents above have an impeccable disciplinary record, but player safety should come first. 
Weber was concussed and missed games this season, yet he did not even think before assaulting Zetterberg the way he did. It was a gutless gesture and, in any other context, the police would be involved. What did he get? A $2,500 fine. 
Hagelin took out one of the best ambassadors of the game and one of the most admired superstars in the league when he elbowed Alfredsson. If you watch the video of the incident, you can see that a split second before the hit, Alfie braces himself for the impact, which would've been sufficient if the hit was one within the rules.
Today, Torres took the edge too far when he hit Hossa. Steve Downie got a six-game hook when he delivered a hit without his skates on ice. Torres, a player with a history with the disciplinary committee, did not let up in laying a vicious hit on Hossa.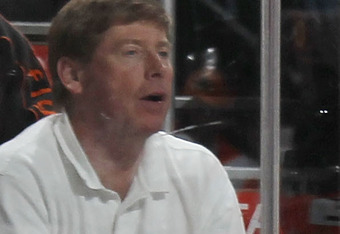 Bruce Bennett/Getty Images
If it were any other time of the year, such a hit would've been dealt with and harshly by Brendan Shanahan and his cohorts. If they aim to do a better job than Colin Campbell did, they need to start dishing out punishments that might take players out of a whole series.
Campbell's fall started when he couldn't, due to the rules at the time, suspend Matt Cooke for his career-ending hit on Marc Savard.
Will Torres' hit on Hossa end another superstar's career and prompt another change on the disciplinary committee, or will the hockey culture that permits playoff hockey to trump player safety finally change?
I hope it does change. The possible loss of another superstar to a head injury is one too many.