NHL Playoffs 2012: 3 Stars and 3 Bums from First 3 Games of Canucks-Kings Series
Rich Lam/Getty Images
After three games of the first-round NHL playoff series between the Vancouver Canucks and Los Angeles Kings, fans of the Canucks are wondering when the nightmare will end, while fans of the Kings are still pinching themselves out of joy and disbelief.
This is what happens when a No. 8 seed leads a No. 1 seed 3-0 in a playoff series.
With that being said, the 3 stars and 3 bums crew that consists of myself and fellow Bleacher Report Featured Columnist Andrew Eide clearly loves the No. 3 so much that we'd rather select the three stars and three bums of this series after only three games.
Enjoy the stars and bums of this one-sided series thus far.
3rd Star: Willie Mitchell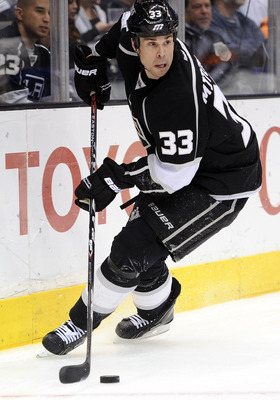 Harry How/Getty Images
The Kings defense has been a big part of their success through the first three games of this series. With the exception of Drew Doughty, the six-man L.A. defense core doesn't boast a lot of offensive talent, but they all work hard at blocking shots and keeping the Canucks on the perimeter, and no one has done a better job of that so far than Willie Mitchell.
Maybe it's Mitchell's intelligence, maybe it's his long stick and strong positional play, or maybe it's the fact that he once played for the Canucks and is eager to beat his old team. Whatever the reason, he's been a stalwart on defense all series long and he even has a goal to boot.
For his defensive excellence, as well as his ability to go above and beyond the call of duty and chip in offensively, Mitchell is the third star of the first three games.
2nd Star: Dustin Brown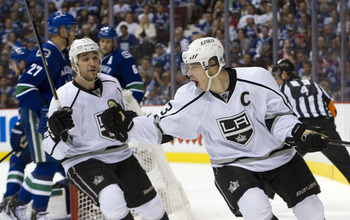 Rich Lam/Getty Images
There isn't a captain in the entire NHL that has done a better job of leading his team into battle than Dustin Brown during these playoffs.
Through the first three games of this series, Brown has scored four goals and picked up five points, with two of his goals coming short handed. He also scored the only goal of Game 3 and made his physical presence felt in that game by stepping into Canucks captain Henrik Sedin with a huge hit.
For his clutch goal scoring and his physicality, Brown is the second star of the first three games.
1st Star: Jonathan Quick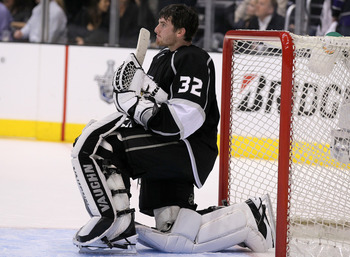 Stephen Dunn/Getty Images
As great as Mitchell and Brown have played, the biggest reason the Kings are leading this series 3-0 is their goaltender.
Jonathan Quick has stopped 111 of the 115 shots that he's faced so far in this series and was the first star in Game 3, in which he stopped all 41 shots he faced.
Anytime a No. 8 seed is on the verge of upsetting a No. 1 seed in the NHL, the goaltender of the No. 8 seed is usually a big reason, and that's certainly the case with Quick and the Kings.
For his outstanding goaltending, highlighted by his 41-save shutout in Game 3, Quick is the first star of the first three games.
3rd Bum: L.A. Kings Twitter Account
To be clear, the 3 stars and 3 bums crew does have a sense of humor. We also appreciate it when the social media accounts of businesses (pro sports teams in this instance) show a bit of personality as opposed to just posting links in the form of press releases.
However, when you insult your opposition and show poor sportsmanship after a victory, you've crossed the line. This was the case when the official twitter account of the L.A. Kings sent out this tweet after Game 1:
To everyone in Canada outside of BC, you're welcome.

— LA Kings (@LAKings) April 12, 2012
The tweet became a huge story and, while some thought it was funny (Kings fans and anti-Canucks fans), the general consensus was that it wasn't very professional. In fact, the Kings organization later issued an apology for the tweet and Dustin Brown also voiced his disapproval of the tweet, stating that, "Bulletin Board material at this time of year is not a good idea."
It's too bad that who ever runs the Kings twitter account had to take his or her sense of humor too far because many of the other tweets that have appeared on the Kings feed have been quite entertaining.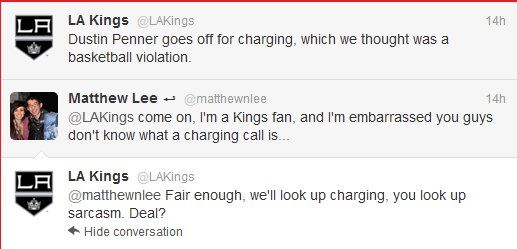 However, the twitter account also decided to troll Canucks fans after just one game of the series, and for that reason it is the third bum of the first three games.
2nd Bum: Alexander Edler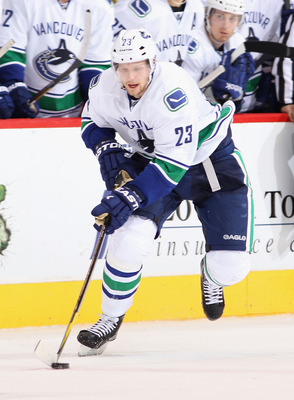 Christian Petersen/Getty Images
It's difficult to single out one Canuck as being particularly bad over the first three games of the series because the entire team needs to step up. However, the play of All-Star defenseman Alexander Edler has been a huge letdown for the Canucks in this series so far.
Although Edler has scored a goal, his untimely turnovers and generally poor defensive coverage has more than outweighed his one goal and his occasional solid body check.
Several of Edler's brain cramps have directly resulted in Kings' goals, such as his giveaway on the power play which led to the opening goal of Game 2 and his brutal defensive zone coverage on the only goal of Game 3. He also shot the puck over the glass in his own zone for a delay of game penalty with less than two minutes remaining and his team down by a goal in Game 3.
For his costly mistakes that seem to have caused a lack of confidence in his play, Edler is the second bum of the first three games.
1st Bum: Canucks Power Play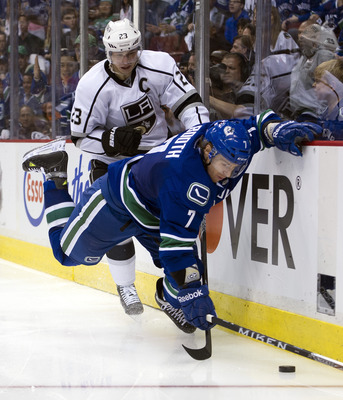 Rich Lam/Getty Images
As I stated in the previous slide, it's not easy to single out any specific Canucks as the main reason they're down 3-0 in this series. However, it's much easier to point to the power play as a whole as being one collective disaster.
Not only is the Canucks power play 0-for-14 in the series, but they've also given up two key short-handed goals. As a result, the stat sheet may as well read minus-2-for-14.
This pathetic power play has easily been the biggest downfall for the Canucks in this series because there have been many occasions where it has completely killed any sort of momentum put together by a few consecutive good shits to draw a penalty.
Game 2 was the biggest example of this, as the Canucks seemed to be controlling the play at 5 on 5, only to not even be able to enter the Kings zone on the power play, causing the momentum to shift in the Kings favor.
For this type of complete ineptitude, the Canucks power play is undoubtedly the collective first bum of the first three games of the playoffs.
Keep Reading

Vancouver Canucks: Like this team?