Notre Dame Football 2012: How Irish Would Fare with Andrew Hendrix as QB
April 18, 2012

Al Messerschmidt/Getty Images
With Notre Dame in the midst of yet another heated quarterback controversy, I will be conducting a four-part series on how the 2012 season would turn out with each of the four quarterbacks on the roster as the starter. 
In the running for starting duties are junior-to-be Tommy Rees, junior-to-be Andrew Hendrix, sophomore Everett Golson and true freshman Gunner Kiel. 
In Part 4 of this four-part series, I will be featuring Andrew Hendrix.
To be a successful starting quarterback at Notre Dame, one must possess a unique makeup. 
He must be able to handle the pressures and rigors of the glamorous job. He must absorb the criticisms from both the fanbase and the media. But most importantly, he must not crack during the inevitable trials and tribulations. 
Of the four quarterbacks currently on the roster, junior-to-be Andrew Hendrix best exudes those qualities. 
The 6'2", 220-pound Cincinnati native features a tantalizing blend of smarts, athleticism and moxie that would go a long way should he win the starting the starting quarterback job between now and Sept. 1. 
While one half of action typically is not enough to truly judge a player, it was enough for Hendrix last season. He was forced into action against Stanford in Palo Alto, Calif., last November, after Tommy Rees was rattled physically and mentally by the suffocating Cardinal defense.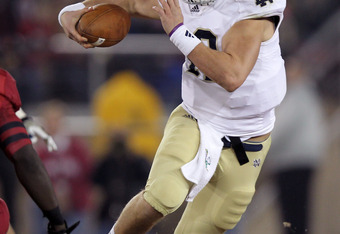 Ezra Shaw/Getty Images
Hendrix should have been extraordinarily nervous, for lack of a better a word. Yet he trotted out onto the field at Stanford Stadium and managed the second half of an eventual 28-14 loss with poise and composure. 
In fact, Hendrix led the Irish to their only two scores of the game. Why is that significant? Consider that Stanford's defense was a top-5 unit. For Hendrix to have led the offense down the field against that monstrous defense speaks volumes about his leadership abilities. 
Now imagine how the current circumstances would appear had Brian Kelly given Hendrix more opportunities to showcase his abilities prior the Stanford game. We might be talking about a Notre Dame upset of a BCS-bound football squad. 
The pre-med major would have also likely been the unquestioned starting quarterback entering spring practices. Offensive consistency, a desired element for Brian Kelly and his coaching staff, would be well on its way to becoming a reality. 
Unfortunately, that is not the case. Brian Kelly has put himself in this undesirable position through his own decisions. Now Hendrix must prove himself all over again. Ridiculous, is it not? 
Should Kelly finally make the decision that he should have made last season, the team will be in excellent hands. 
Hendrix's leadership abilities, blended with his enormous amount of raw talent, may just be enough to bring the Irish to new heights. Could we possibly be seeing the spread offense that Kelly has been envisioning and dreaming about since taking the job? 
Who knows? And as I've said before, nothing is certain. But if you're asking me, Notre Dame's best bet catch a glimpse of the BCS is by taking a chance on Andrew Hendrix.