2012 Olympics Could Be Final Games for Pole Vault Great Yelena Isinbayeva
April 17, 2012
Ian Walton/Getty Images
It appears the 2012 London Games will be fans' final chance to see Russian pole-vaulting legend Yelena Isinbayeva on the Olympic stage.
The 2004 and 2008 gold medalist told Laureus.com she plans to retire in two years.
Isinbayeva, who will turn 30 in June, cited physical wear and tear as the reason for her impending departure, telling Laureus.com, "Training becomes difficult, hard and, of course, every year the body is getting old it becomes harder and harder to prepare for the competition."
The news comes as some surprise considering Isinbayeva's torrid form so far this year. She won gold at the 2012 World Indoor Championships in Istanbul and recently reclaimed the top spot in the world rankings, according to Laureus.com.
Isinbayeva's glistening resume also includes 30 world records, and she has set her sights on Ukrainian pole vaulter Sergey Bubka's high mark of 35 world records.
"Sergey was a role model," she told Laureus.com "He was a star at the time I was starting. It was my goal from the beginning to set up 36 world records.  I would like to make one more than Sergey did.  So, yes, this is still in my mind and now I feel that I can achieve it."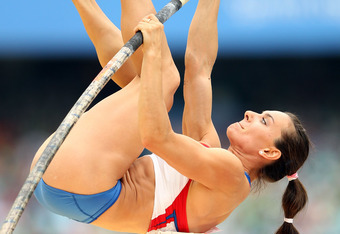 Ian Walton/Getty Images
Beyond what Isinbayeva brought to the sport through her on-field mastery, track and field is sure to miss her prominent personality.
After returning from an 11-month break in 2011, the ever-confident Isinbayeva told the Associated Press, "World records aren't just in my plans, they simply have to happen."
That self-assurance was again on display in the interview with Laureus.com.
"In London, my main competitors will be myself, because I know how high I can jump and I know that height is almost impossible for my rivals. I am not worrying about the Olympics," Isinbayeva said.
Isinbayeva's swan song should draw added attention to the women's pole vaulting competition, already one of track and field's premier events.