West Virginia Football 2012: The Mountaineer Musket Muses on the Upcoming Season
April 17, 2012

The following contains the thoughts of the Mountaineers faithful musket. The musket's thoughts do not necessarily reflect the thoughts and opinions of West Virginia University athletics or its academic community:

Apologies to Mountaineer nation if I sound a little hoarse. 
It's been over four months since the Discover Orange Bowl and the utter annihilation that we inflicted upon Clemson. While many of you are well rested and occasionally dipping into YouTube highlights of the game, I'm just getting myself back together. 
Don't laugh. Don't shake your head, either. I didn't see you going crazy the way I did that night down in Miami. 
10 touchdowns. 
One, two, TEN. That's two Saturdays worth of work for me, normally.
Of course, there was the night before as well. You think getting flung around by Brock Burwell all night long and having him pound on you with those bear-paws of his is easy work?
It's not. It's hard work doing what I do and making it look so easy.  
But I digress. I mean, think about what we have to look forward to.
The Big 12.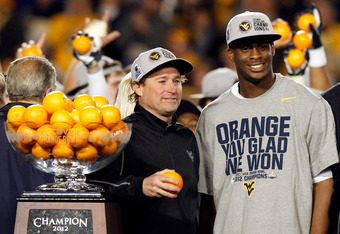 J. Meric/Getty Images
Texas, Oklahoma, Oklahoma State, barbecue, stetsons, the plains, strength of schedule.  
Jeez, I need to slow down or I'm going to start to smoke.
Dana Holgorsen, the maniac he is, will likely be the death of me in 2012.  
What did we average per game in 2011? 37.6 points? I shudder to think what these guys will put up next year. 
Honestly, Geno Smith, Tavon Austin and Stedman Bailey could win the game on their own. Let's now throw in the fact that our offensive line is getting Josh Jenkins back and that we're playing a pro-style defense. 
I don't want to be biased or anything, but I don't know about this whole "learning curve" thing in 2012. I think we might just skip it altogether. 
For me, it's a blessing and a curse. 
The more we score, the more noise I make. It's fun—don't get me wrong—but it's exhausting, too. You might chalk it up as a labor of love.  
You know "Ducky" out there in Oregon doing all of those push-ups? Well, that's how I feel after a 21-point swing and Brock shoving powder and musket wadding down my throat. 
You think I like that stuff? 
I hate it. 
It's gun powder, for crying out loud. Give me a pepperoni roll from Colassessano's or a plate of wings from Mario's any day of the week.
Yet, year after year, decade after decade, here I am offering up my unrivaled vocal prowess to the good people of the Mountain State.  
What I do is a fine art form (I'm a bass-baritone), so I take a lot of pride in pairing my abilities with what Holgorsen has those guys doing out on the field and of course, every artist strives to paint his or her masterpiece. 
Right now, I consider the Orange Bowl to be my Sistine Chapel. Before that, it was the 2008 Fiesta Bowl; the 2006 Sugar Bowl in Atlanta before that.
I'm sure Geno, Tavon and Coach Holgorsen feel the same about the Orange Bowl, too. Although, with that hair, Dana looks less like a painter and more like one of those half-crazy piano players from the 1800's. 
Maybe it's all the Red Bull and late-night film studies. I couldn't tell you. 
What I do know is this: You're going to hear a lot more from me in the 2012 season.
Think of 2011 as a warmup. I'm hard at work right now myself and I know, as well as I did in 2011, I'm due to make some huge strides in 2012.
Now, I'm not running law school hill or anything crazy like that—forget that noise. I leave that stuff to the team. 
Me and the new guy, Jonathan Kimble, we're getting our minds right. In all likelihood, we'll lose those and our voices by midseason.
Mountaineer Field is going to be loud, folks. I don't think you understand.  
Seriously, if I misfire or my flintlock malfunctions, cut me a break. I'm anticipating that I get worked to the bone week after week. 
But the thought of me leading the team out onto the field in another BCS game or—dare I say it—a national championship game, is a big enough motivator for me to prepare tirelessly for this season.
So start getting your road-trip weekends planned out now so come October 6th when we play Texas at Darrell K. Royal Field, I don't have to listen to anyone come to me with:
"But Musket, I didn't realize Austin was so far away"
I'm a gun, ladies and gents. You think getting from A to B is a piece of cake for me?
Not at all, but I do it for Mountaineer nation. 
I do it so each and every score is well documented so that you diehards up in the nosebleeds know we just put fresh numbers up on the board.
And if Holgorsen engineers a 100-point game this season and I explode into a million brilliant splinters, then I'll do so proudly.
For the Big 12, for Mountain Momma, it's worth it. 
That's all I have for now.
Stay tuned folks, I don't plan on being quiet for long.
Best, 
The Musket