WWE Power Rankings: Ranking the Top 10 Current Strongest Superstars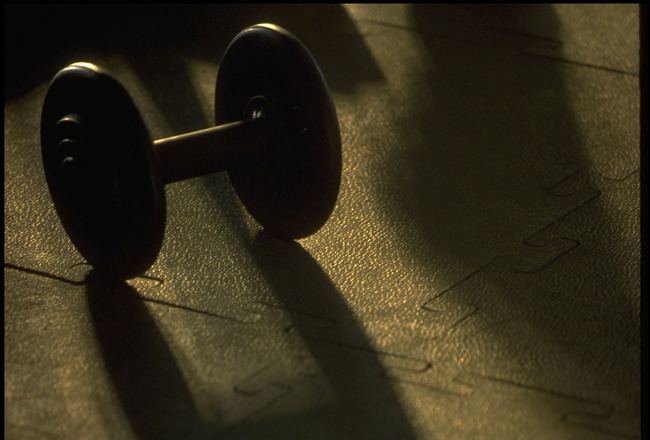 Mike Powell/Getty Images
Strength is a very noticeable attribute for an athlete to possess. Speed, stamina and agility all come into play with athletes as well, but strength can be seen across virtually any sport.
Strength is shown off in bodybuilding competitions, as well as strongman competitions, where the most powerful men in the entire world showcase what they can do with just their bodies.
Dominance in wrestling varies upon your place inside the company. You don't need to be the strongest guy to be the champion and being stronger than everyone else does not necessarily mean that you will be successful.
Strength isn't just about having the biggest muscles, but being strong enough to pick up and do whatever you want to any competitor is a distinct advantage for a superstar to have. You can't teach strength. It's all about hard work and determination. Giving new meaning to the term "power rankings," here are the ten strongest men in WWE today.
Honorable Mentions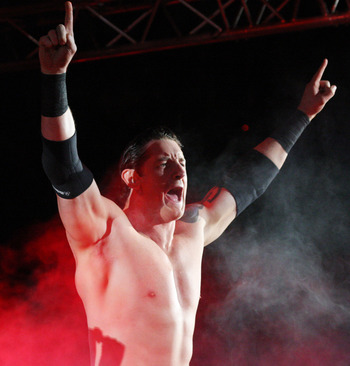 Gallo Images/Getty Images
The Great Khali
The Punjabi Playboy has made a lot of people fear him over the years in terms of how he uses his immense strength. Khali never has had much skill in wrestling a match, or even too much mastery in standing and walking, but he does possess a lot of strength. What keeps him as a somewhat decent performer is the fact that he can pick up just about anybody with ease.
Brodus Clay
If you call Brodus Clay's momma, she might let you in on Clay's secret for getting so big and strong. The Funkasaurus may make light of a lot of situations and prefer to dance, but all of that goes out the door if someone messes with his groove. It's scary because I don't know if Clay realizes how strong he really is. Nobody should funk with him.
Mason Ryan
It has been difficult for Mason Ryan to stand out of the pack, mainly because his strength reminds many of Dave Batista. While it is hard to live in someone's shadow like that, Ryan has the honor of being linked to one of the strongest men in the last generation. So he's got that working for him...
David Otunga
It's all about the power for Otunga, whose upper body just seems to look better and better as time goes on. Otunga has the pieces to actually mean something in this business and he's smart enough to figure out how. A strong musclehead with a Harvard education? That's a dangerous combination.
Wade Barrett
He's still injured, but this guy is slated to be the future of the company. Not only is he meant to be pushed upon his way back, but it almost seems like nobody else will be pushed until he is. Barrett's strength goes beyond physical abilities.
10) Ryback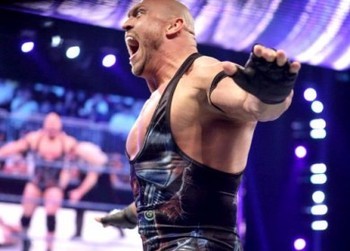 Ryback suffered injuries that kept him out of action for roughly a year. It still did not lead to a pink slip for him.
Translation: there is a lot to be excited about from this guy.
Ryback showed incredible strength in his two squash matches to this point. Hopefully that trend continues once regular roster members are the ones that are on the other end of those moves.
There is a lot of potential yet to be unsurfaced for Ryback, which makes it scarier to think about what this guy could accomplish. With good luck and hard work, the sky could be the limit.
9) Lord Tensai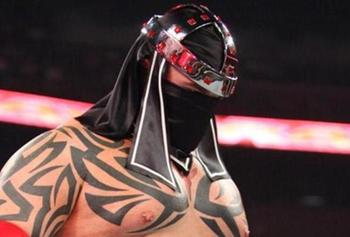 Prince Albert, Albert and A-Train were all good powerhouses in WWE. It's no mistake then that Lord Tensai's first few weeks of existence in WWE have had him show off his great strength once more. This past week had John Cena of all people as the rag doll being thrown around. Tensai has shown that he will be around for a little while if he can put on a match like he did this week with Cena.
Tensai has to be feared, and for good reason. Who cares how old he is or if he won't stick around for that many years? All that matters is Tensai's mysterious gimmick and his great strength. Tensai will be sure to get some young guy over eventually and his upper body strength could literally carry someone to the next level.
8) Kane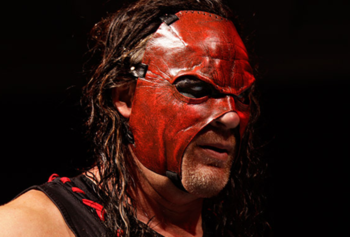 The Big Red Monster seems stronger than ever since returning with his mask.
Kane was edgy and lost some steam, which may have prompted the loss of a mask. Now back with a creepier mask, Kane seems to be as strong as he has ever been in his long WWE career. A former WWE and World Heavyweight Champion, Kane is one of those great superstars who doesn't have as many accolades as the rest of his competitors from this era.
That does not take away from how strong Kane is. Kane is like that really good power hitter in baseball who may not have as many incredible stats in his career. There is respect for Kane's strength and fear when they face him.
7) Sheamus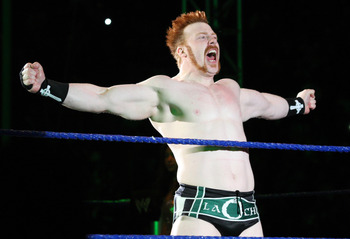 Gallo Images/Getty Images
The Great White and current World Heavyweight Champion is thought of more as a brawler than a powerhouse, but Sheamus can do whatever it is you need him to do.
Sheamus can springboard himself over ropes, use his agility for a Brogue Kick and his power for the High Cross.
Sheamus is very versatile for a man that is nearly 270 pounds. The mighty Sheamus is about as strong physically and strong-willed mentally as they come in WWE. If he would control his temper, Sheamus would be in incredible shape with his career.
6) The Rock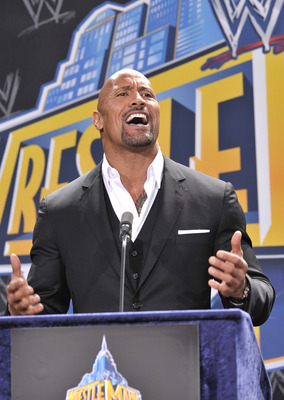 Michael N. Todaro/Getty Images
The Great One may not be looked upon as an incredibly strong competitor anymore, but have you seen the way he looks now? The Rock has always been strong enough for quick Samoan drops on a lot of men, as well as a Rock Bottom out of nowhere on even the biggest opponents he has had.
Once he began doing movies, The Rock was less about his agility and quickness and more concerned with his strength and the look of his arms and back.
Just watching him since his return can really show you how a natural dedication to lifting weights can change a man who was already a dedicated athlete. He has always had some of the strongest legs that I have ever seen and now his back is just about as gigantic as anyone else's on the WWE roster today.
5) Ezekiel Jackson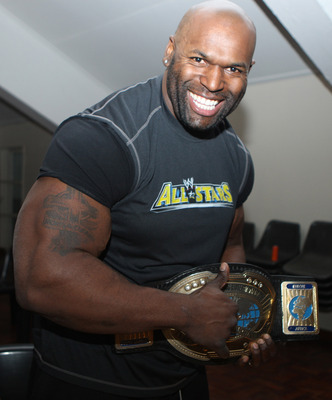 Gallo Images/Getty Images
The Personification of Domination has one of the most menacing physiques that I have ever seen in my life.
The pride of Guyana looks like he could take steel beams, put them on his shoulders and bend them into shapes. If Jackson gave up a little bit of strength for a little bit of charisma, he would probably be sitting pretty as an untouchable superstar.
Instead, as annual pink slips get passed around, Jackson has to be fearful. Jackson is already 34 and looks even older than that. Without discrediting his work on his body, it may be the lack of improvement on the other facets of his game that could cost Jackson big things in this company.
4) Brock Lesnar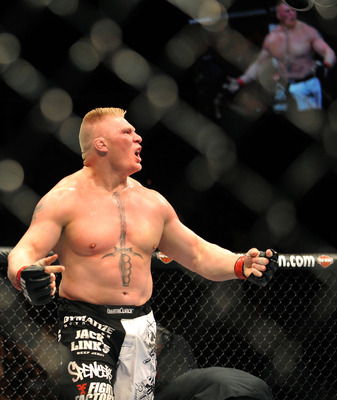 Jon Kopaloff/Getty Images
The former UFC heavyweight champion is strong. He won't tell you it. You'll just see it happen.
Brock Lesnar was a freak of nature upon his debut and has used his strength to excel in WWE, nearly make it to the NFL, and become a top star for a time in UFC.
Lesnar is the poster child for using brute strength to get whatever you want. He doesn't do much more than use his body strength to pull off incredible moments. Even if you watch his matches against lighter individuals, the fact that Lesnar can practically deadlift those men and toss them around at will is incredible.
When was the last time you saw Lesnar tired in a WWE ring?
3) John Cena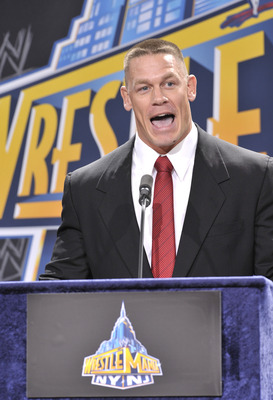 Michael N. Todaro/Getty Images
John Cena gets criticized like few superstars in history ever have. There is one thing that you cannot deny and that is Cena's workout ethic.
Cena is constantly lifting weights and is near a world-class level with his weightlifting. CM Punk was correct a year ago when he said that Cena attempted to become a bodybuilder and became a WWE superstar instead.
Still, Cena has had the desire to be a pro wrestler since a young age, and even if his technical skills don't allow him to be a man of 1,000 holds, Cena has always had the desire to change his offense and adapt with new moves for his arsenal.
Cena cares enough about the product to do whatever it takes and put up with many negative comments about his career. His physical strength is incredible, but his mental strength is about as good as they come.
2) Big Show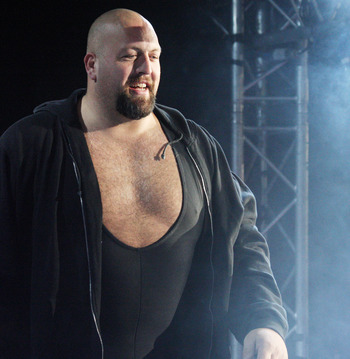 Gallo Images/Getty Images
The World's Largest Athlete is a very strong guy. He once forced a jeep to flip over during his stint in WWE.
He can also pick up and slam down just about any guy with pretty good ease. Go ahead and tell Big Show that he isn't one of the strongest guys in WWE history. See what happens.
1) Mark Henry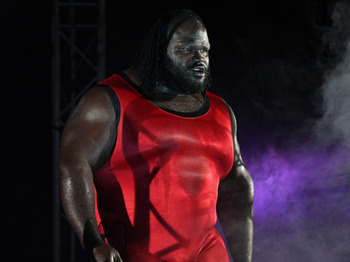 Gallo Images/Getty Images
Isn't it obvious? He's billed as the World's Strongest Man. Gimmick aside, he really is the strongest man in this company. Let's stop talking about Mark Henry the professional wrestler and former world champion in WWE. Let's talk for a moment about Mark Henry, the former Olympic weightlifter and strongman competitor.
Mark competed in the first ever Arnold Strongman Classic in 2002 and won the competition, beating seven other men. Five of those men have qualified for the famed World's Strongest Man competition, including two former winners of that contest. Henry competed at both the 1992 and 1996 Olympics and medaled at the Pan American Games.
Henry has always been this strong, setting state records during his years in high school. Once he began competing in Olympic-style weightlifting, Henry broke three American junior (20 years old and under) records - 12 times over.
Now, if you want to go back to his WWE time for a minute, Henry once needed to force himself into a steel cage match, but the rigged cage door was not breaking. Henry proceeded to go to an actual steel chain, not a rigged one intended to break, and snapped it in order to make it inside.
Keep Reading