Notre Dame Football: Will Questions Be Answered in the Spring Game?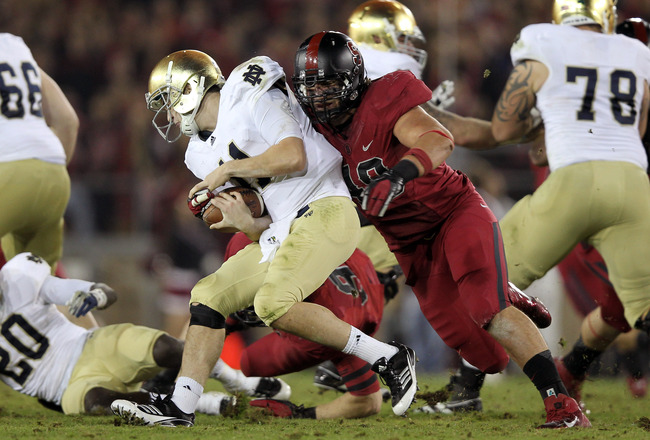 Ezra Shaw/Getty Images
This Saturday, the Notre Dame Fighting Irish football team will take the field for the Blue-Gold game, and fans are anticipating a number of players to impress.
While the team has had scrimmages throughout the spring, the game this weekend will not only be the culmination of the hard work that players have put in so far this year, but it will also help the coaching staff decide which guys are ready for prime-time.
The best part—the whole thing will be televised and cast on the Internet live. Fans won't have to wait for reporters to summarize the day's events, and the dire question fans have could be answered immediately.
What will the merging of the slot receiver and running back positions look like on the field?
Who will step up to provide the team with a much-needed pass-rush?
How will the inexperienced cornerbacks play?
Will Tommy Rees show a newly-found mobility? Or will this be the day that one of the other quarterbacks takes a giant leap towards securing the starting job?
And which players will emerge as destined for stardom?
How Will the Slot Recevier/Running Back Be Used?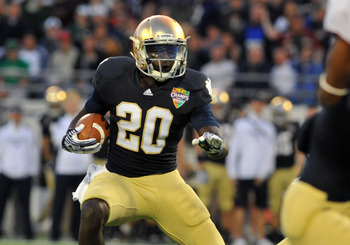 Al Messerschmidt/Getty Images
Fans shouldn't expect to see the whole playbook this Saturday. In fact, the coaches will probably only use a handful of plays on both offense and defense.
One thing that will be visible is just how the hybrid slot receiver-running back position will be used, though, and how creative Brian Kelly and Chuck Martin are in implementing it.
Will Robby Toma, Cierre Wood and Theo Riddick all be on the field at one time? And will they rotate like they are playing a game of musical chairs?
Having two players in the backfield that can catch a pass in the flat or dart down the sideline for a deep ball is the definition of versatility, and adding in a slot receiver with playmaking ability just makes the offense that much more difficult to cover.
While fans won't get a full picture of how the offense will look in 2012, a snapshot is better than nothing.
Where Does the Pass-Rush Come From?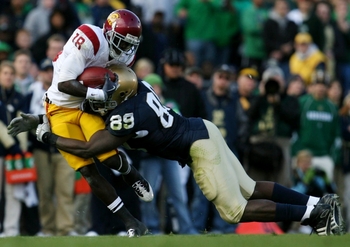 Jonathan Daniel/Getty Images
With the departure of Aaron Lynch, the team's sack leader from last season, the team will need to find a way to dial up more pressure.
Kapron Lewis-Moore, who has looked as good as, if not better than, any defensive lineman this spring (but still was behind Stephon Tuitt until Lynch left), may provide a portion of that pressure. Lewis-Moore surprisingly hasn't lost a step after going through surgery and recovering from a detached ACL he suffered against USC last season.
Tuitt looks to be in great physical shape as well, and the combination of the two at defensive end will provide the team with a pass-rush presence plus a stout run defense.
Early enrollee Sheldon Day has impressed the coaching staff thus far, and if he has a solid performance Saturday and continues to play well into the fall, he will likely join the rotation with swingman Kona Schwenke and Chase Hounshell at defensive end.
And the pass-rush may not come only from the defensive line. Bob Diaco will stick with a vanilla defense for the most part on Saturday, but expect linebackers and the secondary to provide a pass-rush as well in an attempt to fluster the quarterbacks, helping make Brian Kelly's decision on who will be the guy a little easier.
How Will the Cornerbacks Play?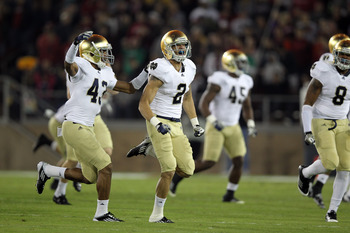 Ezra Shaw/Getty Images
With all the talk about how good Bennett Jackson is going to be, it is time for fans to see him in action for more than a play or two on a sporadic highlight video.
Jackson has a combination of speed, height and physicality that could make him a special player. As the starting boundary corner, he will be tasked with playing one-on-one defense much more than the wide or field corner, so it will be interesting to see if he can shut down whoever he is guarding.
The field cornerback position is still very much up in the air. While assuming Lo Wood or Josh Atkinson will start come fall isn't a bad bet, Jalen Brown and Cam McDaniel certainly have time to seize the position.
Also, Jamoris Slaughter could move down to field cornerback, with Austin Collinsworth taking over his spot at safety (although don't expect Slaughter to play for too long on Saturday). And if neither of the four listed for the wide cornerback step up, it might be a more permanent move for Slaughter.
Will the Spring Game Change the Dynamics of the Quarterback Battle?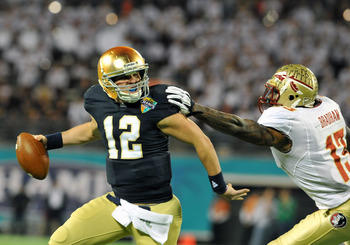 Al Messerschmidt/Getty Images
This game will be different from past Blue-Gold games in one big way.
As said by Brian Kelly and reported by ESPN's Matt Fortuna, the quarterbacks will be live (meaning they aren't off limits for defenders to tackle).
Kelly and Chuck Martin want the starting quarterback to be able to escape pressure, extend plays and take off running (while making all the throws and being smart with the football). With the defense coming after the quarterback, the coaches can see how the guy taking snaps reacts.
Tommy Rees has had trouble against pressure throughout his career and in spring camp, so the Blue-Gold game will be a good way for the coaches to see if he has improved.
For Andrew Hendrix and Everett Golson, this is their time to shine. Both players are athletic and could use the spring game to separate themselves from Gunner Kiel and Rees as the players most apt to run Kelly's spread offense.
And while Kiel has been developing quite well, he likely won't grab the starting job even with a fantastic performance Saturday. However, coaches and fans alike will get a feel for what kind of player Kiel will be when he has complete control of the offense.
The quarterback competition won't be over after Saturday, but depending on how the players perform, things could get shaken up.
Will Any Stars Emerge?
Jonathan Daniel/Getty Images
Last year, the spring game showcased Aaron Lynch's vast talents. The Notre Dame offense line simply couldn't stop the Florida product. It didn't matter who was in front of him; Lynch got by any blocker with ease.
Well, Lynch won't be dominating this year's game, but who else might have a similar performance?
On defense, fans and coaches alike want Ishaq Williams to be the next defensive superstar. Williams has all the tools that an elite linebacker needs. He has long arms to break up passes in coverage or grab a running back trying to sneak by him. Williams is also quick off the edge and covers a ton of ground in space. With Prince Shembo out after toe surgery, this could be Williams' best chance to prove he should start this season.
Kona Schwenke, who is going to play at ever position along the defensive line (defensive end, nose guard and 4-3 defensive tackle), is someone Irish fans should keep an eye on. Schwenke will give the team a real pass-rush from the nose guard spot and provide quality depth behind starters Kapron Lewis-Moore and Stephon Tuitt at defensive end. Schwenke is even challenging the ultimate hole-plugger, Louis Nix III, for the starting nose guard spot.
DaVaris Daniels, one of the most promising wide receivers on the team, is a player many expect to have a stellar year for the Fighting Irish. There is just one problem. He hasn't been practicing at the level or with the consistency (a word the coaches have used a lot this spring) Brian Kelly wants him to, as was noted in the April 14 post-practice press conference.
Will Daniels become the next Michael Floyd? Don't hold your breath. But with great hands, an incredible vertical leaping ability and top-end speed, Daniels could become one of the most dangerous players on the 2012 Fighting Irish offense.
Keep Reading

Notre Dame Football: Like this team?