NASCAR: MWR Teams with RAB Racing to Run Travis Pastrana in Nationwide Series
April 18, 2012

Ronald Martinez/Getty Images
One week before Travis Pastrana makes his NASCAR Nationwide Series debut in Richmond, he'll be driving for a slightly different team.
It was announced today that Michael Waltrip Racing has formed an alliance with RAB Racing to field cars for Travis Pastrana.
The team will change their car number from No. 09—the number of the MWR/Pastrana Racing car—to No. 99 .
Pastrana talked about the new alliance during a teleconference on Tuesday.
"We kind of formed an alliance with them earlier this year and just formally announced it, which really helps me to really focus on racing.  To be perfectly honest, the qualifying—running one fast lap —is something that I've been working really hard on through the test.  But the most difficult thing for me has been to get up to speed in the first couple laps.  So this will be huge for me as well as, I think it's great for Michael Waltrip and NWR, who is fully supportive, which is awesome."
RAB Racing has been struggling to find sponsors to run their Nationwide Series car—with Kenny Wallace behind the wheel—after finishing seventh in points last season.
This past weekend in Texas, RAB Racing fielded a car for Ryan Truex—instead of Kenny Wallace—because Truex had sponsors to support the team for the race.  
Pastrana will make his NASCAR Nationwide Series debut next weekend in Richmond.  Since RAB Racing is fielding the car for Pastrana, he will be guaranteed a spot in the race. While Pastrana was supposed to run seven races this season, his full schedule is still up in the air.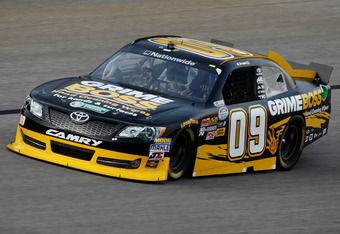 Todd Warshaw/Getty Images
This is a great alliance for all parties.  RAB Racing gets to align itself with a Sprint Cup Series team on the rise, and it gets a driver with sponsors for a few races.  
For Travis Pastrana, he will get to work with an experienced Nationwide Series team while having support from MWR, and he'll be guaranteed a spot in his Nationwide Series debut.  Qualifying is something Pastrana has struggled with in his short NASCAR career.
The one person who has to be hurting from this deal is Kenny Wallace.  Wallace has been unable to find sponsors to keep his ride with RAB Racing.  It is unfortunate, especially with Wallace's popularity and his success last season.
Wallace is expected to be back in the RAB Racing car for the Nationwide Series race at Talladega in a few weeks. 
Hugo Olguin is a Featured Columnist for Bleacher Report. Unless otherwise noted, all quotes were obtained first-hand.